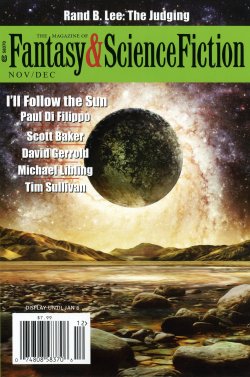 Editor Gordon van Gelder kicks off the Nov/Dec issue with the following, disguised as part of the intro to Paul Di Filippo's "I'll Follow the Sun":
There was a time — or so it seems to your editor — when writers turned to science fiction to explore ideas they couldn't touch in any other medium. A fair number of stories regarded as classics today were transgressive when they first came out.

These days, however, the internet seems to thrive on posts by people who aren't keen on tolerating viewpoints that differ from their own, and some of those posts focus on the science fiction and fantasy field. They've inspired us here at F&SF to give this issue an extra helping of stories that deal with touchy themes or go beyond the bounds of Political Correctness.
Quite an intro. There's an impressive list of contributors taking part in this rebellious experiment, including Albert E. Cowdrey, Scott Baker, and David Gerrold.
Even film reviewer Alan Dean Foster gets in on the act with a little honest blasphemy in his column, "On Novelizing Noah," a meditation on adapting last summer's biblical-themed movie, written as a conversation with God.
Here's Tangent Online reviewer C.D. Lewis on Gerrold's contribution.
---