Whelp, it's well into December and I'm only getting to the November roundup now. My apologies, and here goes.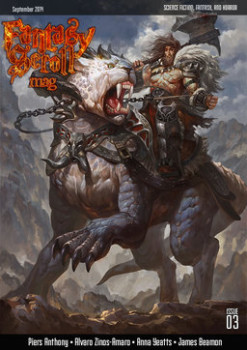 Last month, I promised I'd let you know about Fantasy Scroll #3. Despite its name and its side-of-a-van-worthy covers, the magazine continues to be mostly science fiction or non-heroic fantasy. When you buy something with a cover like the one to the left of this paragraph (<—), and you don't get a lot of swordplay, demons, and wizards, you might feel like you bought a pig in a poke. Maybe they've got plans to mix things up a little more in the future. There are two S&S out of thirteen stories in Issue #3, but I'm definitely hoping for more per issue in the future.
That said, the magazine managed to get a Piers Anthony story, "Descant." It's a love story set to music about an intelligent king and princess. There are some awkward sentences and overall I found it a little boring. But it doesn't have any puns, so it's got that going for it.
James Beamon's very funny "Orc Legal" is about the prison and courtroom travails of an orc named Anglewood. He's been jailed pretty much for being an ex-evil henchman. He takes on the defense of a centaur charged with lewd behavior in order to finish the community service part of his sentence. No Atticus Finch, he uses any tool, from obfuscation to outright threats, to win his client's acquittal. Beamon has a lot of fun with all the orc stereotypes, and gets a few well-deserved digs at snooty elves as well. I like a funny story that's actually funny, and this one definitely is.
"The First First Fire" by Alexander Monteagudo is a very short story. Ralo, the first man ever appointed First Fire — essentially the tribal wizard –is normally a peaceful man. But a caravan from his home, the village of Pempansie, has been attacked by slavers. While warriors defeated the slavers, everyone knows they'll be back. This brief tale describes how the young magic user decides what to do in the face of the threat to his family and friends. There's not much here, but I enjoyed it and would be happy enough to see more of the character.
---