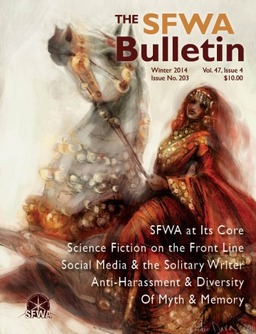 It's been a rough twelve months for The Science Fiction Writers of America Bulletin.
Early last year, issue #200 drew complaints for some generally tasteless remarks on female editors from columnists Mike Resnick and Barry Malzberg (and a cover that did nothing to allay concerns that SFWA was still presided over by an Old Guard unwelcoming to women). The problems compounded in later issues as Resnick and Malzberg mocked and trivialized those who raised the issue, and C.J. Henderson praised Barbie for maintaining "quiet dignity the way a woman should." In June, editor Jean Rabe stepped down and the Bulletin went on hiatus.
Compounding the problem, the recent petition to protect the magazine from perceived censorship and the evils of political correctness put the spotlight back on the missing Bulletin. (And, naturally, in the midst of a fierce debate on whether sexism inside SFWA was a real issue, a member used the SFWA boards at SFF.Net to launch a sexist attack on ex-SWFA officer Mary Robinette Kowal.)
Now SFWA reports that the long-delayed issue 203 has gone to the printer. Guest-edited by Tansy Rayner Roberts, who was ably assisted by Production Editor Jaym Gates, this issue is described as "an outreach tool for conventions and other events."
While Resnick and Malzberg are noticeably absent, the issue does contain interviews with Eileen Gunn, Adam Rakunas and 2013′s Norton winner E.C. Myers, and contributions from Sheila Finch, Richard Dansky, James Patrick Kelly, Cat Rambo, Ari Asercion, Michael Capobianco, Russell Davis, M.C.A. Hogarth, Nancy Holder, and Erin Underwood, and many others.
---