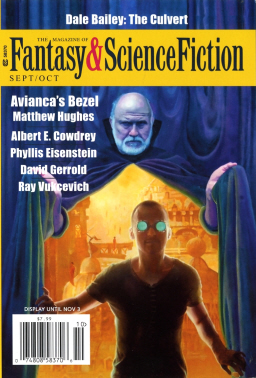 I like this era of Internet magazine reviews. When I was growing up, back when computer communicated only through punched cards (or with the voice of Majel Barrett), I would read fabulous short story reviews in fanzines and such, and breathlessly race down to my local news stand to buy the magazine in question, only to have the bookseller look at me funny and say, "That issue sold out six months ago, son."
Not today. Today, booksellers don't even know what a magazine is. They still look at me funny though, but now it's because I forgot to change out of pajama pants before leaving the house.
Also, the wonders of the Internet include short story reviews that appear before the magazine even goes on sale, which means me and my pajama pants can wander out to Barnes & Noble on a Saturday morning to pick up a copy of the September/October issue of The Magazine of Fantasy & Science Fiction, after reading this terrific Tangent Online review of "The Caravan To Nowhere," a new Alaric story in the issue by my friend Phyllis Eisenstein:
Her stories have been nominated for Hugos and Nebulas and this reprint from Rogues, a recent anthology edited by Gardner Dozios and George R. R. Martin, shows why… Alaric, a wandering minstrel and recurring character in Eisenstein's larger universe, joins a merchant on his journey to harvest a mysterious drug, Powder. The drug has made the merchant's son an addict and part of Alaric's job is looking out for the young man, who tends to wander and rant.
---