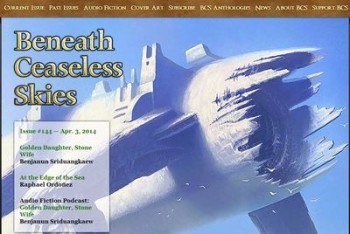 This is really the March and first week of April short story roundup. While Swords and Sorcery Magazine came through with two new tales, Heroic Fantasy Quarterly did not come out in a timely enough fashion to suit my schedule. Then Beneath Ceaseless Skies spent all of March publishing science fantasy issues. It's all right if you're inclined to read that sort of stuff, but I'm here to write about fantasy, preferably of the heroic kind.  Actually, most of those stories in BCS really do look all right, but the arrival of a new story by Raphael Ordoñez in the April 3rd issue made me include it in this week's post.
I joke about Beneath Ceaseless Skies's neglect of heroic fantasy in favor of steam punk or sci-fi, but don't ever make the mistake of thinking I don't love the folks over there and everything they're doing for speculative short fiction. Every two weeks, they publish a very well-polished magazine with stories by great writers from all over the sci-fi/fantasy spectrum. There are few platforms getting as much new material out in front of the public (and for as little money). And if, like me, you don't like what's in one issue, there's a great chance you'll find something in the very next one.
So, after all that praise, let me start off with a story from BCS #144 I didn't love: "Golden Daughter, Stone Wife" by Benjanun Sriduangkaew, a writer unfamiliar to me. In a world peopled by exiles from some unknown calamity, in a country ruled by the Institute of Ormodon, a woman mourns the loss of her golem-daughter.
Hall-Warden Ysoreen Zarre has been sent to retrieve the remains of a golem from Erhensa, an exiled sorceress. All golems, whomever makes them, belong to the Institute. Having learned of the thing's existence when it "died," the Warden was dispatched to collect it. For the Institute, it is something to be studied and understood. Erhensa, though, considered the golem a daughter and is reluctant to submit to the Institute's demands. Her maneuvers around the Warden comprise the rest of the story.
---