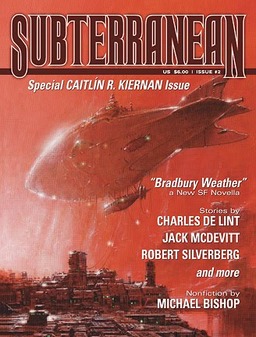 After the the 2014 Windy City Pulp & Paper show in April was over, I collected all the pulps, vintage paperback, fanzines, art books, and old magazines I'd acquired and packed them snugly in two boxes next to my big green chair. I've been digging into the boxes at my leisure ever since.
I highly recommend this. Strange as it sounds, it's a little like time travel. Most of the old magazines I bought — including OMNI, Interzone, Weird Tales, Starlog, Cosmos, Galileo, and the great Fantasy Review — are from the 80s and 90s. Which means they're largely concerned with the same group of writers, movies, and books.
After a few weeks of reading ads and reviews from the early 80s, you start to feel oddly plugged in to the state of the industry thirty years ago (and realize just how much good reading you have to catch up on – and I'm not even caught up on my reading from last year!)
You also start to appreciate what a fabulous resource magazines are. No one can keep up on even a fraction of the genre novels published every year. But the best fiction magazines will keep you current on the exciting, new, emerging writers, with a diverse range of short fiction — not to mention novel reviews.(And the ads. Let's not forget the ads.)
One of the great delights I pulled out of those Windy City boxes was a pristine copy of the second issue of Subterranean Magazine from 2005, back when it was still available in print. The magazine is still very much alive and excellent as ever, published these days as Subterranean Online (see their latest issue here.) But nine years ago, you could curl up with a thick issue printed on quality paper, and believe me, it was definitely worth your time.
---