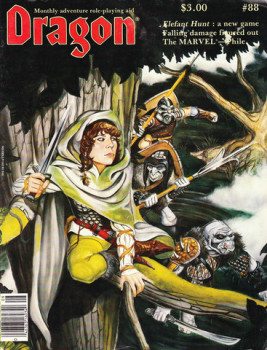 Today would have been the 56th birthday of artist Keith Parkinson, and so I dedicate this post to his memory.
Over on my own Art of the Genre site, I talk a lot about Dragon Magazine.  And why not, there are tons of them, and most are filled with great artwork. Typically, I review at least one Dragon a week, and after doing this for a couple of years I felt it was high time I composed one of my infamous 'Top 10' lists here on Black Gate, this time around 'The Top 10 Dragon Magazine Covers of the 1970s & 80s!'
First off, apologies to the 1990s and 2000s, but you all didn't make the cut for this list and I'll have to address those two decades in a later post.
Now, for me, finding 10 'top' covers is a hard list to make, primarily because so many Dragon magazine paintings have strong feeling of nostalgia attached to them. The greatest of these, of course, would be the very first Dragon magazine I ever saw, #88, with cover by Jim Holloway. That, in my book, is #1, but I'll do my best to take a step back, evaluate with a more critical eye, and see what that list actually shakes out as.
And remember, I've been blogging Art of the Genre for five years, am approaching a quarter of a million unique page views, all for free, so please don't troll my list, I think I've earned the right to post it, but feel free to share memories or your own favorites!
So, without holding you hostage any further, I present my list of the Top 10 Dragon Magazine Covers from the 1970s & 80s!
---