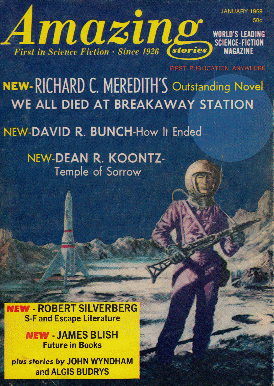 A few weeks back I purchased a lot of 27 Amazing Stories digests from the mid-60s and early 70s in great condition, for $35 (including shipping) — or about a buck an issue.
This was simultaneously delightful and dismaying. Delightful, of course, to get a fine set of SF magazines for not much more than they cost on the newsstand 45 years ago; dismaying to find that pristine vintage copies of one of the most important SF magazines command such little interest in the market.
Seriously, this doesn't bode well for the thousands of SF magazines I've been gradually accumulating in my basement for the last 35 years. I  consider them treasures, but it seems the number of people who share my interest is shrinking every year. I just hope they don't all end up getting recycled when I shuffle off this mortal coil.
Well, all collectors can really do is delight in those treasures we find, and share our enthusiasm with those around us. To that end, here I am, talking about a handful of issues of Amazing Stories, starting with the January 1969 issue, at left.
The late sixties was a bumpy time for the Granddaddy of Science Fiction magazines. Perhaps its finest editor, the talented Cele Goldsmith, left when the magazine was sold to Sol Cohen's Ultimate Publishing Company in March 1965. At the time Ultimate was simultaneously publishing Great Science Fiction, Science Fiction Classics, and other profitable reprint magazines — profitable chiefly because they didn't pay for any of the reprints. Cohen wanted to pursue a similar strategy with Amazing.
Cohen hired Joseph Wrzos to edit both Amazing and Fantastic magazines, and indeed for several years Amazing offered almost exclusively reprints — although Wrzos reportedly did get Cohen to cough up funds for one new piece of fiction per issue. Wrzos left in 1967, and Harry Harrison was briefly editor from September 1967 to February 1968, when the talented Barry Malzberg stepped into his shoes.
---