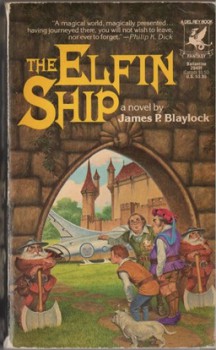 When word comes to the good people of Twombly Town that the traders of Willowwood Village have vanished and the whole town has been abandoned, they are worried there will be no honeycakes from the great dwarf baker, Ackroyd, or elfin toys for Christmas. When the mayor calls for an expedition down the Oriel River to the city of Seaside to procure the cakes and toys from their source, the only man deemed capable of the task is the cheeser, Jonathan Bing. Despite his own misgivings, but to the townspeople's delight, Bing agrees.
Clearly inspired by Kenneth Grahame's Wind in the Willows, The Elfin Ship (1982), is James P. Blaylock's first published novel. Like Grahame's book it is a paean to adventure, home comforts, food, and male camaraderie. For those who take note of these things, only one female character makes a brief, wordless appearance and a second is just mentioned. Nonetheless, it's not set in a world labeled "NO GIRLS!", but rather one where the men are more interested in a good bottle of ale, good pipe tobacco, and a raft trip down a meandering river than the whereabouts of the absent women.
I've loved this book for decades and have read it several times over the years, chuckling each time. I was inspired to pick it up after reading and contemplating M Harold Page's piece "Why Humorous Fantasy Isn't Popular" here at Black Gate a few weeks ago. Most of the comedy here is gentle and might even be deemed old-fashioned. If that doesn't deter you — and I don't think it should — give The Elfin Ship a read for some good-hearted goofiness.
Jonathan Bing is a stolid man with little experience beyond the warm and comforting confines of his home, but one who has always dreamed of adventure. Among his prized possessions are several well-read volumes by G. Smithers of Brompton Village with titles like The Tale of the Goblin Wood and The Troll of Ilford Hollow. When Mayor Bastable suggests to Bing he is a "stout enough lad to sail downriver yourself, all the way to Seaside with your cheeses and back again with cakes and elfin gifts", despite some trepidation, the cheeser decides he is indeed the man best suited for the job.
---