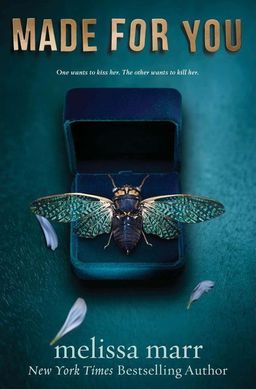 Made For You
by Melissa Marr
HarperCollins (368 pages, September 2014, $17.99)
Eva Tilling has everything one needs to be the town darling in small-town Jessup, North Carolina: one grandfather is a prominent minister, the other owns a well-known winery, and she has learned the nuances of Southern etiquette. She also has a secret admirer who shows her how much she loves her by running her over with a car.
Eva wakes up in the hospital with more than just broken bones and stitches: she has a new ability to see someone's death when they touch her. She finds the new ability confusing, but when she touches her friends and discovers they die horrible deaths — and soon — it frightens her. Once people in her social circle start dying, she knows she needs to tell her two best friends her secret so they can use her ability to save their lives and find the killer.
Made for You is Melissa Marr's (best-selling author of the Wicked Lovely series) attempt at the mystery/thriller genre, and she succeeds. She uses first-person/present-tense to bring immediacy to the story and three points of view to ramp up the tension. Marr definitely tips her hat to classic who-dun-it novels by weaving in just enough details to keep me reading.
As for the characters, I found all of them believable and well-rounded. The author doesn't shy away from teenage activities (specifically, sex and drinking). The parents are present throughout the second half of the book; Eva's mother specifically has a relevant back story that adds depth to their relationship.
---