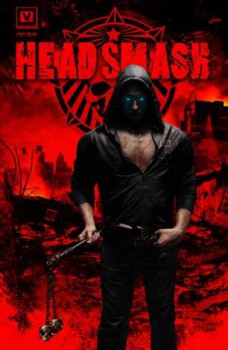 At this year's Chicago Comic and Entertainment Expo ("C2E2"), you couldn't spit a piece of gum without hitting a promotional plug for Head Smash.
To be honest, you couldn't spit a piece of gum without hitting a lot of unusual things at the May event, but Black Gate photog Chris Z and I couldn't help but notice that the sheer quantity of Head Smash promotion was on par with the visual assault launched by Marvel for its own upcoming releases.
We had to admit, the curiosity factor was being driven off the scale for a graphic novel that hadn't yet been released — not to mention an indy film adaptation barely into pre-production.
I had read that Yudin was creating Head Smash (penned by Erik Hendrix and illustrated by Dwayne Harris) for Arcana Comics, as well as writing the film adaptation of the story.  He is also producing and adapting the film's screenplay with The Twilight Saga producers Mark Morgan and Michael Beckor.
So thanks partially to our nosiness–  but mostly to the tenacity of the PR company handling Head Smash and its creator – Chris and I got an early morning exclusive chat with the Russian-born-US-raised writer, director and producer Vlad Yudin.
And yes, I admit it, there's no way I'm not going to talk to a guy named "Vlad…"
---