World Fantasy Convention: Friday Autograph Sessions
World Fantasy Convention: Friday Autograph Sessions
Friday was the first day when I felt like I had enough sleep to actually function properly. So I decided to stay up until the wee hours of the morning.
The day began with panels: Language and Linguistics in Fantasy, Everybody Was There, and Guns, Gears, and Wheels: Medieval Technology in Fantasy (photo below).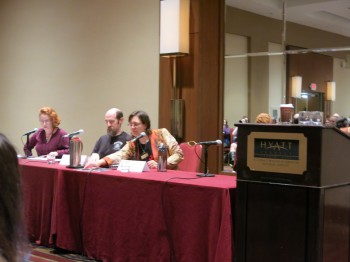 Pictured above: Michelle Markey Butler, Scott H. Andrews, and Elaine Isaak
Another panel was Beyond Rebellion in Young Adult Fantasy.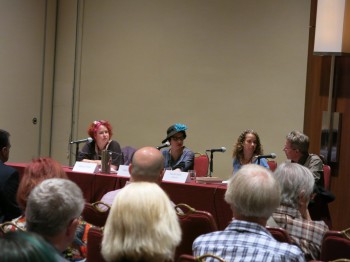 Pictured above: Ysabeau Wilce, Gail Carriger, Sarah Beth Durst, and Steven Gould
I also attended a reading by Patricia McKillip and interviews with Guy Gavriel Kay and Les Edwards.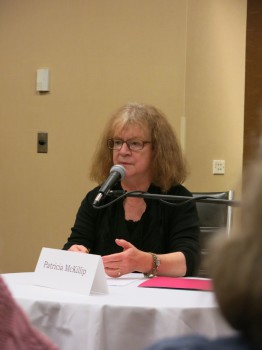 After a dinner break, Bess and I went to the autograph session. It was a wonderful time of talking to authors and artists, gathering autographs, and connecting with people.  I was able to meet fellow Black Gate bloggers Patty Templeton and Sarah Avery, both of whom were among those signing autographs. I have heard rumors of C.S.E. Cooney's presence, so I'm hopeful we'll cross paths at some point.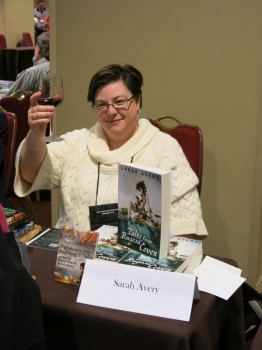 We rounded out the evening with our first trip to the hospitality suite. I was pleased to discover free Talisker on hand, which was generously poured into my cup. From there, we returned to the lobby briefly, but sadly the bar was closed. I am convinced there are other parties that I am not invited to. Perhaps I need to ride the elevator a bit more to acquire closer friends.
Bess > I loved the panel on Guns, Gears, and Wheels: Medieval Technology in Fantasy. My favorite phrase was "hand wavium" from Elaine Isaak. I took it to mean that you interject basic magic when you don't want to deal with the ramifications of real life.
At the autograph session, the artists were friendly and approachable, and the setup was conducive to interaction.
We appreciate the work put into the hospitality suite, creating an atmosphere that allowed people to meet one another.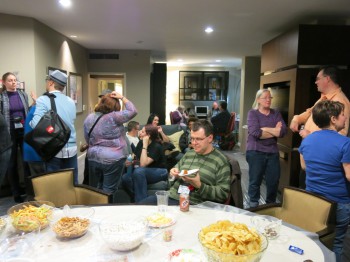 ---
See Matthew's Thursday report on the World Fantasy Convention here.