2014 World Fantasy Convention: Thursday
2014 World Fantasy Convention: Thursday
Although there were some pre-convention workshops to start the day, the panel discussions didn't begin until 2. So Bess and I decided to do some sight-seeing. We took the Old Town Trolley tour from our hotel, which allowed us to ride between multiple locations at our leisure.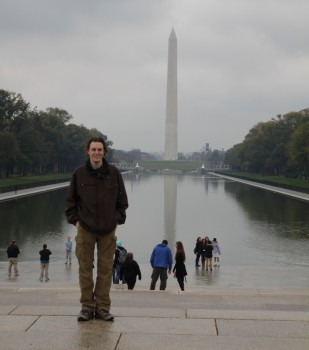 Who's this handsome devil?  Just kidding.  I know it's me.
Our first stop was the Lincoln Memorial, which is also near the Vietnam War Memorial and the Korean War Memorial. It seems cliché to use the word surreal, but seeing these monuments just makes me feel like I'm not living in reality or it's the realization that I am living in a reality I wasn't fully aware of.
The magnitude of the Vietnam War Memorial is nearly overwhelming: to see the list of names that goes on and on and think about all of these people that lost their lives in the conflict. And just before reaching the wall of names, there's a trio of statues — armed soldiers of the war, gazing toward the wall as though feeling the loss of their comrades, those who will never return. It had rained that morning, and drops of water rested on the statues like beads of sweat. This added effect gave such life to these statues that it seemed as if they might start moving at any point.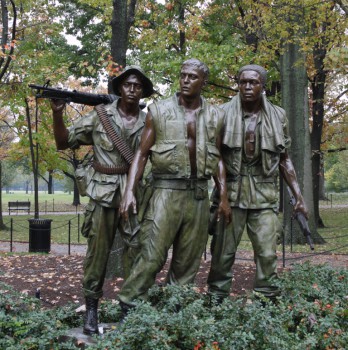 From there, we returned to the trolley and rode past the White House at a distance. Without reservations for tour (which can take up to six months, we were told) and without personal invitations to visit (I guess I'm not close friends with the President), there wouldn't have been anything for us to do other than take photos from afar, so we opted to stay aboard and head to the U.S. Capitol building. It was after 1, and a tour of the Capitol takes about an hour. At this point, I realized that my wife was having a blast, so rather than depart together back to the convention, we had lunch and parted ways.
When I arrived back at the hotel, I shared an elevator with Tom Doherty, Tor's founder. As with Mary Robinette Kowal, I now consider him to be a close friend. Yes, I actually spoke to him and shook hands, so clearly he is a close friend. This gave me the idea that perhaps the best way to continue to make close friends is to ride the elevator as much as possible.
I attended a couple of panels, stalked met John O'Neill and others. I also scoped the dealer room, eying one vendor's set of signed Galaxy magazines (signed by one author in each, not all authors). I'm waiting until Sunday to make any purchases, though, so if you're at the convention, please don't buy them out from under me. Unless it's the 1951 issue; I have all of those.
My beautiful wife returned to the hotel around dinner time, and we opted to eat a quick meal in the hotel so that we could be on time for Opening Ceremonies. This is my fourth World Fantasy Convention, yet somehow I always end up missing the Opening Ceremonies. But not this year! My close friend, Mary Robinette Kowal, is this year's toastmaster, and she spoke eloquently in her opening address, introducing the Guests of Honor and the World Fantasy Award nominees. There was also a brief drama that ended with a uniformed man reading "In Flanders Fields" by John McCrae (acknowledging the centennial of the start of World War I).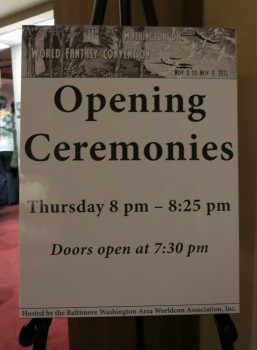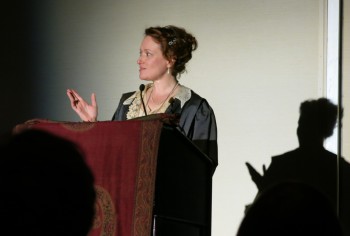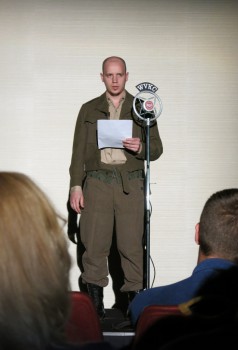 After the Opening Ceremonies, the crowds became a tangled mess trying to obtain ice cream that was delicious.

Bess and I then went to view the documentary on Robert Aickman as well as a short film based on his story "The Cicerones." I haven't had the chance to come across Aickman's stories before, but I'm very interested in reading something now.
I'm looking forward to tomorrow. I'm not entirely certain of my plans, but at the moment, I'd really like to attend a panel titled "Guns, Gears, and Wheels: Medieval Technology in Fantasy." That just sounds awesome. And the big event tomorrow is the mass autograph session.
Also, I'd like to note that any photos you see in these posts are taken by Bess. Unless you see a picture of Bess farther away than arm's length.
Bess > The memorials were very surreal…  (Matt: see?)  to see these places that are such a part of our culture that they're familiar. I don't think I've ever been so familiar with something without ever seeing it before.
When it was after 1, and we were trying to decide what to do next, I was caught up in the excitement and knowing there might not be this experience again. But I also knew how much World Fantasy meant to Matt, and I didn't want to take that away from him. It was freeing to know that we could both pursue what we wanted in that moment.
I did the basic tour of the Capitol building. Even with the construction on the dome, the architecture and artwork was still breathtaking. Then I learned that our state senator could provide me with access to the galleries.  (Matt: The Capitol building is divided with the senate on one side and the house on the other; these galleries, as they're called, are not open to the public as part of the regular tour.)  His staff happily obliged.  I don't even know how to describe being there; here's where it all happens.
I liked the Opening Ceremonies. I thought our toastmaster was very entertaining, and I enjoyed the video. I felt that it explained it to someone who's not immersed in fantasy, science fiction, and horror, like 99% of the room. It paced well.
Mmm… ice cream.  I may have had two bowls.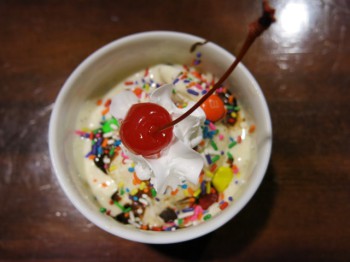 ---
See Matthew's prior report on the 2014 World Fantasy Convention, Wednesday Scotch Tasting, here, and his Friday report here.