2014 World Fantasy Convention: Wednesday Scotch Tasting
2014 World Fantasy Convention: Wednesday Scotch Tasting
I'm usually posting retro reviews of Galaxy, but for the moment, I'm on assignment covering the World Fantasy Convention in Washington. Okay, technically the hotel is located in Virginia, but we are only minutes away from the White House, Pentagon, and U.S. Capitol building, among other sites.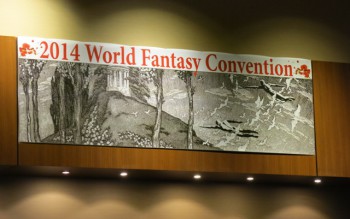 My wife, Bess, accompanied me on this trip, which is my fourth WFC. For her, this is a brand new experience. I'll add her brief comments after mine to provide a full range of coverage, both from the perspective of someone highly involved in the speculative community and someone who supports someone highly involved in the speculative community.
We elected to drive from Indianapolis, which provided amazing views of the changing foliage within the forested hills and mountains of Pennsylvania, West Virginia, and Maryland. It was truly outstanding.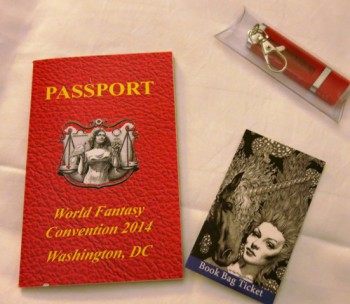 Shortly after arriving and picking up our bags of books, Bess and I attended a scotch tasting hosted by Guy Gavriel Kay and Mary Robinette Kowal. Prior to the tasting, we shared an elevator ride with Ms. Kowal and briefly introduced ourselves, so I now consider us close friends. Our hosts spoke from their wealth of scotch knowledge, combining anecdotes and information as we moved through tasting six single-malt scotches. I think I agree with Ms. Kowal that the 17-year Glenfarclas was the best selection of the evening.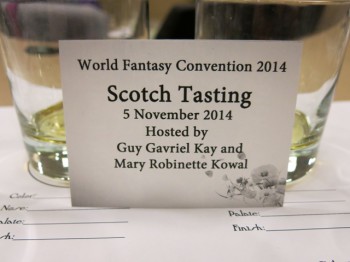 I'm looking forward to the days to come.
Bess : As a mom of three young kids, I preferred to dream about the beautiful landscape and fall colors of our journey.
I'm really not a scotch drinker, but I enjoyed the witty banter and knowledge of the hosts. It was funny to listen to a group of writers craft descriptive tasting notes. The running theme was Hungarian lentils.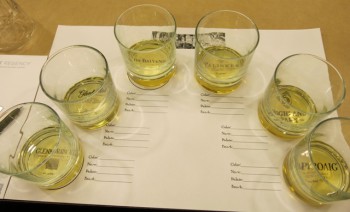 ---
See Matthew's Thursday report on the 2014 World Fantasy Convention here.