New Treasures: Worlds of Edgar Rice Burroughs
New Treasures: Worlds of Edgar Rice Burroughs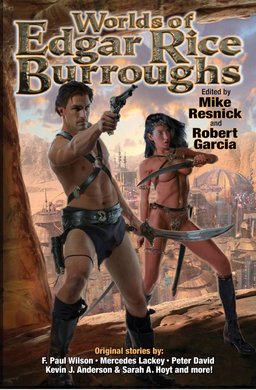 I had the pleasure of talking to Bob Garcia a few weeks ago, at a party at Doug Ellis's house near Chicago. Bob is a great guy — always jovial and superbly well-informed, and always ready to entertain with fascinating, behind-the-scenes tales of the publishing biz. His American Fantasy was one of the finest fantasy magazines of the 80s, and ever since he's been well-positioned at the heart of the industry.
I took the opportunity to ask him about his new anthology, Worlds of Edgar Rice Burroughs, co-edited with Mike Resnick, just published by Baen on October 1st. It's such a great idea — all new stories set in the many worlds of ERB, by many of today's hottest writers — that it's a wonder no one has thought of it before.
Bob was happy to give me the details. The book contains ten new tales set in the legendary worlds of Edgar Rice Burroughs — plus one reprint, Resnick's novella, "The Forgotten Sea of Mars," which originally appeared in the fanzine ERB-dom way back in 1966. This is the only Mars/Barsoom story in the book, as Disney now controls the rights to Burroughs's Mars properties.
The book suffers not at all for that, however. When Bob and Mike started approaching writers, soliciting submissions, they were overwhelmed by the enthusiastic response. The final Table of Contents includes a new Tarzan tale by Kristine Kathryn Rusch, a Carson Napier of Venus homage by Richard A. Lupoff, a Moon Maid contribution from Peter David, a Mucker story from Max Allen Collins and Matthew Clemens, a Pellucidar story by Mercedes Lackey, a crossover tale by Joe R. Lansdale ("Tarzan and the Land Time Forgot"), plus stories by F. Paul Wilson, Todd McCaffrey, Kevin J. Anderson and Sarah A. Hoyt, and Ralph Roberts.
Here's a few sentences from the introduction by Resnick and Garcia that give you an idea of the breadth of Burroughs's accomplishments and just how vast a playground he left for their contributors to play in.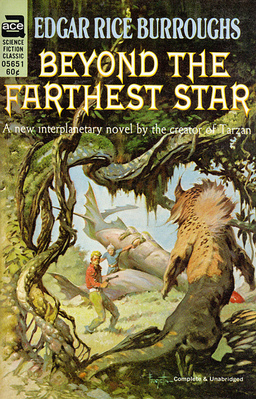 Not content with setting adventures on Mars, Burroughs created another hero, Carson Napier, a kind of Wrong-Way Gorrigan of space, who set out for Mars, somehow wound up on Venus, and stayed there for four books…

And for those who didn't want to fare that far afield for their fantastic adventures, Burroughs created Pellucidar, the strange world that exists at the Earth's Core. It was discovered by David Innes and Abner Perry, but eventually even Tarzan made it down there, and seven books were devoted to it.

Forty-five books about his four worlds. That would be a half a dozen careers for most writers, but Burroughs was just getting started.

He served in the cavalry in Arizona, and it turned up in his two novels about Shoz-Dijiji, the War Chief of the Apaches. (And he gave equal time to the other side, with The Deputy Sheriff of Comanche County and The Outlaw of Hell's Bend.)

He was back in space — deep space — for his tale of Poloda, a planet that exists Beyond the Farthest Star.

And he came a little closer to home with his novel, The Moon Maid.

For those who like their heroes to wear more than a loin cloth and to look and act like you and me, he wrote The Mucker.

There was more, of course, but these constitute his major worlds and his major achievements, and we're proud to present at least one story about each of them.
Baen has made the introduction and the first two stories available free online. Here's the complete table of contents, with links to the online content:
Table of Contents
Introduction, by Mike Resnick & Bob Garcia
"Tarzan and the Great War" by Kristine Kathryn Rusch
"The Fallen, A Tale of Pellucidar" by Mercedes Lackey
"The Forgotten Sea of Mars" by Mike Resnick
"Scorpion Men of Venus" by Richard Lupoff
"Apache Lawman" by Ralph Roberts
"Tarzan and the Martian Invaders" by Kevin J. Anderson and Sarah Hoyt
"Moon Maid over Manhattan" by Peter David
"The Two Billys" by Max Alan Collins and Matthew Clemens
"To The Nearest Planet" by Todd McCaffrey
"The Dead World" by F. Paul Wilson
"Tarzan and The Land That Time Forgot" by Joe R. Lansdale
Worlds of Edgar Rice Burroughs was published by Baen Books on October 1st. It is 356 pages, priced at $15.00 in trade paperback and $8.99 for the digital edition. The cover is by Dave Seeley.
See all of our recent New Treasures here.