Amazon Discounts Laird Barron's The Beautiful Thing That Awaits Us All to $1.99 for October
Amazon Discounts Laird Barron's The Beautiful Thing That Awaits Us All to $1.99 for October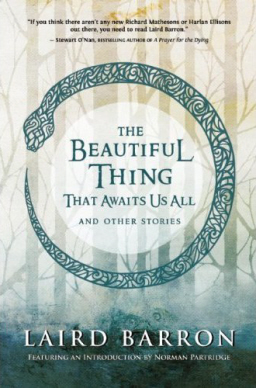 Sweet! Amazon.com has made Laird Barron's new collection, The Beautiful Thing That Awaits Us All, a Kindle special, pricing it at just $1.99 for the month of October.
In his September 4th review for us, James McGlothlin wrote:
This highly anticipated book marks Barron's third collection of short stories (and fourth book), following both of his Shirley Jackson Award-winning collections The Imago Sequence and Occultation, as well as his 2012 debut novel, The Croning. As with his prior volumes, this one continues to meet, and exceed, the bar of contemporary horror stories, showing that Barron is still one of the leading horror voices of today.

Let me emphasize that this collection is in keeping with what I, and many others, have come to love and expect from Barron: a great combination of cosmic horror feel — which many associate with the early pulp writer H. P. Lovecraft — as well as Barron's own gritty noir-like style…

Laird Barron's The Beautiful Thing That Awaits Us All continues to provide us with his gritty cosmic horror as well as other enjoyments. I highly recommend it!
On his blog, Laird notes "This collection marks the end of the cosmic horror arc that includes The Imago Sequence and Occultation." Cosmic horror comes in arcs now? Man, I am so out of it. Good thing I have James and Laird to keep me hip (and it's a full-time job, let me tell you.)
What more do you need to know? Drop by Amazon today and get some gritty cosmic horror for just $1.99!