Dark Lords Through History: Waller Newell's Tyrants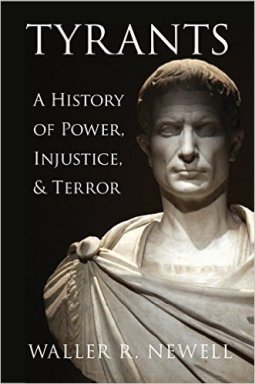 Remember the Sword of Damocles?
Damocles flatters King Dionysus; "Lord! How fortunate and god-favored you are to be so powerful!"

The king — really a tyrant — says, "Sure. Let's change places for a day."

So, Damocles has a right old time feasting and carousing, right up until the moment Dionysus points out the sharp sword hung over his head, suspended by just one fraying thread…

Eek!
The take home is, WHY ON EARTH WOULD YOU WANT TO BE A TYRANT, YOU IDIOT? EVERYBODY WILL TRY TO KILL YOU.
And that's one of the questions that Professor Waller R. Newell sets out to answer in his Tyrants: A History of Power, Injustice, and Terror (the which I talked his publisher into sending me as a nice follow up to Holland's book on the Caesars.).
By "tyrant", he means a ruler with personal power unconstrained by law or custom.