More Than Meets the Eye …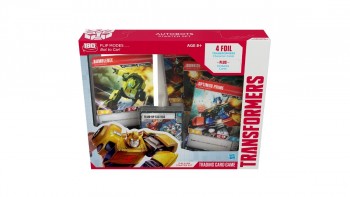 A few months back at GenCon, I stumbled across a well-placed demo area with a large cardboard display of Optimus Prime and Bumblebee. As a child of the 1980's, I wasn't about to miss out on this … my introduction to Wizard of the Coast's Transformers Trading Card Game.
There are two components to the game: double-sided oversized character cards and battle cards. The character cards are foil cards that represent various Autobot and Decepticon characters with one side having a Bot Mode and the other side having their transformed Alt Mode. The battle cards are a deck of regular-sized cards, consisting of single-use Action cards and Upgrades that can be attached to individual transformers to provide Weapon, Armor, and Utility equipment that (generally) stick with the characters they're upgrading.
The game plays out as a battle between two teams of Transformers, with victory coming to the player who is able to KO all of their opponents' characters. Each character card has Attack, Life, and Defense stats, which alternate as you flip between the Modes. Some Modes also have powers of various kinds. Some of the powers activate when you flip the card into that mode. For example, when you flip the Optimus Prime card into its truck Alt Mode, you immediately draw a battle card. Other powers are always active so long as the character is in that Mode.