Checking in on The Hobbit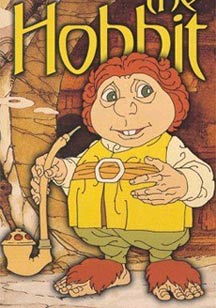 There's a movie version of The Hobbit coming out. You knew that, right? But if you're like me, it's not something you keep tabs on every day. Don't get me wrong, I love all things Tolkien, but movies move at a glacial pace, especially a highly anticipated movie like this one, and especially during pre-production. So I thought it would be interesting to talk a bit about it and update everyone.
So, after The Lord of the Rings movies, there were rumors aplenty that The Hobbit would be filmed as well. I was really psyched about this news. But then I read that Peter Jackson was in a dispute with New Line Cinemas regarding his contract for The Lord of the Rings and, considering that, couldn't in good conscience agree to speaking about another movie with them until these issues were resolved. Jackson and New Line eventually came to some mutually beneficial agreement. Not only was the lawsuit by Jackson dropped, but he signed on to act as executive producer for The Hobbit film.
Then, early in 2008, I came across some news releases that reported about a new dispute with New Line, this time from the Tolkien estate. The allegation was that to date they hadn't been paid a single penny for the movies. Wait a minute. What? The movies, which grossed more than the GDP of plenty of countries, haven't resulted in any money for the Tolkien estate?
From the estate's release:
The cumulative worldwide gross receipts to date total nearly $6 billion. Notwithstanding the overwhelming financial success of the films, and the fact that the plaintiffs have a gross participation in each of the films, New Line has failed to pay the plaintiffs any portion of the gross profit participation at all.
And this (emphasis mine):
The complaint seeks, among other things, in excess of $150 million in compensatory damages, as well as punitive damages, and a declaration from the Court that the plaintiffs have a right to terminate any further rights New Line may have to the Tolkien works under the agreements, including The Hobbit, due to the serious and material nature of the breach of the agreements.
Now, this is only one side of the story, of course. But being an author myself, and being such a fan, I quickly jumped to the defense of Tolkien. I'd heard about crazy accounting practices on the part of the studios to avoid having to pay royalties, but this? And, as a fanboy, I was pretty miffed that those (allegedly) greedy practices were going to prevent my beloved Hobbit movie from reaching the silver screen.