By Crom: A Pair of Perrys (Conan)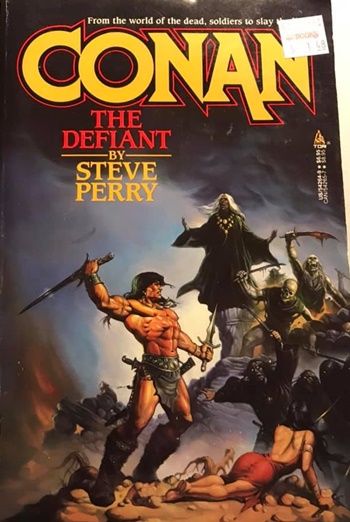 I have talked about Conan pastiches in a couple of prior Black Gate posts; and I've linked to them at the bottom of this one. Here's something from one of them:
From 1982 through 2003, eight authors (though primarily four) cranked out 43 new Conan novels for Tor. At two per year, the quality varied wildly, as you can imagine. John M. Roberts' Conan the Rogue is an homage to Dashiell Hammett's Red Harvest and one of my favorite Conan books. Steve Perry's Conan the Indomitable is one of the worst fantasy books I've ever read (even though it is a direct sequel to Perry's Conan the Defiant, which I mostly liked.)
So, let's take a look at those two Steve Perry books. I think that Ryan Harvey may hold Roland Green in less esteem than he does Perry, but I suspect it's a close call. I think that Perry was the Tor author cranking out Conan books just for the money. On the whole, they're bad, and I recommend everyone else ahead of him. Though I don't recommend Green much, if ever. I talk about the books, and Conan writers, who I like, in the other posts below. You can see what I consider good about them. I don't think Perry respected the character, or cared about the quality of the plot. Having said that, Conan the Defiant wasn't too bad as a sword and sorcery paperback. Unfortunately, its follow-up was tripe.
Conan the Defiant
Conan the Defiant is the second of the five novels which Perry wrote in the Tor Series. In William Galen Gray's chronology it is the fourth Conan tale (following Conan of Venarium, "Legions of the Dead" and "The Thing in the Crypt"), and taking place before Sean Moore's Conan the Hunter.
The young Conan comes upon a lone priest being waylaid by five bandits. Impressed with the stranger's skill with a wooden staff, the Cimmerian wades in and helps the man dispatch his opponents. Cengh, a priest of the Suddah Oblates, is later murdered, sending Conan on a quest of justice for his short-time friend.
In typical Conan fashion, he beds Elashi, a desert-bred warrior maiden, as well as Tuanne, a beautiful zombie. Yep, a zombie. Being the irresistible stud he is, the trio engage in threesomes all along their trek to the bad guy's castle. This one seems to rate higher than normal on the Conan adolescent fantasies scale.