Tabletop Looting in Riot Quest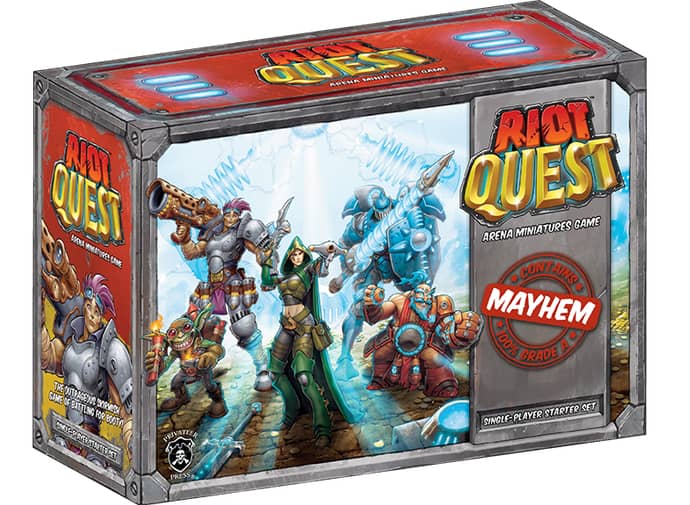 The current storyline in Privateer Press' Iron Kingdoms setting is leading toward the apocalypse, as otherworldly Infernals swarm across the nations of Immoren. Characters familiar from the Warmachine/Hordes game setting will (and already have) died, but others may escape Immoren to become the progenitors of the upcoming Warcaster science fantasy wargame (with 3 days left on its Kickstarter).
But what of those who survive, left behind on the Immoren after the Infernals have harvested souls, and broken the nations that make up the Iron Kingdoms? When the swan of Cygnar has fallen, and even the undead cannot remain safe within the land of Cryx? Well, at that point … might as well start some looting.
That is the theme of Riot Quest, released at GenCon 2019. It is a miniature arena game, where players field teams of models to go up against each other to collect treasure and cool equipment. As your team appears on the field, randomly located near one of 6 spawn gates, players try to make it to treasure chests located at randomly-determined treasure points. Once a treasure is obtained, another treasure spawns, and the race is on again. As you gain treasure, and defeat opponents, you gain loot tokens that can be used to buy special Riot Gear cards to boost your characters' abilities.