Cynthia Ward Reviews Lost Things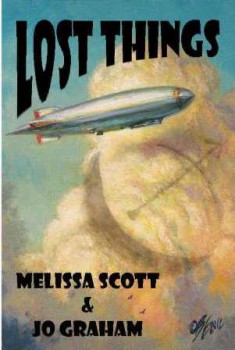 Lost Things: Book I of the Order of the Air
Melissa Scott & Jo Graham
Crossroad Press (350 pp, $17.99, Paperback, $4.99, eBook, 2012)
Reviewed by Cynthia Ward
I first encountered Melissa Scott's fiction in her second novel, The Roads of Heaven (1988), which is the first book of the Silence Leigh trilogy. I ended up reading all three novels, intrigued by their smart blending of familiar science fiction and fantasy elements (magic, interstellar travel, a gender-inequitable future) with a strong female lead, sharp prose, excellent characterizations, exceptional world-building, a quick pace, and an insightful exploration of gender roles. Despite a major lack of reading time, I made sure to read all subsequent Scott novels I saw, including her occasional collaborations with her partner, the writer/editor Lisa A. Barnett.
Shortly after the turn of the millennium, I stopped seeing new novels from Scott. I would puzzle over the sudden disappearance of a favorite author until, years later, I would learn that Scott's partner of 27 years had passed away after a long struggle with cancer. I hoped that Scott would eventually return to writing, while understanding why she might not.
Well, Melissa Scott has returned. And she's done so in less a whirlwind of activity than a tornado. She's released a pair of new collaborative novels set in the Stargate Atlantis universe, and a new solo novella set in the Elizabethan-esque world of Astreiant, which she created with her late partner. Their previous Astreiant titles are being reissued, along with several of Scott's other backlist titles. And she recently released another new novel, set in the shared world of the Orphic Crisis Logistical Taskforce series, and written in collaboration with Jo Graham, an author previously unknown to me. It is this last work, Lost Things: Book I of the Order of the Air, which concerns us here.