Birthday Reviews: Neil Gaiman's "Snow, Glass, Apples"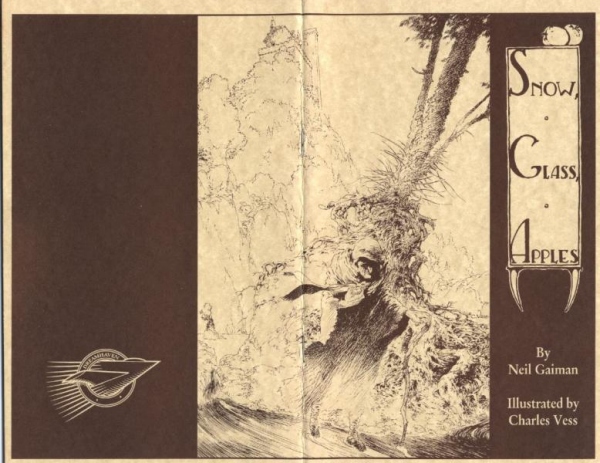 Cover by Charles Vess
Neil Gaiman was born on November 10, 1960.
Gaiman has received Hugo Awards for his novels American Gods and The Graveyard Book, his novella Coraline, his short story "A Study in Emerald," and his Graphic Story The Sandman: Overture. Both American Gods and Coraline won the Nebula Award and Gaiman has also won the Bradbury Award from SFWA for his screenplay for the Doctor Who episode "The Doctor's Wife." His short story "A Midsummer Night's Dream," part of his Sandman graphic novel, won the World Fantasy Award for Gaiman and collaborator artist Charles Vess. Gaiman and Yoshitaka Amano won the Bram Stoker Award for The Sandman: Dream Hunters and Gaiman has also won the award for American Gods, Coraline, and The Sandman: Endless Nights. He won the British SF Association Award for Coraline and The Wolves in the Wall, the latter in collaboration with Dave McKean. His novelette "The Truth is a Cave in the Black Mountains" earned him a Shirley Jackson Award in 2011 and the anthology Stories: All New Tales earned him and collaborator Al Sarrantonio a second Shirley Jackson Award that same year. Gaiman's work in both prose and comic has won him several other awards as well. He was the guest of Honor at Anticipation, the 67th Worldcon in Montreal in 2009. Gaiman has collaborated with numerous authors and artists for his work in comics and collaborated with Terry Pratchett on the novel Good Omens. Other prose fiction collaborators include Dave McKean, Kim Newman, Eugene Byrne, Gene Wolfe, Toby Litt, Alisa Kwitney, Jaime Delano, and Bryan Talbot.
Snow, Glass, Apples was originally published as a chapbook in 1995 by DreamHaven Press to support the Comic Book Legal Defense Fund. Terri Windling and Ellen Datlow selected the story to appear in their anthology The Year's Best Fantasy and Horror: Eighth Annual Collection and Poppy Z. Brite included the story in her anthology Love in Vein II: Eighteen More Tales of Vampiric Erotica. The story was translated into Spanish in 1997 for inclusion in the July issue of the fanzine Artifex. Gaiman included it in his collection Smoke and Mirrors: Short Fictions and Illusions, which was translated into French. The story has also been translated into Dutch. In 2007, Martin H. Greenberg included it in the anthology Women of the Night and John Joseph Adams used the story in his 2009 anthology By Blood We Live. The next year, it appeared in Peter S. Beagle's anthology The Secret History of Fantasy. Gaiman adapted the story into a play in 2002 and that same year, he recorded the play along with another for HarperAudio. The story was also adapted into a play by the Edinburgh University Theatre Societty in 2012.