Lovecraft's Dreamlands Via Graphic Novel: Jason Thompson's The Dream-Quest of the Unknown Kadath & Other Stories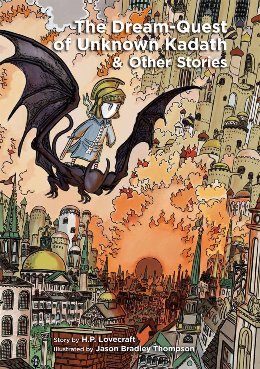 Jason Thompson sent me a copy of his The Dream-Quest of the Unknown Kadath & Other Stories. It even came in a cool envelope, but I'll get to that.
I've been on a bit of a Lovecraft quest.
HP Lovecraft is more than a Geek-only in-joke, there's still something powerful about his works — or so I discovered reading "The Festival," "Shadow over Innsmouth" and "Whisperer in the Dark" to my 8-year-old daughter. She experienced the stories as like Scoobie Doo, but when you pull off the bad guy's mask his face is made of worms.
So, though the style is dated and thus heavy going in places, the structure is sound: he really nailed the whole "unfolding mystery leading to horrible revelation" trope. (I must therefore take back what I said before, I'm sure people do read HP Lovecraft for pleasure from time to time, much as we might also read Malory, because I am now one of them.)
Lovecraft's power goes way beyond spinning a spooky yarn. He has a knack of being intriguingly vague with great certainty.
The intriguingly is the important part that people often miss.
As frustrated teenage writers discover, vague descriptions of random stuff you made up are not in themselves intriguing. What makes Lovecraft intriguing as well as certain is that he is referencing what feels like a fully realised and disquieting story world, his famous Cthulhu Mythos.