Birthday Reviews: Judith Merril's "Barrier of Dread"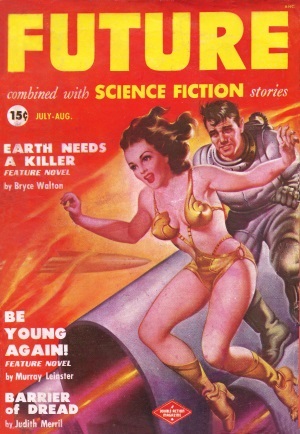 Judith Merril was born Judith Grossman on January 21, 1923 and died on September 12, 1997. She adopted the pseudonym Judith Merril for her writing. Merril received an Aurora Award in 1983 for Lifetime Contributions to the field and a second Aurora Award in 1986 for Lifetime Achievement in Editing. She was the subject of the non-fiction book Better to Have Loved: The Life of Judith Merril, written by her granddaughter, Emily Pohl-Weary, which won the 2003 Hugo Award for Best Related Work.
In addition to her writing career and her activities as an editor, Merril founded the Spaced Out Library in Toronto, now the Merril Collection of Science Fiction. In addition to her own writing, Merril collaborated with C.M. Kornbluth, publishing work under the joint pseudonym Cyril Judd. She was married twice, first to Dan Zissman, and later to science fiction author Frederik Pohl.
"Barrier of Dread" was originally published in the July-August 1950 issue of Future Combined with Science Fiction Stories and was later picked up by Martin Greenberg for his Gnome Press anthology Journey to Infinity. It also appeared in Selected Science Fiction Magazine issue 5 in 1955. It was next reprinted in Homecalling and Other Stories: The Complete Solo Short SF of Judith Merril, published by NESFA Press.
In "Barrier of Dread," Merril posits a future which seems to have been popular among mid-twentieth century authors: A galactic-spanning empire in which humans have complete luxury while robots and automata do all the hard work. As Managing Director Dangret is preparing to open up a new galaxy for human colonization, his wife, the artist Sarise makes an offhand comment about the speed with which new galaxies are being opened.
Despite his lofty title, it appears that Dangret has plenty of time on his hands because his niggling concerns at his wife's comment leads him to lock himself away for several hours watching a history of humanity, which gives Merril a chance to provide the background for this world to her reader.