Birthday Reviews: Jo Walton's "Escape to Other Worlds with Science Fiction"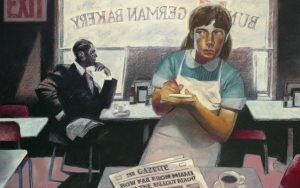 Jo Walton was born on December 1, 1964.
Walton's novel Tooth and Claw won the World Fantasy Award in 2004. In 2008 she won the Prometheus Award for Ha'Penny. She won the Mythopoeic Award in 2010 for Lifelode. In 2012 her novel Among Others won the Hugo, Nebula British Fantasy Award, the Copper Cylinder Award, and the 2014 Kurd Lasswitz Preis. Her novel My Real Children won the James Tiptree Jr Memorial Award in 2015. She was presented with the Skylark Award from NESFA in 2017.
Originally published on Tor.com, "Escape to Other Worlds with Science Fiction" was selected by Gardner Dozois for his The Year's Best Science Fiction: Twenty-Seventh Annual Collection. It was reprinted in the collection The Stories: Five Years of Original Fiction on Tor.com and was included in Patrick Nielsen Hayden and David G. Hartwell's Twenty-First Century Science Fiction. Walton included it in her 2018 collection Starlings.
Set in the same world as Walton's Small Change alternate history trilogy, "Escape to Other Worlds with Science Fiction" takes a look at the worldwide Depression that followed her World War II. Linda and Joan Evans live in relative squalor, barely making ends meet with Joan working as a secretary and having an affair with her married boss and Linda working a waitress at Bundt's Germany Bakery in New York. While Joan tries to enjoy herself without worrying about the ramifications, Linda is constantly afraid that the Bundts will eventually replace her when their daughter is old enough to work in the bakery.