Birthday Reviews: Jo Walton's "Escape to Other Worlds with Science Fiction"
Birthday Reviews: Jo Walton's "Escape to Other Worlds with Science Fiction"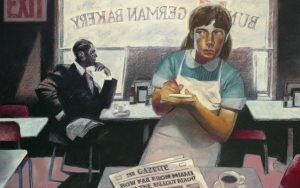 Jo Walton was born on December 1, 1964.
Walton's novel Tooth and Claw won the World Fantasy Award in 2004. In 2008 she won the Prometheus Award for Ha'Penny. She won the Mythopoeic Award in 2010 for Lifelode. In 2012 her novel Among Others won the Hugo, Nebula British Fantasy Award, the Copper Cylinder Award, and the 2014 Kurd Lasswitz Preis. Her novel My Real Children won the James Tiptree Jr Memorial Award in 2015. She was presented with the Skylark Award from NESFA in 2017.
Originally published on Tor.com, "Escape to Other Worlds with Science Fiction" was selected by Gardner Dozois for his The Year's Best Science Fiction: Twenty-Seventh Annual Collection. It was reprinted in the collection The Stories: Five Years of Original Fiction on Tor.com and was included in Patrick Nielsen Hayden and David G. Hartwell's Twenty-First Century Science Fiction. Walton included it in her 2018 collection Starlings.
Set in the same world as Walton's Small Change alternate history trilogy, "Escape to Other Worlds with Science Fiction" takes a look at the worldwide Depression that followed her World War II. Linda and Joan Evans live in relative squalor, barely making ends meet with Joan working as a secretary and having an affair with her married boss and Linda working a waitress at Bundt's Germany Bakery in New York. While Joan tries to enjoy herself without worrying about the ramifications, Linda is constantly afraid that the Bundts will eventually replace her when their daughter is old enough to work in the bakery.
Alternating with the story of Linda Evans, Walton includes vignettes of others who are suffering even more in the Depression and headlines which paint how bleak this version of the world really is. Linda still holds out hope that somehow they can regain the life that they once had, and she is horrified when her sister goes off to a pro-Germany rally with her boss/lover. Joan explains that it isn't a political thing, just how he wants to spend the evening. Joan's decision to go shows the slow movement towards accepting the normalcy of the Nazification of this world, a situation which Linda also finds offer her an opportunity when a strange man provides her with information that could ensure her future at the bakery.
In 1963, Hannah Arendt wrote of the "banality of evil." In "Escape to Other Worlds with Science Fiction" and the Small Change trilogy, Walton writes of the selfishness of evil. Her characters don't set out to embrace evil, but merely are looking out for their own self-interests without concern for others. If they can survive a little more easily, but it means misery for others, whether known to them or not, the scales tip in their direction. Her dystopia is a world without altruism.
Reprint reviewed in the anthology The Year's Best Science Fiction: Twenty-Seventh Annual Collection, edited by Gardner Dozois, St. Martin's Griffin, 2010.
---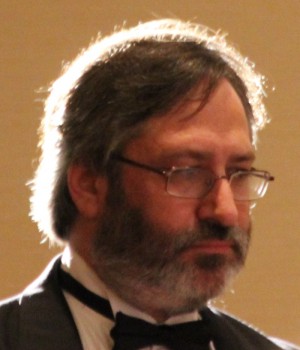 Steven H Silver is a sixteen-time Hugo Award nominee and was the publisher of the Hugo-nominated fanzine Argentus as well as the editor and publisher of ISFiC Press for 8 years. He has also edited books for DAW and NESFA Press. He began publishing short fiction in 2008 and his most recently published story is "Webinar: Web Sites" in The Tangled Web. Steven has chaired the first Midwest Construction, Windycon three times, and the SFWA Nebula Conference 6 times, as well as serving as the Event Coordinator for SFWA. He was programming chair for Chicon 2000 and Vice Chair of Chicon 7.