The Body's Upstairs at Hangover House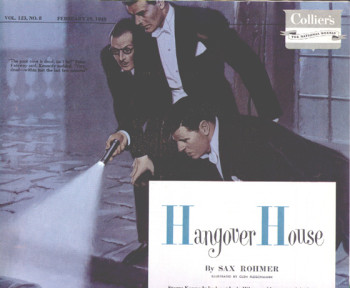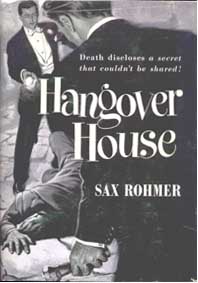 Sax Rohmer's last title to receive a hardcover edition in the US during his lifetime was Hangover House. It was Rohmer's final showing on the bestseller lists and his only novel published by Random House. It was first serialized in Collier's from February 19 to March 19, 1949 prior to its hardcover publication by Random House in the US and Herbert Jenkins in the UK.
Interestingly, Collier's had published an earlier iteration as the short story, "Serpent Wind" in their November 7, 1942 issue. This story was part of a series later collected in book form in 1944 by Robert Hale as Egyptian Nights in the UK and by McBride & Nast under the title Bimbashi Baruk of Egypt in the US. "Serpent Wind" was retitled "The Scarab of Lapis Lazuli" for its hardcover publication. The story later appeared under its original title in the anthologies, Murder for the Millions in 1946 and Horror and Homicide in 1949.