Review: Night of the Necromancer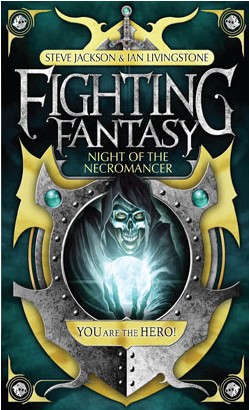 Night of the Necromancer
Jonathan Green
Wizard Books (384 pp, ₤5.99, CAN$12.00, April 2010)
One of the many things I admire about the Fighting Fantasy gamebooks is how little space is wasted establishing the scenario. In Night of the Necromancer, you are a crusader returning home after a three-year campaign against vampires and diabolists when an ambush at the foot of your own castle leaves you slain in a ditch. But the dead shall be raised! A paragraph later you are reborn as a ghost, launching you on a quest to avenge your own murder.
Over the course of a single night, you explore a wonderfully atmospheric English countryside haunted by things worse than you, a landscape that is half M.R. James and half Ravenloft (you may even encounter a ghost hunter named Van Richten). Rather than a linear course, progress is made from crossroads to crossroads, allowing you to explore areas branching from a central nexus, then return to that nexus to investigate other avenues. When you're ready, you move on to the next node, and so on.
Night of the Necromancer is a new addition to Wizard Books' reprints of Fighting Fantasy from the '80s and '90s, and nearly 30 years of evolution shows in Necromancer's sophistication.