Life During Wartime for Revived Pulp Characters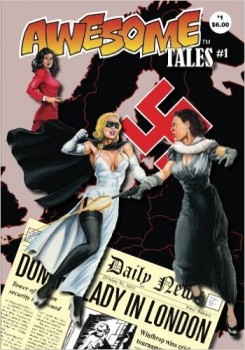 Bold Venture Press and Black Cat Media recently unveiled a new pulp anthology title, Awesome Tales. Largely the brainchild of editor/lead writer R. Allen Leider, three issues have been published thus far. Leider's featured stories in each have successfully revived vintage pulp characters and placed them in World War II settings.
The first issue featured The Domino Lady, a racy adventuress from the "spicies" who has found popularity with "new pulp" specialty publishers such as Moonstone Books and Airship 27.  Leider, who operates Black Cat Media, collaborated with Rich Harvey, who operates Bold Venture Press with Audrey Parente, in penning this new adventure that advances the character from her 1930s origins to the Second World War. Interestingly, the entire Domino Lady revival began when Bold Venture Press collected the character's original 1930s adventures in 2004 and set the stage for new adventures to follow.