On the Deck of a Sinking Ship: An Interview with Robin Riopelle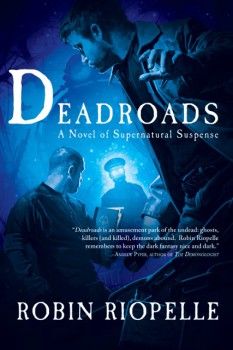 Robin Riopelle is the debut fantasy author of the novel Deadroads, released by Skyhorse Publishing's newest imprint, Night Shade, in April of 2014.
The publication of her first novel was a bit more stressful than it normally would be, because her original publisher, Night Shade Books (NSB), teetered on the edge of bankruptcy a year ago, just as the novel was about to be released.
So, just to start with the basics of the story, when did you write Deadroads, what is it about, and what was the process to sell it to Night Shade?
Deadroads was written fairly quickly about 3 years ago. I was inspired, I guess you could say, really intrigued by the connection between Acadian and Cajun cultures.
I've always liked darker fiction and I have always written stories with an element of magic, but not capital M magic. Supernatural elements in my stories need to feel organic and slight. Deadroads is about a fractured family with roots in both Louisiana and New Brunswick, and about how they come together while trying to find out what killed their father. Of course, a larger and more ominous mystery about their parents' past is revealed.
And there's ghosts. A lot of ghosts.