Blogging Epic Comics' Tomb of Dracula Limited Series, Part One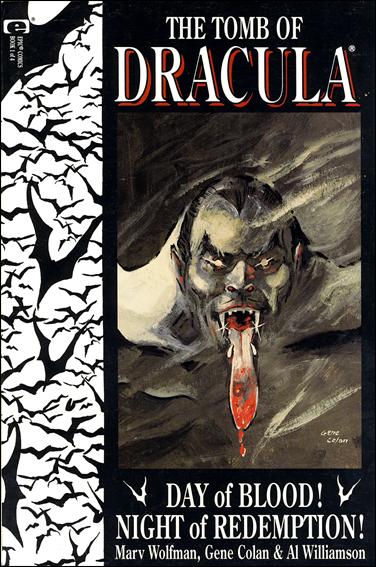 Marvel Comics' mature readers imprint, Epic Comics, published a Tomb of Dracula limited series in 1991 entitled, "Day of Blood, Night of Redemption." Marv Wolfman and Gene Colan reunited from the original series and teamed with Al Williamson to produce this visually stunning and highly ambitious four-part epic. The script faltered a bit by the end, as it really needed at least two more issues to realize its full potential; but this was an excellent effort and a welcome return to form that is deserving of more attention for its high standard of quality throughout.
The story gets underway with the introduction of two attractive young college students, Becky and Lila, who are having an affair. Becky is obsessed with the occult and unintentionally burns herself to death during a Satanic ritual one night after a rendezvous with Lila. From there, the scene shifts to a beautiful young attorney, Marlene McKenna, who is suffering from night terrors and under the care of Dr. Gregor Smirnoff. Marlene's night terrors stem from the fact that she is married to Frank Drake and she has become obsessed with Frank's ex-lover, the now deceased Rachel Van Helsing. Marlene has sought out her husband's psychiatrist to treat her for her recurring nightmares of Dracula and belief that she is being possessed by the spirit of Rachel Van Helsing.
As the story progresses, we learn that it was Dr. Smirnoff who has led the students at Georgetown University, where he teaches, to practice Satanism just as he has been manipulating Frank and Marlene since introducing them to one another. Both experiments are the means to achieving his desire to locate Dracula's remains and revive the vampire. These disparate sequences build up to a positively chilling scene where Marlene purposely disfigures her face with Frank's razor in an attempt to emulate Rachel's scarred visage.