The Growing Pains of Renner & Quist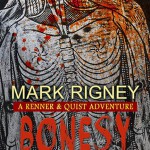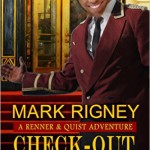 Samhain Publishing has just unearthed Bonesy, their fourth Renner and Quist occult mystery from one of my very favorite authors (and a regular contributor at Black Gate) magazine, Mark Rigney.
The idea of returning from a ten-month hiatus has me a bit nervous, but longtime readers may recall my heaping praise on Rigney's earlier titles in the series: The Skates, Sleeping Bear, and Check-Out Time. Renner and Quist are an oddball double act in the classic tradition. Renner is a persnickety Unitarian minister, while Quist is a boorish ex-linebacker. Together, this unlikely duo team to solve occult mysteries.
This latest addition to the quirky and delightful series picks up where the last episode left off with Renner and Quist dramatically changed by their experiences. This time out, Renner's mentor, Iris Buckhalter turns up needing his help.
She has developed an obsession with a brass rubbing of a strangely sexless 16th Century human skeleton she calls "Bonesy." Her unhealthy obsession seems to have triggered premonitions of her death and she wants Renner, with his obvious occult abilities, to become Bonesy's caretaker.