The Growing Pains of Renner & Quist
The Growing Pains of Renner & Quist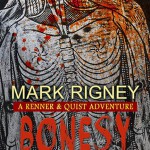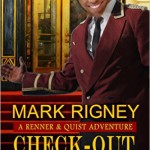 Samhain Publishing has just unearthed Bonesy, their fourth Renner and Quist occult mystery from one of my very favorite authors (and a regular contributor at Black Gate) magazine, Mark Rigney.
The idea of returning from a ten-month hiatus has me a bit nervous, but longtime readers may recall my heaping praise on Rigney's earlier titles in the series: The Skates, Sleeping Bear, and Check-Out Time. Renner and Quist are an oddball double act in the classic tradition. Renner is a persnickety Unitarian minister, while Quist is a boorish ex-linebacker. Together, this unlikely duo team to solve occult mysteries.
This latest addition to the quirky and delightful series picks up where the last episode left off with Renner and Quist dramatically changed by their experiences. This time out, Renner's mentor, Iris Buckhalter turns up needing his help.
She has developed an obsession with a brass rubbing of a strangely sexless 16th Century human skeleton she calls "Bonesy." Her unhealthy obsession seems to have triggered premonitions of her death and she wants Renner, with his obvious occult abilities, to become Bonesy's caretaker.
Renner, for his part, is lovesick over Angela, the much younger African-American woman he enjoyed an unexpectedly passionate encounter with in the previous book. He hasn't heard from her since until she contacts him with the news she is pregnant and needs to decide whether to put their baby up for adoption or build a life together as a family.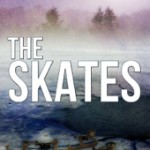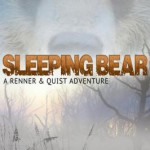 His partner, Quist is undergoing his own midlife crisis in the form of his first rectal examination. The resulting fears of mortality leading him to have a fling with his man-eating physician despite his finally settling down with a very sweet woman he truly loves.
Part of what makes this confection work so well is Rigney's mixture of brilliant prose and the delicate handling of his all too flawed characters. It is rare to find a book so concerned with the very real havoc irresponsible sex can wreck on people's lives. Rigney never adopts a moralistic tone, he is far too concerned with the hurt and suffering caused unthinkingly by people's actions.
The plot quickly heats up in a less conventional fashion when Bonesy comes to supernatural life and breaks free from her frame and Renner's home, leaving the minister permanently disfigured in the process. Quist embarks on a full-fledged affair with his insatiable physician, but is wracked with guilt over his infidelity despite his addiction to the sex. Meantime, Renner has to deal with the strained relationship that defines his life when his domineering and bigoted mother decides to move close to her son in her retirement.
And yes, of course, the fact that Bonesy is vandalizing area bookstores afterhours is terribly important and holds the key to all that ails Rigney's cast of characters personally and spiritually. I simply love these books and cannot get enough of them. The development of the personalities over the course of the four titles has been startlingly realistic and refreshing as these two flawed, but still likable middle-aged men blunder through life in spite of themselves. This is first-rate satire with rare compassion and sensitivity. Rigney's series is in a class of its own. Highly recommended.
My previous reviews in this series are:
Renner & Quist at Their Very Best: Check-Out Time
The Return of Renner and Quist: Sleeping Bear
The Unexpected Delights of Renner and Quist: The Skates
---
William Patrick Maynard was authorized to continue Sax Rohmer's Fu Manchu thrillers beginning with The Terror of Fu Manchu (2009; Black Coat Press) and The Destiny of Fu Manchu (2012; Black Coat Press). His long-delayed third title, The Triumph of Fu Manchu is coming soon from Black Coat Press.