Adventures in Spellcraft: Rope Trick
Adventures in Spellcraft: Rope Trick
Calling all old-school gamers, the folks who cut their teeth on the Players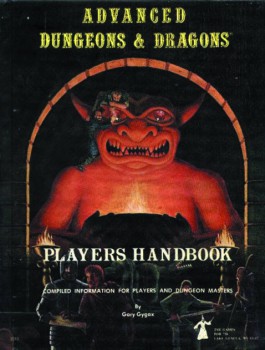 Handbook, the Monster Manual, or even those long-lost oddities like Eldritch Wizardry and Greyhawk. For those of us still standing, which I do hope is the majority, I'd like to take a quick stroll down Memory Lane.
Don't worry, it's only a block or so away, just past Green Town, Illinois, and not so far from my last (highly opinionated) write-up on the ill-behaved sorcery known as Chain Lightning.
Great. Now that we're walking, let me ask, do you remember that clever little escape hatch spell, Rope Trick? Very handy for "taking five" in the midst of a battle not otherwise going well. Very useful for getting undisturbed shut-eye while camped overnight in hostile territory. Very helpful when the goal of your particular role-playing adventure is to drive the GM bats.
The basics, for those who may not recall, is that the casting of a Rope Trick causes a length of rope to suspend itself vertically in mid-air. Anyone shinnying up the rope will disappear, arriving in a pocket of extra-planar space. The Players Handbook phrased it this way:
The upper end is in fact fastened in an extra-dimensional space, and the spell caster up to five others can climb up the rope and disappear into this place of safety where no creature can find them.
(I'm on page seventy-one, second level magic user spells, for those of you following along on the app.)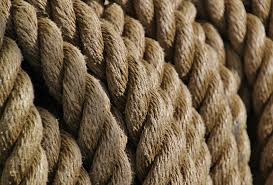 Six people won't fit, no matter what level the caster. An amusing limitation for large parties. Or, rather, you can put six people in it, but then the rope can't be pulled up after you, in which case, presumably, other creatures can come knocking any time.
Okay, then. Now that we're all firmly on Memory Lane together, here are my quandaries.
First, let's say a party of three people use a Rope Trick and hide inside, but elect not to pull the rope up. (Or perhaps they're busy tended to the wounded, and delay dealing with the rope.) Can hostile beasties capable of flight or climbing also clamber into the Rope Trick space? Does this obviate the "no creature can find them" clause? After all, the rule book says nothing whatsoever about intentions…
Second, let's say a party of six employs a Rope Trick. Up they go, but now the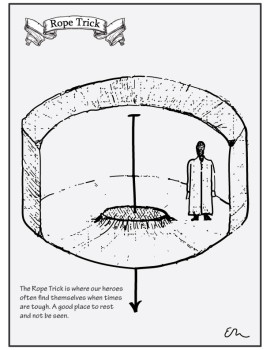 rope won't fit. As above, does this then provide an open invitation to others? The spell never bothers with how many will fit inside the Rope Trick. Nor does it define the dimensions of the space created. The rope itself may be "from 5' to 30' in length." But the "trick" end? Just how big is "a place of safety"?
Third, if a party of five or fewer (the "correct" number for making use of this spell) pull up the rope, then choose, later, to dangle a bit of it out but without letting it reach the ground, does said hank of rope obey gravity? If so, does the Rope Trick then change locations? If so, could it be used to, say, descend from a great height? A cliff, for example?
Fourth, can the Rope Trick spell be shifted by others? For example, Broadsmirk the orc comes across a rope dangling in mid-air. (Presumably there are six or more adventurers inside, or the rope wouldn't still be "hanging around.") Despite being a bit of a bonehead, he (or she) correctly surmises that a wizard has invaded his dismal forty acres of swamp, so she (or he) grabs hold of the rope and tows it home. Broadsmirk then builds a bonfire at the base of the rope. The heroes within the Rope Trick are in for a nasty surprise – or are they? If their rope burns up, how do they even get out?
Fifth, can one cast a Rope Trick inside a Rope Trick? If so, does this support String Theory, and if so, how? For those answering this question at length, please clean the blackboards afterward.
Sixth, is the extra-dimensional space lit?
Seventh, does it observe gravity? If so, the "rope end" is down?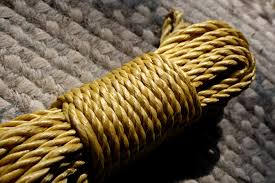 Eighth, is there breathable air inside a Rope Trick? If so, what is its source? Does it run out? Does it run out faster if you, say, bring thirty people up inside?
Ninth. My final existential confusion. Let's bring Broadsmirk back for an encore. She (or he) has led a successful charge, forcing a group of bad-smelling heroes to evacuate via Rope Trick. For the sake of argument, let's say there are six bad-smelling heroes sheltering in the Rope Trick. Therefore, the rope remains visible, reaching rod-like toward the heavens.
Now, since the Rope Trick creates "a place of safety where no creature can find (those who hide within)," does this mean that Broadsmirk and his (or her) cohorts have been struck by a kind of mass confusion such that they cannot begin to fathom where the party might have gone? Is the next thing of out Broadsmirk's mouth, "Forget it, comrades. The bad-smelling heroes have vanished irrevocably, and we might as well go home. Forget about that dangling rope. I can't imagine how it could have anything to do with the disappearance of what was going to be our supper."
Any thoughts from thee, Hive Mind, would be much appreciated. After all these years, I'm feeling very ready for clarification.
---
Meanwhile, I want to offer a Preview Of Coming Attractions. Not only has my new novel, Bonesy, been released (Sept. 1, 2015), and not only has it received some very kind reviews, here at Black Gate and also via Horror Maiden and The Low Budget Book Review, but I'm about to embark on a whole new Black Gate enterprise.
Yes, you guessed it. Starting next Monday, a week from today, I'll be offering a serialized, all-original novel. New installments will appear bi-weekly until it's done.
A high-wire act, this, since it's possible I'll screw it all up.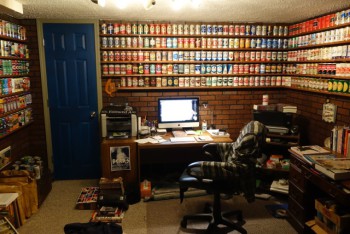 Then again, maybe I'll not only hit the target, I'll split Robin's arrow.
As Cheech Marin once said, "Hey, anything could happen on this bus!" Or in my office, pictured here at right. (And yes, Virginia, I do collect (very) old beer cans.)
So stay tuned, and stop by. I've got what I think will be a crackerjack opening, and I can't wait to share it with you.
Now. I hear an orc or two heading my way. (Dead giveaways: the mouth-breathing, the shambling footfalls, the long arguments delivered in orcish about how best to skin a hobbit.) In order to save my skin, I must dream up a handy plan of escape.
I know.
Rope Trick.
Onward.
---
Mark Rigney has published three stories in the Black Gate Online Fiction library: "The Trade," "The Find," and "The Keystone." Tangent called the tales "Reminiscent of the old sword & sorcery classics… once I started reading, I couldn't stop. I highly recommend the complete trilogy." Also available at Black Gate is his serialized novel, In the Wake Of Sister Blue. The first installment may be found HERE.
Away from Black Gate, he is the author of the supernatural quartet, The Skates, Sleeping Bear, Check-Out Time, and Bonesy, all published by Samhain and featuring his semi-dynamic duo of Renner & Quist. His short fiction has been nominated for a Pushcart Prize and has appeared in Unlikely Story, Betwixt, Black Static, The Best of the Bellevue Literary Review, Realms of Fantasy, Witness, The Beloit Fiction Journal, Talebones, Not One Of Us, Andromeda Spaceways Inflight Magazine, Lady Churchill's Rosebud Wristlet and many more. In other work, Rigney is the author of the plays Ten Red Kings, Acts of God and Bears, winner of the 2012 Panowski Playwriting Competition, as well as the non-fiction book Deaf Side Story: Deaf Sharks, Hearing Jets and a Classic American Musical (Gallaudet). Two collections of his stories (all previously published by various mags and 'zines) are available through Amazon, Flights of Fantasy, and Reality Checks. His author's page at Goodreads can be found HERE, and his website is markrigney.net.