Exploring Bahariya Oasis, Egypt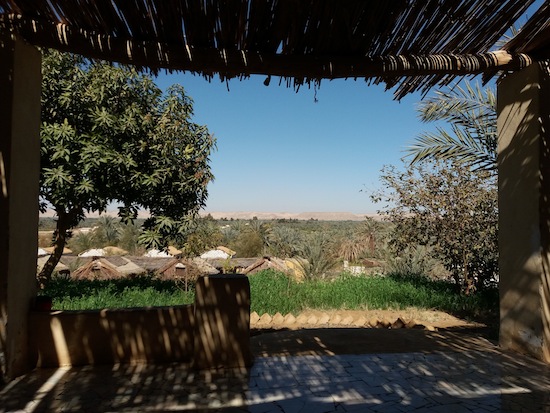 A view of Bahariya Oasis from my camp on the outskirts of Biwati
When visiting Egypt, it's hard to tear yourself away from the Nile Valley. After all, that's where you'll find the vast majority of temples and pyramids, as well as the lively city of Cairo, currently one of my favorite cities in the world.
On my previous trips to Egypt I've often looked longingly at the western horizon, wondering about the oases that are strung out across the desert far to the west of the river. Finally last month as part of researching my next novel, I got to visit one of them.
Bahariya Oasis is about 370 kilometers (230 miles) southwest of Egypt's capital. The old caravan route (the one my characters have to take), was a waterless ten days on camel. I only had to endure a long ride on a cramped bus through a dreary landscape. This part of the Western Desert is not pretty. It's flat, with few changes in terrain, and not even any real sand dunes to look at.
After this minimalist landscape, the road leads up a ridge of black volcanic stone and to an overlook above a wide valley. The entire valley is green with palm groves and cultivated land. The effect is startling, and must have been even more so for the travelers in the old caravans. The valley measures 94 kilometers (59 miles) long and 42 kilometers (26 miles) wide.