Art of the Genre: A Review of the 5E Monster Manual and its Place in D&D Product History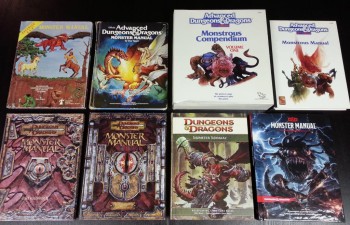 So a month ago, I had the pleasure of reviewing the new Dungeons & Dragons 5th Edition Players Handbook. At first, it seemed to me that I'd be doing a rather standard review, but the more I read the product, the more it began to light a fire in me about what the game had to offer.
New mechanics, or should I say neo-retro, because it seamlessly combines great features of both old and new D&D, had me wondering just how the game played on a table-top. By the end, I fully understood that this was not only a product to be respected, but also that I had to take the first chance I got to play it.
That said, I began to break down the mechanics and tried to extrapolate them into a small adventure that would help new players better understand the flow of the game. It was a truly fun and insightful process, but the double-edged sword of it was that I needed monsters!
Now sure, as an experienced DM with 30+ years behind the screen, I was able to extrapolate statistics from older versions of the game and translate them to 5th Edition, and it also helped to have a copy of the 5E Starter Kit, but if you've ever run a game of D&D, you know that it is always nice to have a copy of the Monster Manual close by! So, it is with great pleasure that I get to introduce players and fans alike to just what has changed in the 5E version of the game where monsters are concerned.