Behind the Microphones: How the Uncanny Magazine Podcast Gets Made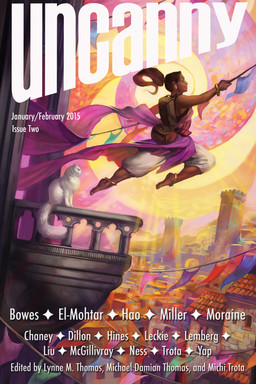 We're currently in the middle of running the Uncanny Magazine Year Two Kickstarter. Uncanny Magazine is dedicated to bringing readers stunning cover art, passionate science fiction and fantasy fiction and poetry, gorgeous prose, and provocative nonfiction by writers from every conceivable diverse background.
Not to mention a fantastic podcast featuring exclusive content. We've already funded and are currently working toward our stretch goals of extra stories for our readers.
Since Black Gate favorite C. S. E. Cooney was one of our Uncanny Magazine Podcast readers in Year One, we thought Black Gate's readers might enjoy hearing how our amazing podcasting team puts together the Parsec Award-finalist Uncanny Magazine Podcast, which, every month, features a story and a poem from Uncanny along with an exclusive interview. While Lynne and Michael introduce each podcast, choose the content, and provide linking segments, the real work gets done by the rest of our awesome team, who spend a lot of time and energy making us sound great.
Having a great podcast was extremely important to us when we planned Uncanny Magazine. As many of you might know, Lynne and Michael are no strangers to podcasting. Lynne is the moderator of the two-time Hugo Award-winning SF Squeecast (with Elizabeth Bear, Paul Cornell, Seanan McGuire, Catherynne M. Valente, and David McHone-Chase), a member of the Hugo and Parsec-finalist Verity! podcast (with Deborah Stanish, Erika Ensign, Tansy Rayner Roberts, Katrina Griffiths, and L.M. Myles), and launched the Apex Magazine Podcast with Michael, Erika Ensign, and Publisher Jason Sizemore. Michael is also a member of the SF Squeecast and the Down and Safe podcast (with Amal El-Mohtar, L.M. Myles, and Scott Lynch).
So to create a world-class podcast, Lynne and Michael Thomas brought together the world-class team of Erika Ensign and Steven Schapansky as producers, Deborah Stanish as interviewer, and Amal El-Mohtar and C. S. E. Cooney as readers. We'll let some of them tell you more about their roles at Uncanny.