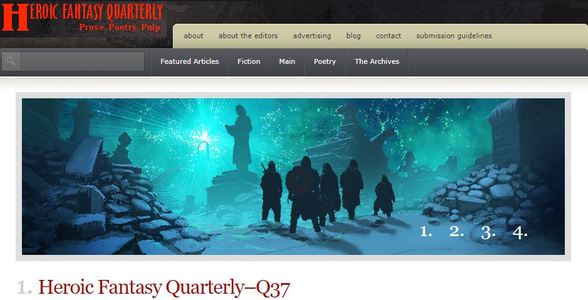 It's been more than a piece, heck, even more than a while, since I've done one of these. I'm glad to be back because there's been some really good short fiction published in the last couple of months. I'm not going to get to everything, but I am going to get to the best — Heroic Fantasy Quarterly 37 and Tales From the Magician's Skull No. 2.
HFQ 37 has four stories and three poems. The continued use of evocative black and white art makes it my favorite looking ezine out there, but it's the high quality of the stories that matters.
P. Djeli Clark kicks off the issue with the more-than-a-little grim "The Paladin of Golota." Teffe is a young boy in the decaying town of Am Amara. He survives by robbing the corpses of the stream of warriors who have come to his town to fight the demon worms that infest the surrounding lands. Contrary to his fellow street kids, Teffe draws a line at cutting the throats of the wounded, instead waiting until they die on their own. This slight sense of honor leads him into a conversation with the fighter, Zahrea. She knew coming to Am Amara meant her death was likely, but came anyway.
"You'd die just to become a hero?" he asked.

She sat back and closed her eyes before saying: "Heroes give the world hope. They fill our tales and stories. There is a reason we do not make gods our heroes, but instead mortals who became more."
Clark is a writer whose work I've admired very much in the past and this is my favorite story of the month. The story is grim, but unlike so many such stories, Clark not only provides a moment of grace in the darkness, but its entirety is built around that moment.
---