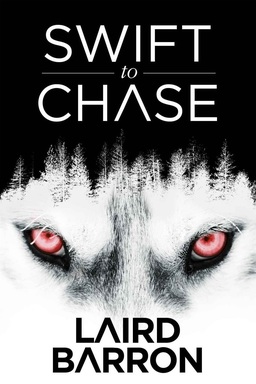 Laird Barron is, to my mind, head-and-shoulders above any other horror writer around today. Besides being terrifying, his stories exhibit a real gift for expressing the existential angst of classic cosmic horror, that genre that was perfected so well by the late H. P. Lovecraft. But Barron has so excelled in crafting this sort of tale that calling him Lovecraftian is seemingly rather quaint. For Barron knows how to uniquely weave together seemingly disparate strands in very original ways that bring the horror reader to that wonderful seesaw state of being overwhelmed by the horrific, while also finding aesthetic joy in it.
Swift to Chase is Barron's fourth collection and is often called, by the author himself, his Alaska book. Barron originally hails from the 49th state, and many of his past stories take place in the American northwest, especially the state of Washington. Though this new book focuses upon Alaska, in many ways this real-life setting strongly echoes elements in Barron's prior collections.
Many (if not all) of Barron's stories appear to take place in the same sandbox, the same fictional universe. Barron, like the late Lovecraft, often includes recurring regions, locations, and characters in many of his stories. Those familiar with Barron's previous stories will notice many familiar hints in Swift to Chase. But this is the first Barron collection where there is a definite theme throughout the stories (with perhaps one exception). What is this theme? Besides focusing upon Alaska as a setting, many of these stories hearken to the horror movie genre often called "slasher pics."
I have to admit that I abhor and avoid most horror movies, especially slasher films. However, like many teens in the 1980s, I grew up on them and so I'm familiar with the overly used tropes and formula killings of those flicks. Anybody remember the rules of surviving a horror movie from Wes Craven's 1996 movie Scream?
---