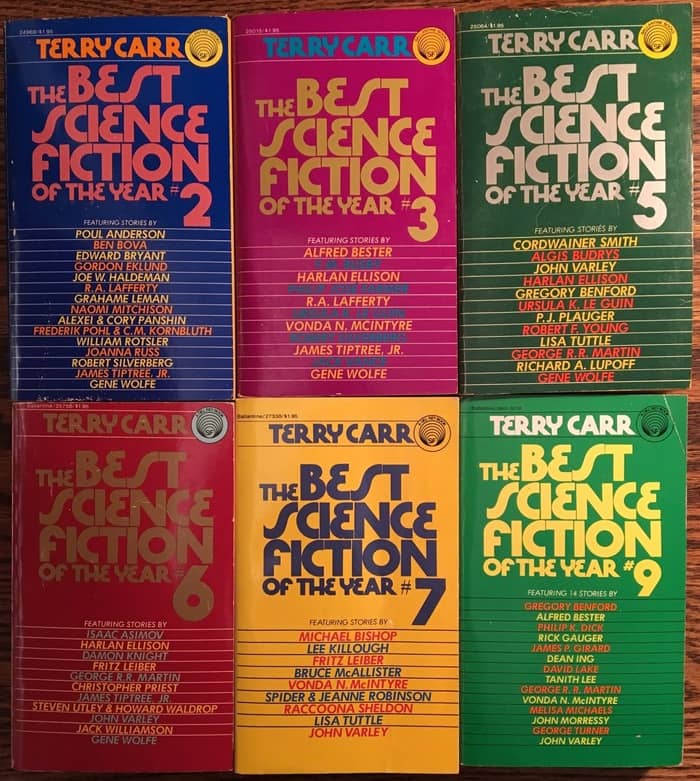 My taste in science fiction — like my taste in music and film — was shaped early. What I learned to love as a teen I largely still enjoy… with some exceptions. One of those exceptions is Terry Carr's Best Science Fiction of the Year. I picked up my first one in 1977, at the age of 13, and I discovered pretty quickly that they weren't for me. I went back to reading pulp SF in books like Before the Golden Age, and was blissfully happy to do so for many years.
I've returned to Carr's Best Science Fiction of the Year recently, and discovered why I didn't connect with them four decades ago: unlike many of his contemporaries, Carr brought an adult eye to SF, and the fiction he selected spoke to adults. It still speaks to adults today, clearly and with no loss of voice, and I now consider Carr's Best volumes — especially the ones he did in the mid-70s — to be some some of the best SF anthologies ever printed. Here's what I said last year about #3, published in 1973.
How incredible was The Best Science Fiction of the Year #3? It contains some of the finest science fiction stories of all time, packed into one slender volume. Like "The Women Men Don't See" by James Tiptree, Jr… perhaps her most famous story, and that's saying something. And Vonda N. McIntyre's Nebula Award-winning "Of Mist, and Grass, and Sand," which became the basis of her 1978 novel Dreamsnake (which swept the Hugo, Nebula, and Locus Awards the following year.) And Harlan Ellison's classic "The Deathbird," the Hugo and Locus Award-winning title story of his celebrated 1975 collection Deathbird Stories. Plus Gene Wolfe's famous "The Death of Dr. Island," winner of the Locus and Nebula awards for Best Novella.

And an unassuming little story by a young writer named Ursula K. Le Guin, "The Ones Who Walk Away from Omelas," which won the Hugo Award for Best Short Story, and is considered by many (me included) to be one of the finest short stories ever written. And lots more — including a Jack Vance novella, plus stories by Philip José Farmer, Alfred Bester, R. A. Lafferty, Robert Silverberg, and F. M. Busby. All for $1.50!
Last month I purchased a fine collection of six Best Science Fiction of the Year volumes (pictured above) on eBay for the criminally low price of $7. They arrived a few weeks ago, and I've stolen a few minutes here and there to dip into them. It's been an enormously rewarding experience.
---