Goth Chick News: Yes, I Realize Its Only June, But It's the Midwest Haunters Convention
Goth Chick News: Yes, I Realize Its Only June, But It's the Midwest Haunters Convention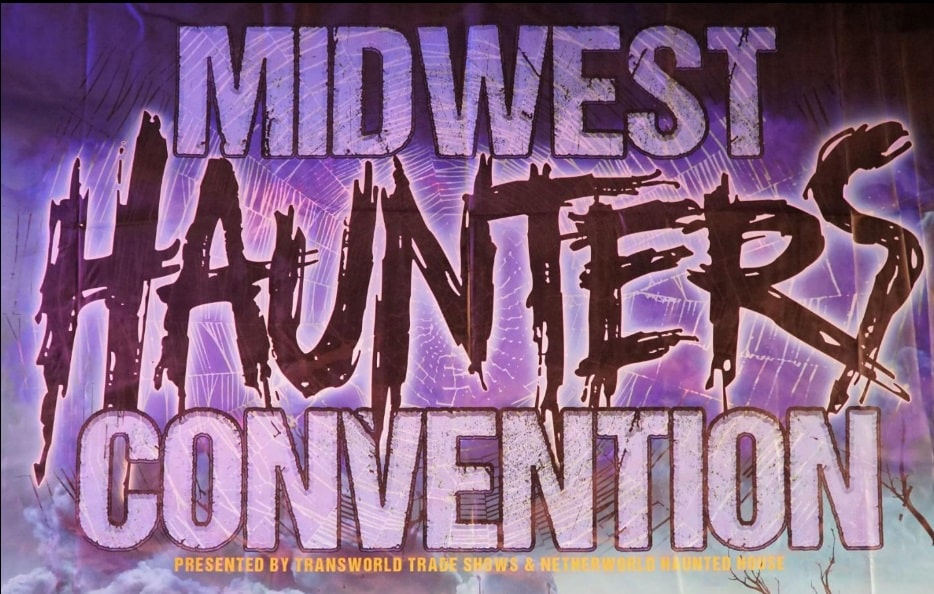 The fabulousness that is the Halloween season does not simply appear on October 1st. Much like Christmas décor in September, the haunt season needs a good long runway, with the primary difference being that we aficionados don't normally start blasting Monster Mash while temperatures are still in the 80's. No, our lot is slightly more subtle. When we start getting all spooky in the summertime, we do it in private at events like the Midwest Haunters Convention.
The MHC is the largest Halloween show of its kind in the US, dedicated to all Halloween lovers; actors, enthusiasts, home/pro haunters, makeup artists and special effects creators. MHC is part of the TransWorld family of events and organizers of the largest professional haunt show in the country, the Halloween and Attractions Show which takes place in the early part of each year in St. Louis. However, unlike the earlier show, MHC is open to the public, and Black Gate photog Chris Z and I were once again lucky enough to score an invitation to this year's event at the Rosemont Convention Center outside of Chicago.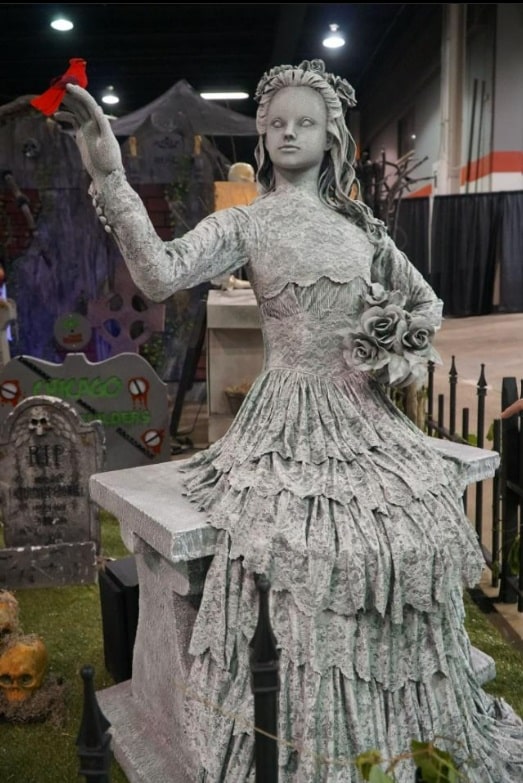 Following a couple of strange years due to the zombie virus, a lot of the shows Chris Z and I typically cover have swizzled their schedules, meaning we had quite a long dry spell since our last horror fix. So, it was with no small amount of glee that we waded into MHC 2023, which we immediately noted was more than double the size of last year's event.
I should note here that this show is really an entire weekend of festivities which include parties, seminars, contests, entertainment and a pre-convention road trip to visit several professional haunts which staff up and open just for MHC attendees.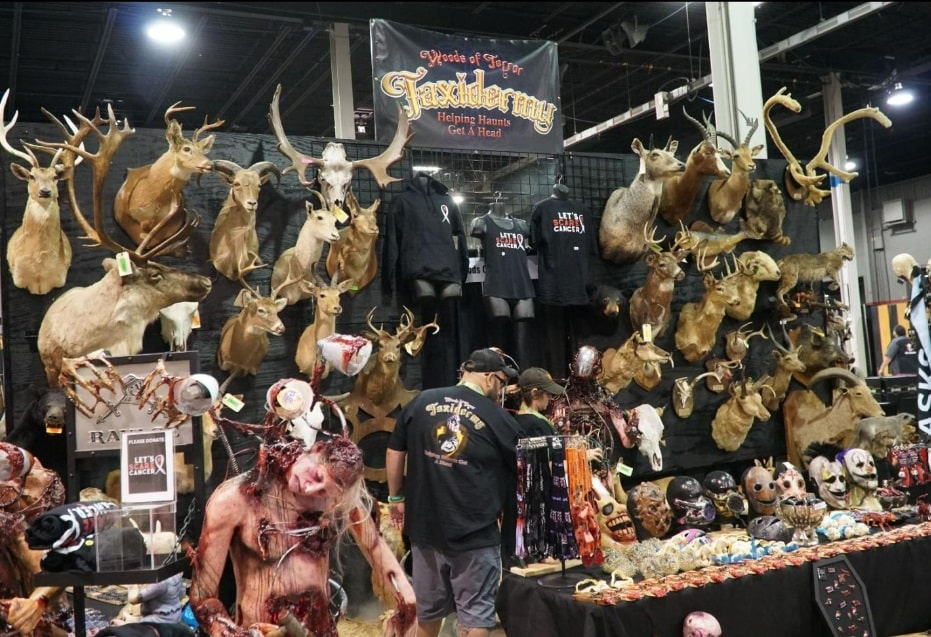 This year's bus tour was a doozy, traveling all the way from Chicago to visit several haunted attractions in Detroit including Hush, Eloise Asylum and Erebus.
However, with the tour leaving Chicago at 6:30 am and returning at 2 am the following morning, and with Chris Z's attention span being what it is, we decided to concentrate this year's coverage on the show itself and forego the bus tour which we have joined in the past. I do highly recommend it though, as you can see from our coverage last year.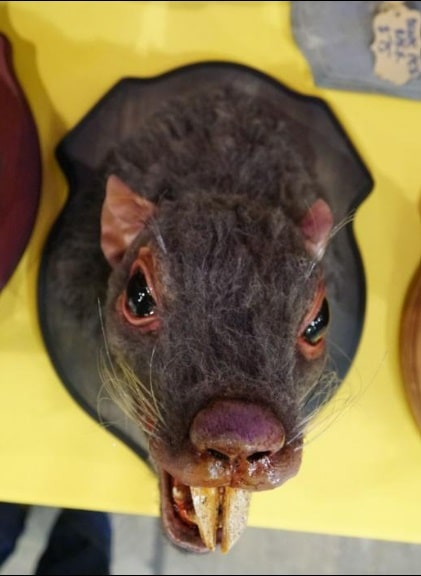 What the…
Though it would be hard to do full justice to all the cool things we saw, there are a few standouts. First to catch our attention was a company called Magical Light Shows, purveyors of the most insane music-synchronized displays we had ever seen. Unlike most of the vendors at the MHC, Magical Light Shows isn't exactly suited for your average home haunter.
First, you'd likely get asked to move if you tricked out your entire house in lights which bounced along to an ear-splitting Halloween medley. Second, a full display could run you upwards of $30K, and that is without the aerial drone show which was "pricing upon request." However, if you happen to have a substantial expendable income and a house in the country (way out in the country), check out the possibilities…
Sadly for me, the last demo Magical Light Shows had running before we moved on, was done to Lady Gaga's "Bad Romance;" meaning I was treated to Chris Z's ongoing replay for the next several hours while saying, "I can't get this song out of my head now…"
…help.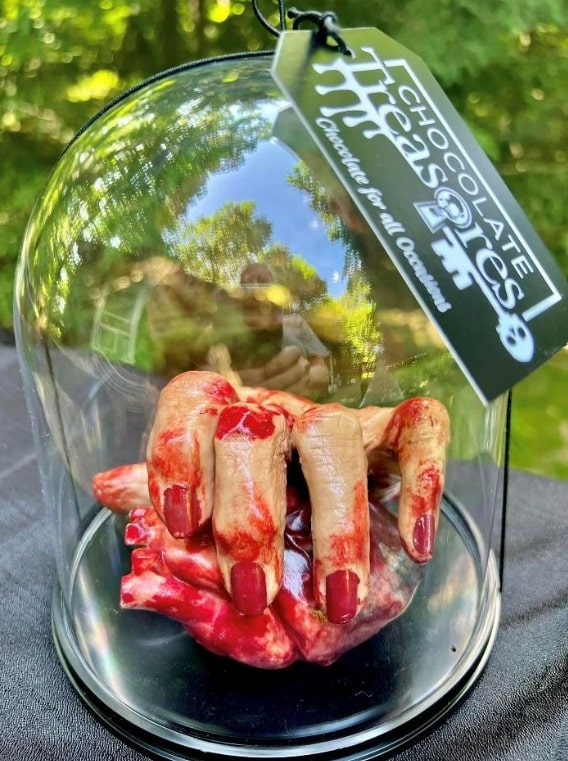 Chocolate Treasures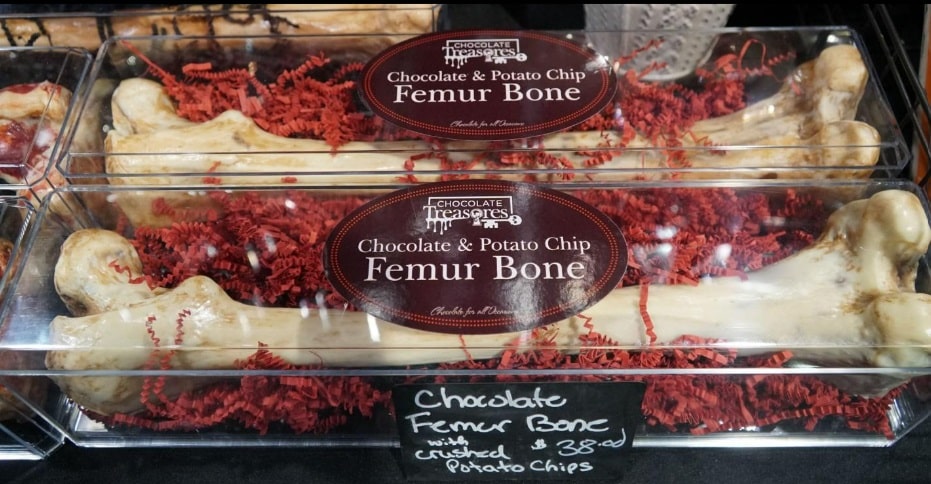 Chocolate Treasures
Next came the incredible art by a company called Chocolate Treasures, located in Ohio. True, they do amazingly detailed work to suit any occasion, from weddings to birthdays. But their Halloween-themed creations were something to behold. There was a 4lb solid chocolate skull and a hand holding a heart under glass. I was particularly fond of the smaller chocolate heart which came with a miniature hammer. The idea was to break the skull apart to find a small treasure inside of the skull. Absolutely perfect for all your holiday needs.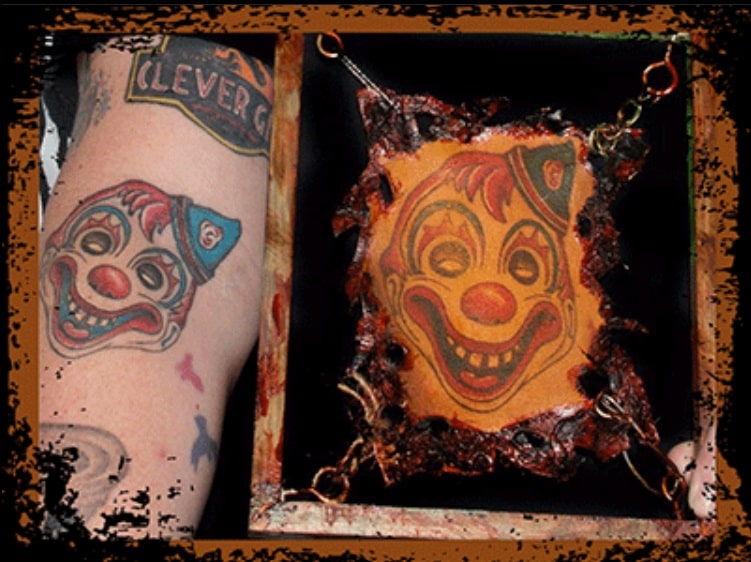 Inkfection Collection
The Inkfection Collection was another unique offering for the slightly off-center, tattooed person in your life. Inkfection will make a perfect life-sized replica of any tattoo, place it on a media which resembles human skin, and stretch it in a frame. In other words, it's as if someone flayed off tattooed skin and made art out of it. Okay, I realize this is somewhat disturbing, but come on. You have to admit that no one else will be gifting this to your tattooed friend at the next holiday. And just think of the conversation-started this would be if you had your own tattoo displayed this way at your next cocktail party.
Priceless.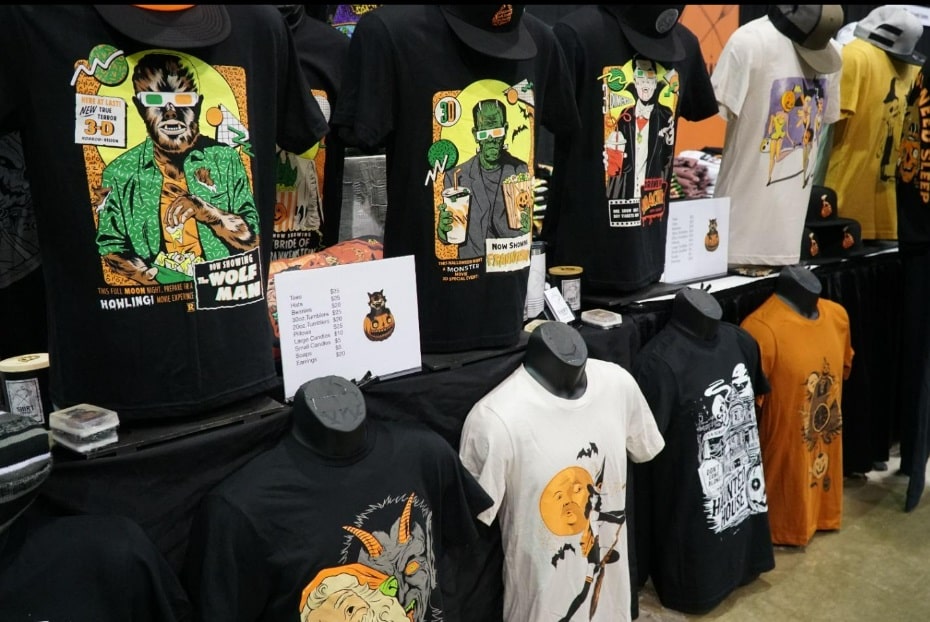 The Halloween Shirt Company
And finally, for the considerably less odd, there was the Halloween Shirt Company, displaying an array of tee-shirt designs suitable for year-round wear. We loved some of the retro designs of the classic movie monsters, along with kid-friendly Halloween designs. Coming in at around $25 with 10% off your first order, this is a great way to show your spooky side year-round.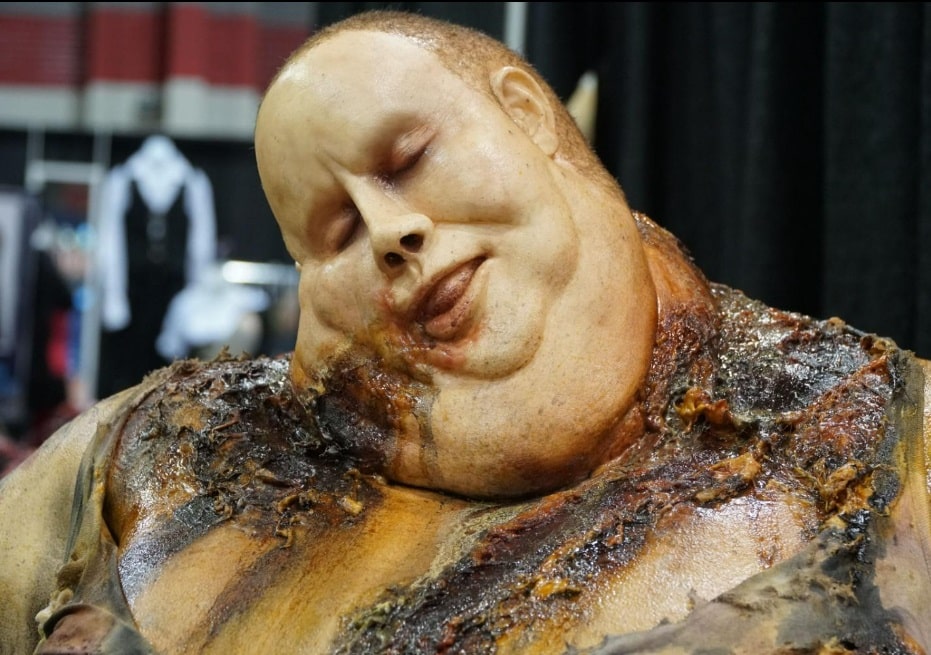 Don't ask…
Then, having had our fix of monsters, zombies and edible body parts for the time being, Chris Z and I headed back to the suburbs, safe in the knowledge that though it might be June, it was only 113 short days to spooky season…