New Treasures: Dragonfall by L.R. Lam
New Treasures: Dragonfall by L.R. Lam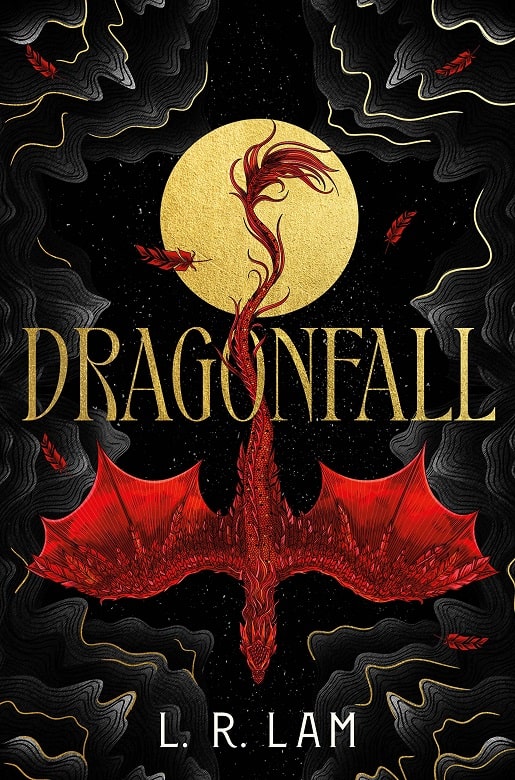 Dragonfall (DAW, May 2, 2023). Cover by Micaela Alcaino
L.R. Lam, who also writes as Laura Lam and Laura Ambrose, is the author of the Micah Grey trilogy (Pantomime, Shadowplay, and Masquerade), about an an intersex youth who runs away from home to become a circus aerialist. Lam is also the author (with Elizabeth May) of the Seven Devils duology, Seven Devils and Seven Mercies.
Lam's new book is the opening volume in a new fantasy series, Dragon Scales. The tale of a street thief who steals a powerful artifact from the bones of the hated Plaguebringer, Dragonfall is a tale of the world-changing events triggered by that small bit of larceny… beginning with Everen, the last male dragon, dragged him through the Veil and disguised as a human, who find himself unexpectedly in the thief's power. Publishers Weekly calls it "Sumptuous epic fantasy," and GrimDark magazine sums it up as "a slow burn, full of angst, moral dilemmas and emotionally damaged characters… an exciting opening to a series with a lot of potential."
Here's an excerpt from that PW review:
Lam (Pantomime) launches the Dragon Scales trilogy with this sumptuous epic fantasy. Young Arcady Dalca steals the magical seal off the corpse of their disgraced grandfather, who was unjustly blamed for unleashing a magical plague, hoping to use it to get vengeance against their grandfather's murderers. The theft causes a mystical storm that opens a hole in the Veil between worlds that allows the dragon Everen Emberclaw to pass through… Disguised as a human, Everen realizes to his horror that the seal has bound him to Arcady in virtual servitude. To gain Arcady's trust, Everen takes his sister Cassia's advice: "Make your little human love you. Do what you must. And then kill it." Lam crafts a dynamic world of mystery and magic populated by diverse characters with well-shaded backstories and conflicting motivations that add a layer of depth to this sophisticated fantasy. Readers will be eager for more.
Dragonfall was published by DAW Books on May 2, 2023. It is 336 pages, priced at $27 in hardcover, and $14.99 for the digital edition. The cover is by Micaela Alcaino
See all our recent New Treasures here.