Vintage Treasures: The Drowned World by J.G. Ballard
Vintage Treasures: The Drowned World by J.G. Ballard

The Drowned World, first edition (Berkley Medallion, August 1962). Cover by Richard Powers
I'm criminally undereducated in J.G. Ballard. I came to most of my favorite science fiction writers through short fiction, and the first Ballard short stories I read (such as "The Terminal Beach") were lush and impressively written, but also a far cry from the adventure tales I craved in SF and fantasy.
But as I've grown older, I found I'm much more interested in Ballard. I wrote a Vintage Treasures piece on The Crystal World last November, and tracked down his monumental Complete Short Stories, Volumes One & Two in 2019. But the roots of my interest trace back (as they often do) to an article at Black Gate. In this case, Thomas Parker's terrific piece A Prophet Without Honor: J.G. Ballard, published here in 2015.
[Click the images to drown in bigger versions.]

Later paperback editions: Berkley Medallion, July 1966; Penguin Books, April 1974, and
Dragon's Dream, September 1981. Covers by Richard Powers, David Pelham, and Dick French
Here's the section that finally, after many long years, sparked a real interest in Ballard:
J.G. Ballard never won a Hugo. He never won a Nebula. In fact, he never won any major science fiction award, and yet, by any rational measure, he was a major science fiction writer, one who redefined the possibilities of the genre and whose work reached readers and critics far beyond its boundaries, boundaries that were much narrower when he began writing than they are today and which his work was instrumental in expanding. Long term predictions are a mug's game, but it's a fair bet that just as J.G. Ballard's reputation has continued to grow since his death in 2009, he will still be read in the early years of the next century.

James Graham Ballard first made his name in the 1960's with a series of novels — The Wind From Nowhere (1961), The Drowned World (1962), The Burning World (1964), and The Crystal World (1966) — which might be described as environmental apocalypses, though they function more as extravagant metaphors for human transformation than they do as sober warnings about climate change. Far from being run of the mill disaster novels, in Ballard's hands these stories are eerie, metaphysical dramas of destruction and metamorphosis.

His precise, chilly, almost clinical style lends him just the right distance for this, his favorite subject (he was extremely fond of destroying the world, or at least of altering it beyond recognition, and did it over and over again, with heat, wind, water, and anything else he could think of, and if he couldn't destroy the whole planet he was happy to depict civilization or individuals coming apart like cars just out of warranty).
Read Thomas's complete article here.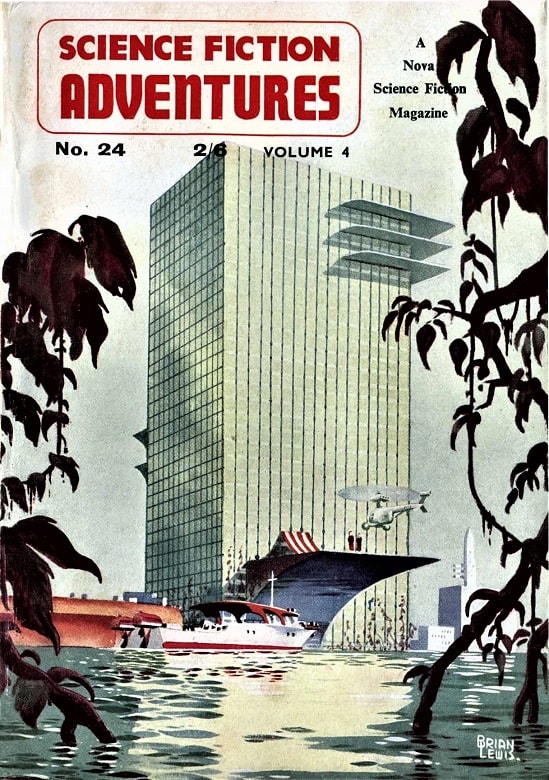 The January 1962 issue of Science Fiction Adventures,
containing the novella "The Drowned World." Cover by Brian Lewis
"The Drowned World" first appeared in novella form in the January 1962 issue of the British magazine Science Fiction Adventures. One of the first serious treatments of global warming in science fiction, it was set in the early 21st Century, when a sudden surge of solar storms had made most of the Earth's surface uninhabitable. The novella follows a team of scientists doing environmental research in an abandoned London.
Ballard expanded the story and published The Drowned World as his second novel in August 1962. It first appeared in the US as a paperback original from Berkley Medallion. It has been reprinted numerous times over over past sixty years, and become recognized as one of the founding texts of climate fiction.
According to David Pringle, the idea that the novel is set in 2145 (stated at Wikipedia, and repeated in numerous sources) is a misconception:
The Drowned World is not set in "the mid 22nd Century." That date is not stated anywhere in the novel. In fact, it can be worked out from various clues that it's meant to be set about 60 or 70 years from the time it was written, 1962 — i.e., in the early 21st century (or about now!).

The notion the The Drowned World is set in the year 2145 seems to have arisen since the year 2000 and has become enshrined in Wikipedia and evidently copied from there by many commentators and critics. Yet no date is stated in the novel, and all the clues, as I've suggested above, point towards the action taking place in the early 21st century, perhaps some time in the 2020s or 2030s.
In 2010 Time magazine listed The Drowned World as one of the top 10 best post-apocalyptic books of all time, and in 2018 Will Self said that, "The Drowned World shows him to be the most important British writer of the late 20th Century."
Will Self writes in The Telegraph:
For decades, until Empire of the Sun, [Ballard] was regarded as primarily a science-fiction writer, with all the literary condescension that this implies. Subsequently his work was accorded an increasing – but still grudging – respect. However, it is only since Ballard's death in 2009 that the consensus has steadily formed that he was the most important British writer of the latter half of the 20th century – a development he himself naturally anticipated, with his deadpan aperçu: "For a writer, death is always a career move."

Career move or not, to return to The Drowned World – or, indeed, to pick it up for the first time – is to be confronted with a vision of such startling and coruscating originality – images and ideas burning expanding aureoles into the mind's eye – that it is quite impossible to credit that such acclamation was not accorded him earlier.
The Telegraph piece is behind a paywall, but you can sign up for a free trial to read just this article at no charge,

Carroll & Graf, June 1987, S.F. Masterworks, September 1999, and Liveright,
May 2012. Covers: Tom McKeveny, Chris Moore, and Philippe Bourseiller
Self implies that The Drowning World was largely ignored by critics when it appeared, but this is hardly true. Kingsley Amis reviewed the book in the 27 January 1963 Guardian, heaping praise on it:
In JG Ballard's new book we have something without precedent in this country – a novel by a science-fiction author that can be judged by the highest standards. To my knowledge, this level has as yet been attained by only two American writers, Algis Budrys and Walter M Miller. Mr Ballard may turn out to be the most imaginative of [HG] Wells's successors, although he has expressly repudiated Wells as an influence.

The setting is among the super-tropical swamps, lagoons and jungles that, as a result of an increase in the sun's heat, now cover most of Earth's surfaces. Plant and animal life is reverting to the giant bamboos and reptiles of the Triassic age. Among the members of a survey team, sent south from Greenland to determine whether parts of Europe may some day be reclaimable, a parallel but far more complex and disturbing regression can be glimpsed. Those so affected share a recurrent dream in which they appear to be reversing the process of their birth, losing their identity in a warm sea that is at once the uterino fluid and the primeval ocean from which life emerged. In their waking hours they withdraw more and more irrevocably into the "consciousness of their remote biological past…"

There is plenty of drama, notably after the arrival of a diabolical free-booter, bone-white in a world of darkened skins, whose ship is crammed with salvaged altar-pieces and equestrian statues… But the main action is in the deeper reaches of the mind, the main merit the extraordinary imaginative power with which whatever inhabits these reaches is externalised in concrete form. The book blazes with images, striking and continuously meaningful.
The Drowned World has enjoyed numerous reprints over the decades, and if you're in the market for a copy, you certainly have your pick of handsome editions. As for me, I waited until I could track down a copy of the original paperback. I finally found a copy earlier this year, and on Friday I settled in to read it for the first time. There aren't a lot of rewards to being a paperback purist, but reading a masterpiece in its original appearance is one of them.
Our previous coverage of J.G. Ballard includes:
Vintage Treasures: The Crystal World By J.G. Ballard (2022)
The Golden Age of Science Fiction: "The Unlimited Dream Company," by J.G. Ballard by Steven H Silver (2019)
IMHO: A Personal Look at Dystopian Fiction — Part Two: J.G. Ballard by Joe Bonadonna (2019)
Dreams More Perfect Than Your Own: J.G. Ballard: The Complete Short Stories, Volumes One & Two (2019)
Vintage Treasures: The Best Science Fiction of JG Ballard (2016)
A Prophet Without Honor: J.G. Ballard by Thomas Parker (2015)
J.G. Ballard's The Drowned World by Matthew David Surridge (2013)
Disparate Thoughts on Ballard, The Nature of Memory, a Fisher-Queen, and Fantasy Generally by Judith Berman (2009)
The Drowned World was published by Berkley Medallion in August 1962. It is 158 pages, priced at $0.50. The cover is by Richard Powers.
See all our recent Vintage Treasures here.