Vintage Treasures: The Best Science Fiction of JG Ballard
Vintage Treasures: The Best Science Fiction of JG Ballard
On September 3rd of this year, I attended the 2016 Chicagoland Pulpfest. It's a friendly gathering of Chicago area pulp fans and science fiction readers, held ever year at Doug Ellis' house in Barrington Hills. I'd been hoping for an excuse to get out to Doug's house for the last four years, ever since he invited me to dig through the massive — and I do mean massive — collection of paperbacks in his garage, originally belonging to famous editor Martin H. Greenberg.
Doug and Bob Weinberg had acquired the collection from Marty's family shortly after his death, and Doug was looking for a buyer for the paperbacks. I wrote about my first encounter with Marty's incredible collection (and acquiring a small portion of it) at the 2012 Windy City Pulp & Paper show. The sheer scale of the collection defeated me then, but I was spoiling for a re-match, and Doug's invitation to dig into it during the party was just too tempting to resist.
Well, I tried to be social (honestly I did), but the lure of thousands of vintage paperbacks in the garage was just too strong. After a few hours I wandered away from the party and soon found myself elbow deep in boxes, happily sorting through an incredible selection of books — including some I'd been searching for for decades. Virtually all were in fabulous, like-new condition, and it wasn't long before other book enthusiasts joined me.  Soon enough it seemed like the party had moved into the garage, as one after another most of the boxes were opened and we collectively cooed over the contents.
I walked away with nearly 300 paperbacks (which I bought from Doug for a criminally bargain price), including numerous treasures. Of course, I wasn't the only one to make fabulous finds. I saw copies of The Best of Clifford Simak, a complete set of Wild Card volumes, and numerous vintage Lovecraft collections dug out of boxes and gleefully set aside by my fellow book prospectors. But for me the big regret of the evening, the one that got away, was The Best Science Fiction of JG Ballard, a 1977 Futura paperback that I didn't even know existed until I saw it pulled out of a box in Doug's garage.
The proper thing to do when a follow collector makes a find, of course, is to congratulate him. And that's precisely what I did. I also snapped a pic, as a reminder to myself to try and track down a copy of my own.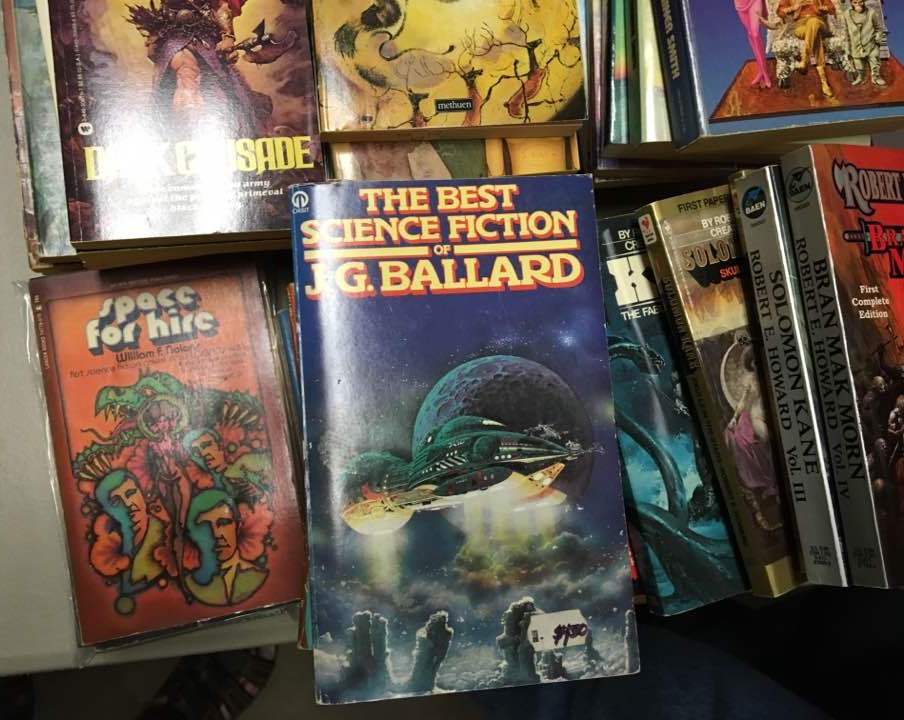 After haunting eBay for a few weeks, I did manage to find a reasonably-priced copy. It's not a particularly uncommon book — although it is a challenge to find in the US, and especially to find in like-new condition. But I managed it, and the collector in me is well satisfied (for now).
In a few weeks, I'll cover the  treasures of my own that I found in Doug's garage in more detail. But for now, here's a look at the Table of Contents of The Best Science Fiction of JG Ballard.
Introduction by J. G. Ballard
"The Concentration City" (1957)
"Manhole 69" (1957)
"The Waiting Grounds" (1959)
"The Sound-Sweep" (1960)
"Chronopolis" (1960)
"The Voices of Time" (1960)
"The Overloaded Man" (1961)
"Billennium" (1961)
"The Insane Ones" (1962)
"The Garden of Time" (1962)
"Thirteen to Centaurus" (1962)
"The Subliminal Man" (1963)
"Passport to Eternity" (1962)
"The Cage of Sand" (1962)
"A Question of Re-Entry" (1963)
"The Terminal Beach" (1964)
"The Day of Forever" (1966)
The Best Science Fiction of JG Ballard was published by Futura Publications in 1977. It is 411 pages, priced at £1.25 in the UK. There is no US edition. The cover is by Bob Layzell (click the images above for bigger versions.)
See all of our recent Vintage Treasures here.