Vintage Treasures: Dreamships by Melissa Scott
Vintage Treasures: Dreamships by Melissa Scott

Dreamships (Tor paperback reprint, July 1993). Cover by Tony Roberts
Melissa Scott burst onto the scene with The Game Beyond in 1984 (a nominee for the Compton Crook Award for Best First Novel), and followed that quickly with the first two novels in the Silence Leigh trilogy (Five-Twelfths of Heaven and Silence in Solitude, featuring the first polyamorous triad I can remember encountering in SF) and A Choice of Destinies. In 1986 she capped off that impressive run by winning the John W. Campbell Award for Best New Writer (now known as The Astounding Award, so it's no longer associated with a racist loon.)
But Scott didn't really grab my attention until her 1992 novel Dreamships, her hardcover debut and a thoughtful examination of FTL and A.I. in a far-future setting. She followed it with a single sequel Dreaming Metal five years later; that one made the long list for the Locus Award for Best Novel. Dreamships is set in a universe in which the FTL drive that rockets travelers across impossible distances relies on a dreamspace navigated using a virtual reality landscape created by the pilot. Scientists in this future are on the brink of achieving true artificial intelligence, and these two advances drive the plot.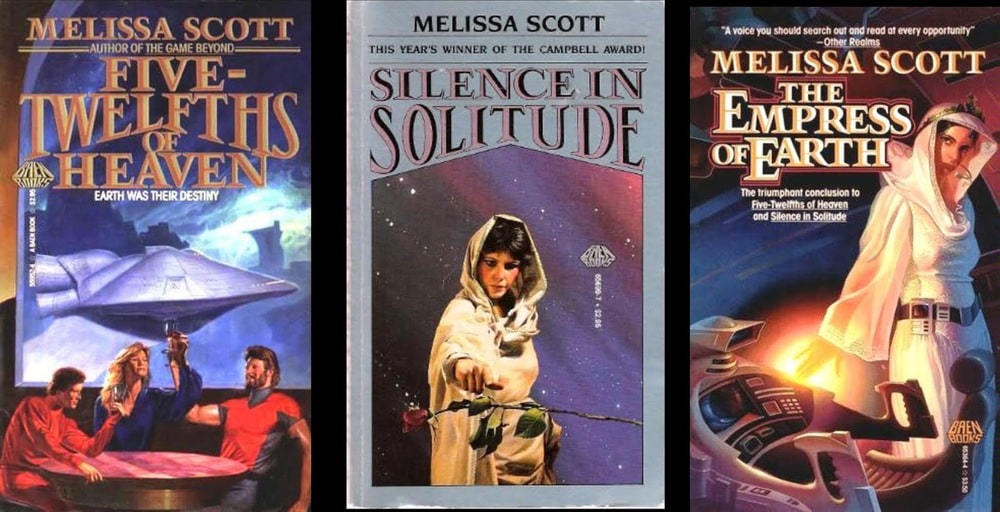 The Silence Leigh trilogy: Five-Twelfths of Heaven, Silence in Solitude, and The Empress of Earth (Baen, 1985-1987). Cover
art by Kevin Johnson, Neal McPheeters, and Alan Gutierrez. Collected in single volume edition The Roads of Heaven by the SFBC.
Kirkus Reviews has a fine synopsis.
Reverdy Jian, a freelance "dreamspace" pilot based on Persephone (an arid world so hot the population lives underground), and her partners Imre Vaughn and "Red" take on a job flying a custom-made ship for the secretive Meredalia Mitexi. They're to search for Mitexi's lost brother Venya — an almost legendary designer of the near-sentient computer "constructs" that help human pilots navigate dreamspace — who vanished soon after his claim to have created a true artificial intelligence was suppressed by his corporate employer, Kagami Ltd. Aboard Mitexi's ship, Reverdy works with Manfred, Venya's custom construct, and she grows ever more convinced that Manfred might be sentient. When Reverdy learns that Mitexi plans to turn Manfred over to Kagami on their return, she decides she must protect the construct, though she risks her career and maybe her life… a solid, thoughtful novel from a promising writer.
Melissa Scott is remembered today as a pioneer who regularly showcased LGBT protagonists in mainstream SF over 30 years ago. She is still writing today; her most recent novels are Water Horse (2021) and The Fire in Fortitude (2022).

Dreaming Metal (Tor trade reprint, September 1998). Cover by Nicholas Jainschigg
Melissa Scott has had a series of blogs over the years (including one at LiveJournal), but all the recent links I've found are dead. As far as I know she no longer as a website. If anyone knows otherwise, kindly drop a note in the Comments.
Dreamships was published in hardcover by Tor Books in May 1992, and reprinted in paperback in July 1993. The paperback edition is 346 pages, priced at $4.99. The cover is by Tony Roberts.
See all our recent Vintage Treasures here.