Goth Chick News: Netflix's Night Teeth is a Surprisingly Fun Vampire Thrill Ride
Goth Chick News: Netflix's Night Teeth is a Surprisingly Fun Vampire Thrill Ride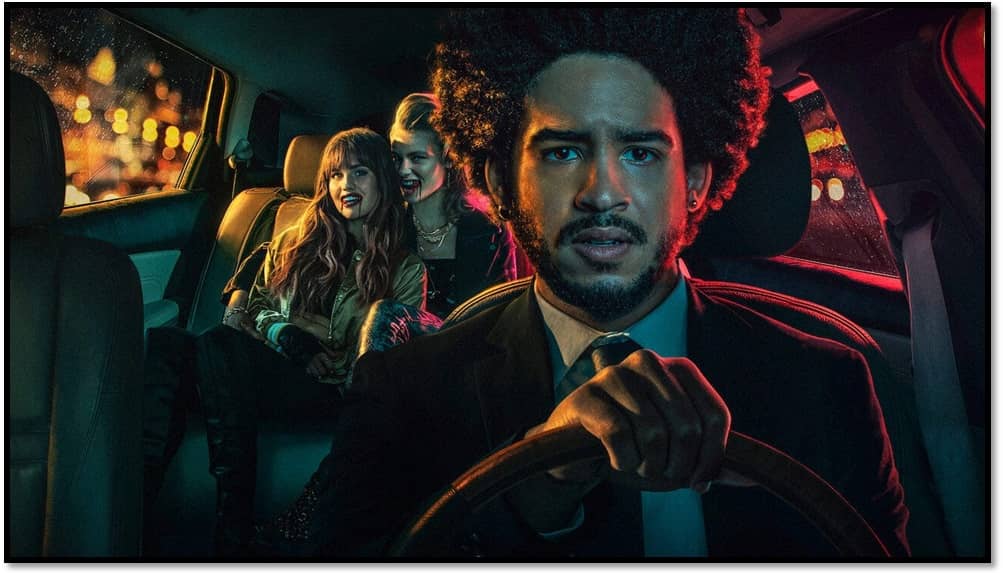 As "the season" came to a close for another year, so did my 31-day binge of all manner of scary movies. I had been saving Night Teeth on Netflix for Sunday afternoon before the official trick-or-treat hours kicked off. I wasn't expecting much so I was prepared to bail on it and watch something more traditional. Instead, what I got was a very pleasant surprise.
The premise shown in the trailer is what first got my attention. I love a good vampire tale, especially when it has a unique spin (like Midnight Mass). Night Teeth tells the story of Bennie, an aspiring young musician from East L.A. (played by Jorge Lendeborg Jr. – Spiderman: Far from Home) who takes his brother's limo shift to earn some extra cash. He winds up hosting two swanky young ladies on what looks to be an all-night party hop. What he doesn't know is that the two are vampire assassins sent by their boss to wipe out his rival, blood-sucking gang leaders in a bid to take over Los Angeles.
First and foremost, director Adam Randall gave Night Teeth a lavish neon noir treatment whose surreal dream-like atmosphere helped sell the idea of a vampiric underworld. It honestly gave off a Blade Runner vibe, helped along by a highly entertaining soundtrack of new wave/trip hop from Italian composer Drum & Lace and L.A. multimedia artist Ian Hultquist.
Second, the story itself had an unexpected depth; not from the vampire carnage of course, but from the relationships between the various characters. From Bennie and his brother Jay (Raúl Castillo – Knives Out), to somewhat lost-girl vampire Blair (ex-Disney star Debby Ryan) and her deranged progenitor Zoe (Lucy Fry – Wolf Creek), the characters have back stories that draw you in; not something you often get from this genre.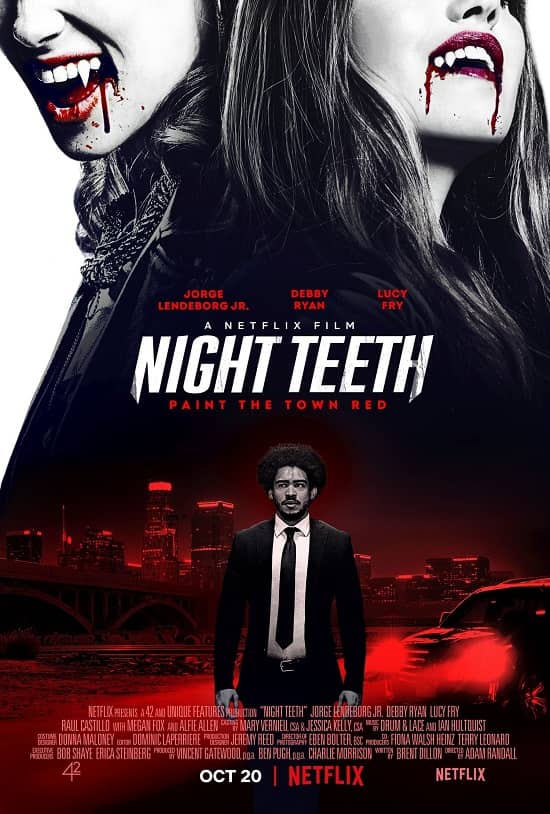 And then there's the cameos, of which there are several, and which add a "Hey, look! It's them!" element. Watch for brief appearance by Alfie Allen (Game of Thrones), Megan Fox, Sydney Sweeney (The Handmaid's Tale), Hunter Burke (The Big Short) and Alexander Ludwig (Vikings). Night Teeth also inspired me to do something I haven't done in quite some time, which is to buy the soundtrack. I think it will make fabulous background music for the upcoming holiday soirees.
Taken together, this is a fun, sexy vampire story with the expected, though not over the top, violence, but also enough depth to make for a very fun couple of hours.
Take that Edward Cullen…