A Tale of Finlay, Part 2
A Tale of Finlay, Part 2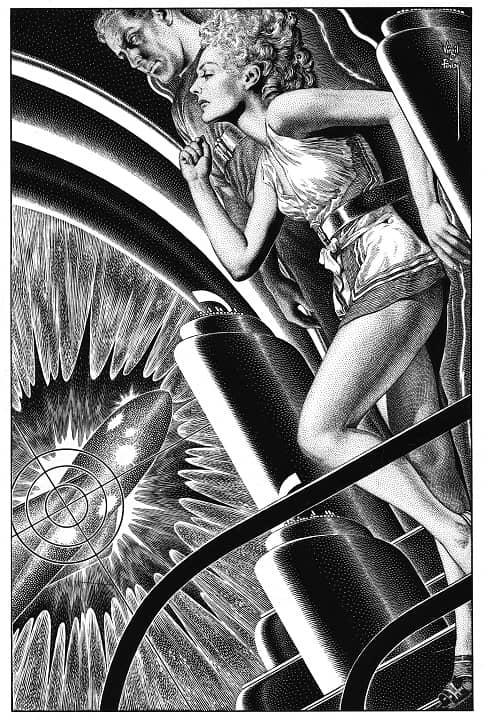 "The Conditioned Captain" illustration by Virgil Finlay
(from Startling Stories, May 1953)
In last week's Finlay post, I told the tale of how, back in the last week of March 2005, I'd acquired 15 Virgil Finlay originals from A Midsummer Night's Dream. It was an incredible purchase, but within six weeks it led to my acquisition of five more Finlay originals. Needless to say, that six week period was the greatest Finlay run of my collecting career.
I'd bought the Midsummer Night's illos from California bookseller Peter Howard of Serendipity Books. At the time I bought them, he told me that his consignor on these had a few other Finlay originals which he thought he'd be handling for him. A week later, on April Fools' Day, I received an email from Howard offering three more Finlay originals.

These were not Midsummer Night's pieces, but SF digest illustrations. The best of these was a double-page spread that had appeared in the January 1965 issue of "Worlds of Tomorrow," illustrating Philip Jose Farmer's Riverworld novella, "Day of the Great Shout." The others were from Philip K. Dick's "All We Marsmen" (serialized in 1963 in Worlds of Tomorrow) and Keith Laumer's "The Long Remembered Thunder," which ran in the April 1963 issue of Worlds of Tomorrow. I quickly bought them all.
A week later, on April 7, I received another email from Howard. He told me that his consignor had thought he had another one, and he'd found it. Howard was concerned that I'd think he was stringing me out – while I didn't think that, anyone is feel to keep offering me Finlays every week or two! This one was a pulp piece, and had appeared in the September 1949 issue of Fantastic Novels Magazine. Best of all, it was an illustration for the classic novel, "The Dwellers in the Mirage" by the great A. Merritt. I snapped that one up immediately!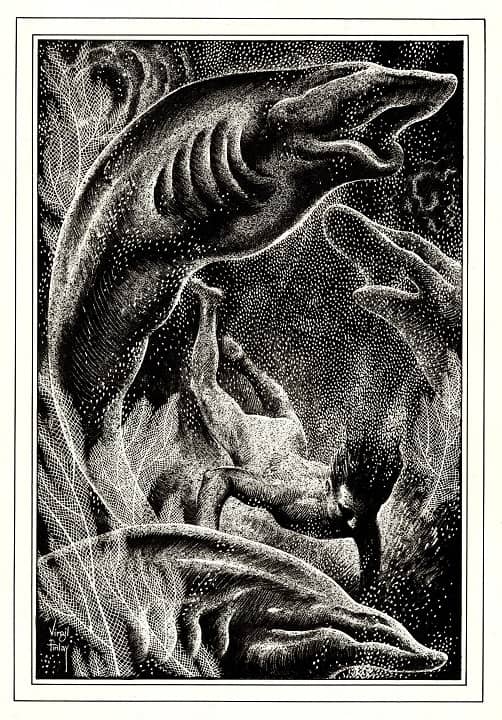 "Dwellers in the Mirage" illustration by Virgil Finlay
(from Fantastic Novels, September 1949)
I then didn't hear anything further for several weeks, and assumed that this store of Finlays had been exhausted. But on May 13, 2005, one final email arrived from Howard. His consignor had located one more in his collection, and it was another beautiful pulp piece. For Fletcher Pratt's "The Conditioned Captain," it had run in the May 1953 issue of Startling Stories. I immediately pulled the trigger on that one as well.
There you have the complete tale. It certainly was an incredible and fun six weeks!
---
Doug is a collector of pulps, as well as of pulp, science fiction and fantasy art. He co-founded and co-organizes the Windy City Pulp and Paper Convention. For many years his Tattered Pages Press published the pulp fanzine Pulp Vault, as well as other books on the pulps. He was one of the authors of The Adventure House Guide to Pulps, and has edited several pulp anthologies, including the Best of Adventure series. His book, Uncovered: The Hidden Art Of The Girlie Pulps, an in-depth study of the spicy pulps and their art, was named ForeWord Magazine's 2003 Popular Culture Book of the Year. In 2013, Bob Weinberg, Bob Garcia and he collaborated on The Collectors' Book of Virgil Finlay, a collection of Finlay's gorgeous art. The Art of the Pulps, which he co-edited with Bob Weinberg and Ed Hulse, won the 2018 Locus Award for Best Art Book.
Doug's last article for Black Gate was A Dream of Finlay, Part 1