A Dream of Finlay
A Dream of Finlay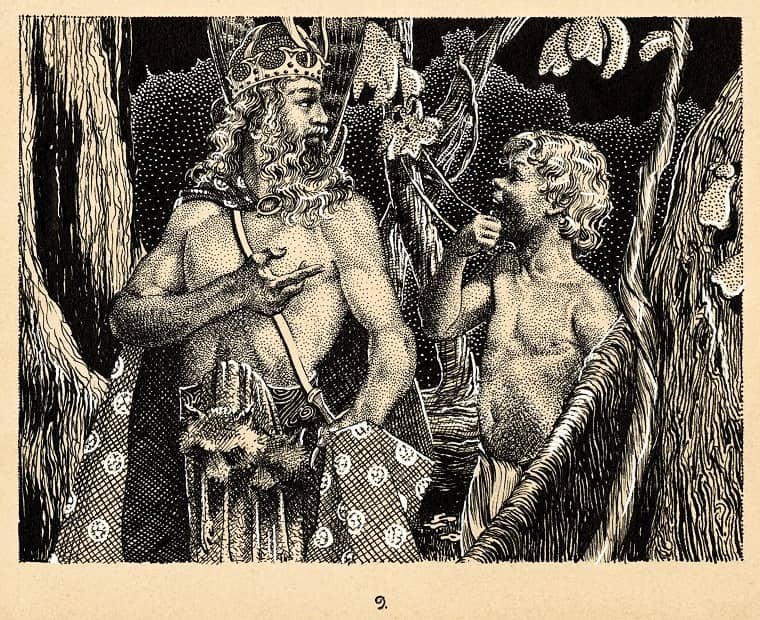 Virgil Finlay art from A Midsummer Night's Dream (1935)
To sleep, perchance to dream.
And if you're lucky, perhaps that dream will come true.
If that dream is to buy fifteen Virgil Finlay originals in one fell swoop, then mine came true on the first day of spring sixteen years ago. Thereby hangs a tale. Though with apologies to the Bard, 'twas neither Hamlet nor The Taming of the Shrew, but another play that figures therein.
Almost from the moment his work first appeared in Weird Tales – debuting in the December 1935 issue – Finlay was the greatest interior illustrator in the pulps. Enamored of his work, Weird Tales editor Farnsworth Wright immediately engaged Finlay's services for a side project, even as that issue of Weird Tales was hitting the newsstands.
Wright wanted to bring out an eight volume set of William Shakespeare's plays in inexpensive editions (under the banner "Wright's Shakespeare Library"), profusely illustrated. In Finlay, he felt he'd found the perfect partner for his project. He commissioned the then 21-year old Finlay to draw a total of 25 illustrations for the first volume, A Midsummer Night's Dream. Finlay completed this work in the last two months of 1935, and the volume saw print at the end of that year.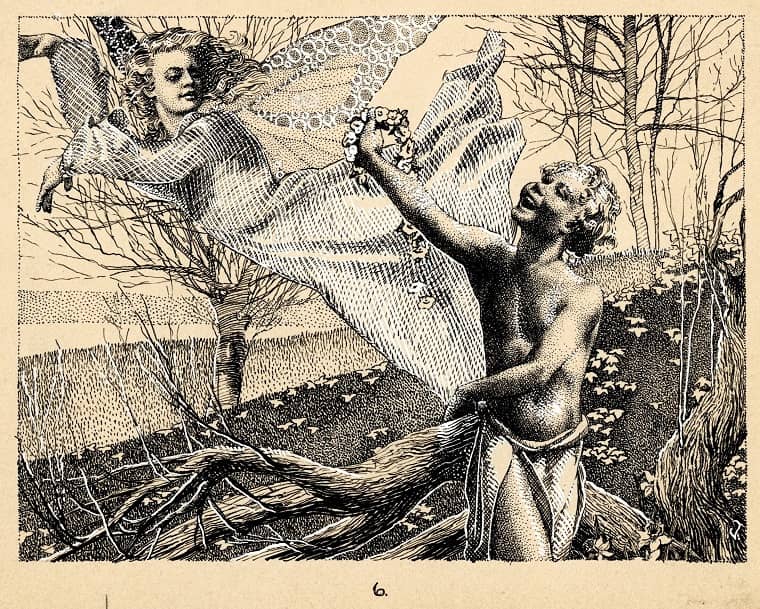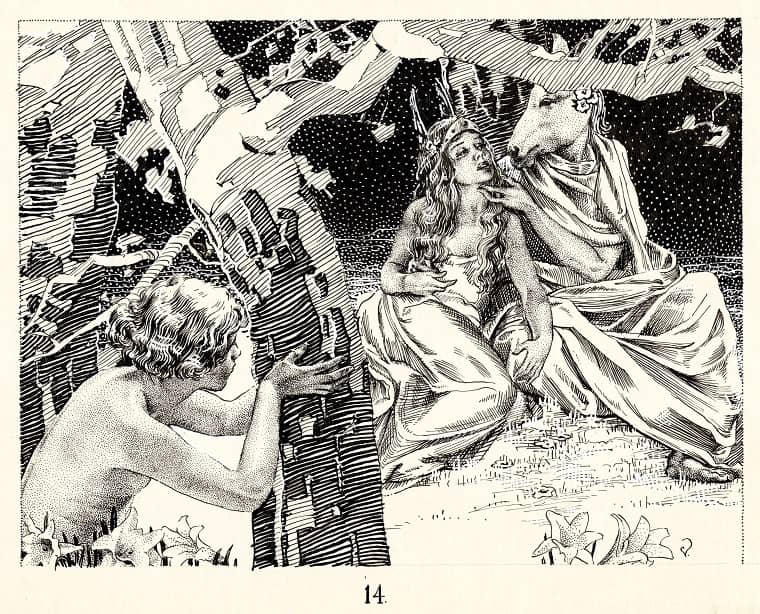 Unfortunately, even at a price of 35 cents and promoted heavily in the pages of Weird Tales, the book didn't sell well during the Depression. Although Wright did start to move ahead in 1937 with volume 2, Romeo and Juliet, Finlay only completed two illustrations for it before the project was abandoned. Forty years after their initial appearance, Finlay's drawings for A Midsummer Night's Dream were reprinted in 1975 by Gerry de la Ree in a portfolio, "Finlay's Lost Drawings."
Thirty years after the publication of that portfolio, in March 2005 I was doing one of my periodic online searches for Finlay originals. Those usually don't bear fruit, but this time I found a listing from the noted California bookseller, Peter Howard of Serendipity Books, advertising, "15 original drawings (of 25) for A Midsummer Night's Dream." The listing stated that included were plate numbers 2, 3, 4, 5, 6, 7, 9, 10, 11, 14, 16, 17, 18, 19, and 22.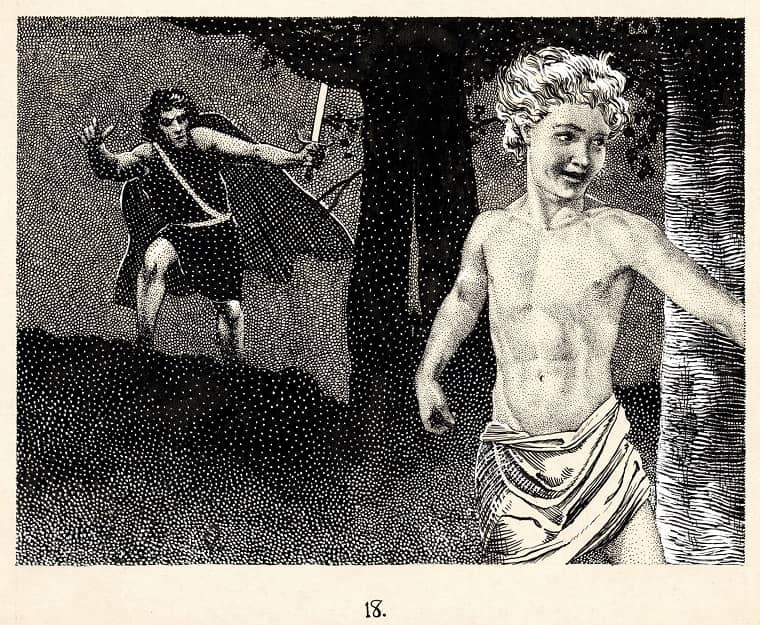 I immediately rushed off an email to them, asking for more particulars, including images. I was a little concerned that these could just be loose copies of the prints from the de la Ree portfolio. Howard got back to me right away, and from the images it was clear that these were originals.
As an aside, in talking with Howard he told me that he was selling these for a collector friend of his, Brian Kirby, who was unfortunately going blind. Howard referred to Kirby as "one of the great collectors of our time." From what I've been able to determine, that may well have been true; among other things, at one time Kirby was the manager of John McLaughlin's legendary shop, The Book Sail. Howard also referred to several of the other accomplishments in Kirby's life, including editing at Essex House and his involvement in the counter-culture of the late 1960's and early 1970's.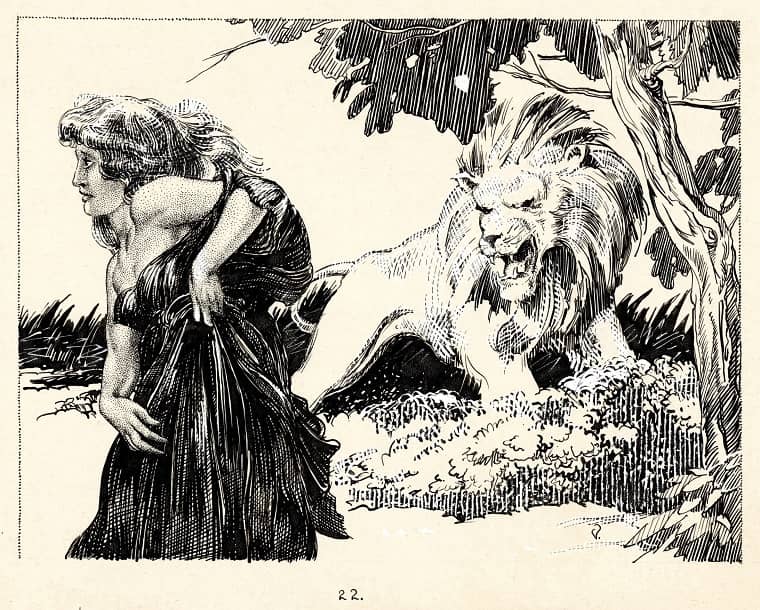 To buy or not to buy was hardly a question. I'd never expected to be able to snap up fifteen Finlay originals at one time and certainly couldn't let this opportunity sail away. When it comes to Finlays, there's no such thing as too much of a good thing! A few days later, our friendly neighborhood UPS man delivered a package containing our new treasures.
A Midsummer Night's Dream (Wright's Shakespeare Library, 1935)
As luck would have it, as an added bonus the lot came with a copy of A Midsummer Night's Dream. The book had seen better days, but it was inscribed by Finlay to pulp author Howard Wandrei.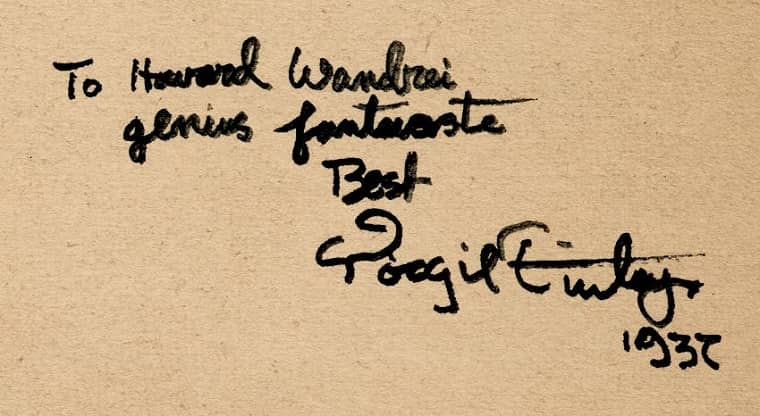 So there you have the short and long of it. Next time, I'll explain how purchasing these 15 Finlay illustrations led to acquiring five more within the succeeding two months.
Such stuff as dreams are made on!
---
Doug is a collector of pulps, as well as of pulp, science fiction and fantasy art. He co-founded and co-organizes the Windy City Pulp and Paper Convention. For many years his Tattered Pages Press published the pulp fanzine Pulp Vault, as well as other books on the pulps. He was one of the authors of The Adventure House Guide to Pulps, and has edited several pulp anthologies, including the Best of Adventure series. His book, Uncovered: The Hidden Art Of The Girlie Pulps, an in-depth study of the spicy pulps and their art, was named ForeWord Magazine's 2003 Popular Culture Book of the Year. In 2013, Bob Weinberg, Bob Garcia and he collaborated on The Collectors' Book of Virgil Finlay, a collection of Finlay's gorgeous art. The Art of the Pulps, which he co-edited with Bob Weinberg and Ed Hulse, won the 2018 Locus Award for Best Art Book.
Doug's last article for Black Gate was The Shadow Knows A Good Pulp Painting When He Sees It!