Future Treasures: The Helm of Midnight by Marina Lostetter
Future Treasures: The Helm of Midnight by Marina Lostetter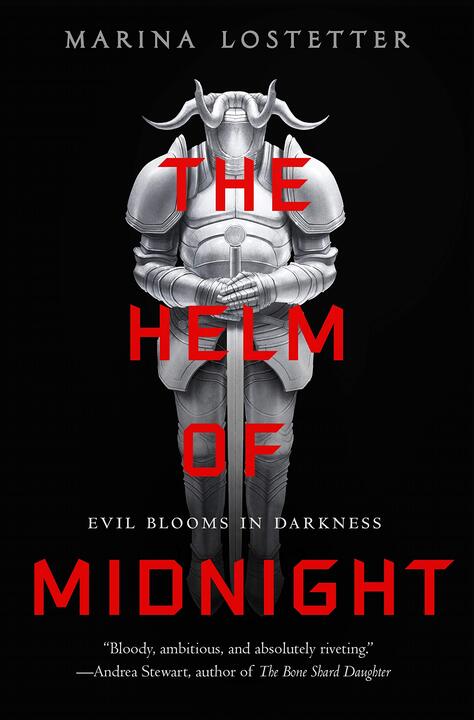 The Helm of Midnight (Tor Books, April 13, 2021)
There's something about a well-rendered fantasy city that speaks to me of adventure. Maybe it's the classic tales of Leiber's Lankhmar, or Gygax's Greyhawk, Ellen Kushner's Riverside, Pratchett's Ankh-Morpork, or so many others. When I see a procedural detective novel in a fantastical city, I look forward to a tale of intrigue, action and surprises.
That's what I'm expecting from The Helm of Midnight, the first novel in a new trilogy from Marina Lostetter, author of the popular Noumenon space opera series that wrapped up last year. It arrives in hardcover from Tor in three weeks. Here's the description.
In a daring and deadly heist, thieves have made away with an artifact of terrible power—the death mask of Louis Charbon. Made by a master craftsman, it is imbued with the spirit of a monster from history, a serial murderer who terrorized the city.

Now Charbon is loose once more, killing from beyond the grave. But these murders are different from before, not simply random but the work of a deliberate mind probing for answers to a sinister question.

It is up to Krona Hirvath and her fellow Regulators to enter the mind of madness to stop this insatiable killer while facing the terrible truths left in his wake.
K. B. Wagers, author of the Farian War trilogy, calls it "An utterly enthralling mystery of magic, masks, and murder. Marina Lostetter weaves together three stories to a stunning conclusion." Maybe that's just a couple of space opera writers sticking together, but I'm willing to take the chance.
The Helm of Midnight will be published by Tor Books on April 13, 2021. It is 456 pages, priced at $26.99 in hardcover, $13.99 digital, and $27.99 in audio formats. Read a generous excerpt at Tor.com.
See all our recent coverage of the best upcoming SF and fantasy here.