The Heroes Gather at Last: The Maradaine Elite Trilogy by Marshall Ryan Maresca
The Heroes Gather at Last: The Maradaine Elite Trilogy by Marshall Ryan Maresca
The Maradaine Elite trilogy by Marshall Ryan Maresca (DAW Books). Covers by Paul Young
Marshall Ryan Maresca is one of the most ambitious fantasy authors to burst on he scene in the last decade. His masterwork is the Maradaine Saga: four parallel trilogies, each with a separate cast and very different tone, all set amid the bustling streets and crime-ridden districts of the exotic port city of Maradaine. It kicked off in 2015 with his debut novel The Thorn of Dentonhill, which introduced Veranix Calbert, diligent college student by day and crime-fighting vigilante by night in the crime-ridden districts of the Maradaine. The book was nominated for the Compton Crook award, and Library Journal said "Veranix is Batman, if Batman were a teenager and magically talented."
The Barnes & Noble Sci-fi and Fantasy Blog called the shared setting:
One of the most richly detailed settings in fantasy… In one fast-paced, funny, highly readable novel after another, Maresca continues to build out every nook and alleyway of Maradaine.
Each trilogy has a different focus and cast. The Maradaine books follow Veranix Calbert, struggling magic university student by day and armed vigilante by night; the Maradaine Constabulary volumes are gritty fantasy mysteries focused on Inspectors Satrine Rainey and Minox Welling in the city constabulary; The Streets of Maradaine are caper novels featuring Asti and Verci Rynax, former thieves attempting to go straight but dragged back into their old lives; and finally Maradaine Elite blends fantasy and political intrigue as it follows Dayne Heldrin and Jerinne Fendall, hopeful members of the Tarian Order.
With People of the City, published in paperback by DAW in October, Maresca brings his fourth (and final?) Maradaine trilogy to a close. In a suitably climatic fashion, he closes out the cycle by bringing the heroes from all 12 novels together at last.
The Maradaine trilogy by Marshall Ryan Maresca (DAW). Covers by Paul Young.
Maresca shared more details at his blog.
So we're only a few weeks from People of the City coming into the world, which ends the first phase of the Maradaine Saga and brings together the heroes from all four Maradaine series. I am SO EXCITED this is coming and you all get to read it.

How excited? Excited enough that I've dove in deep with playing around on Photoshop to make character images for so many major characters in Maradaine.
Check out the delightful images he's created for his cast here.
The Maradaine Constabulary trilogy by Marshall Ryan Maresca (DAW). Covers by Paul Young.
As his his future plans, Maresca has announced a brand new steampunk series of "Magic and Motorcycles," which opens with The Velocity of Revolution on February 9th. Here's a snippet from the announcement on his website.
This book – I decided to write it because I wanted to challenge myself, get out of my comfort zone, and… did it ever do that. It's deeply different from everything else I've written, and I won't lie, I'm a little nervous about it. But the cover (by the absurdly talented artist Matt Griffin) is fantastic. Hopefully the book lives up to it. We'll all find out on February 9th, 2021! Preorder here.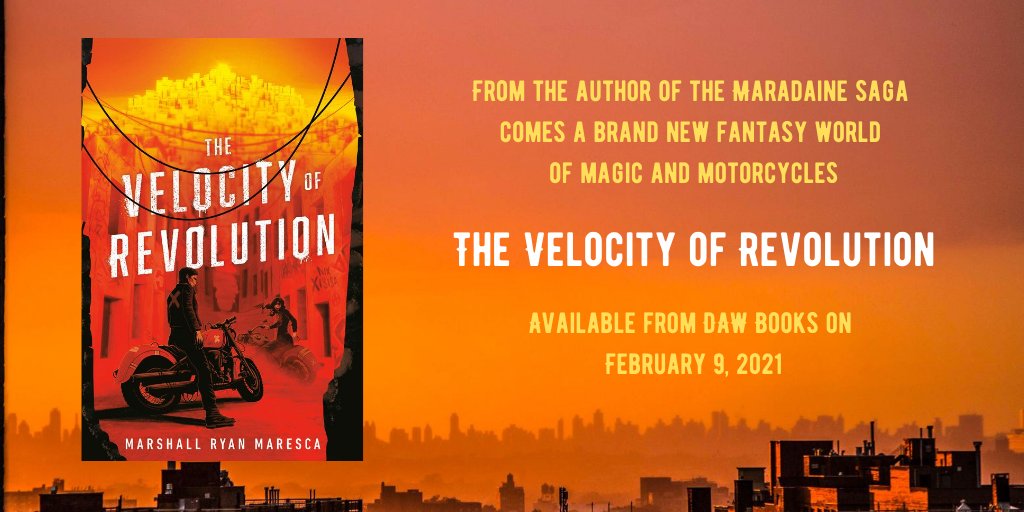 Here's the publisher's description:
From the author of the Maradaine saga comes a new steampunk fantasy novel that explores a chaotic city on the verge of revolution.

Ziaparr: a city being rebuilt after years of mechanized and magical warfare, the capital of a ravaged nation on the verge of renewal and self-rule. But unrest foments as undercaste cycle gangs raid supply trucks, agitate the populace and vandalize the city. A revolution is brewing in the slums and shantytowns against the occupying government, led by a voice on the radio, connected through forbidden magic.

Wenthi Tungét, a talented cycle rider and a loyal officer in the city patrol, is assigned to infiltrate the cycle gangs. For his mission against the insurgents, Wenthi must use their magic, connecting his mind to Nália, a recently captured rebel, using her knowledge to find his way into the heart of the rebellion.

Wenthi's skill on a cycle makes him valuable to the resistance cell he joins, but he discovers that the magic enhances with speed. Every ride intensifies his connection, drawing him closer to the gang he must betray, and strengthens Nália's presence as she haunts his mind.

Wenthi is torn between justice and duty, and the wrong choice will light a spark in a city on the verge of combustion.
Here's the complete publishing details for the Maradaine Elite trilogy.
The Way of the Shield (354 pages, $7.99 in paperback and digital formats, October 2, 2018)
Shield of the People (387 pages, $7.99 in paperback and digital formats, October 29, 2019)
People of the City (404 pages, $8.99 in paperback and digital formats, October 27, 2020)
Read our survey of the previous eleven volumes in the Maradaine Saga here, and see all our coverage of the best new and old fantasy series here.