Vintage Treasures: The Trail of Cthulhu by August Derleth
Vintage Treasures: The Trail of Cthulhu by August Derleth
The Trail of Cthulhu by August Derleth (Ballantine, 1976). Cover by Murray Tinkelman
August Derleth is revered among modern fans chiefly for his singular accomplishment: founding Arkham House to publish H.P. Lovecraft. The fact that Lovecraft, who remained obscure throughout his life and was published solely in low-circulation pulp magazines like Weird Tales, is remembered at all is arguably due to the tireless efforts of Derleth and his fellow editors, who reprinted Lovecraft in quality hardcover editions and brought his work to a wider audience.
Derleth was also a prolific writer, and here his reputation is less steller. He chiefly wrote what we'd call Lovecraft fan fiction today, and his adventure-themed tales were often very far removed from the cosmic horror tone of his idol. Perhaps his most popular story cycle was The Trail of Cthulhu, a series of interconnected stories that chronicle the heroic struggles of Laban Shrewsbury and his associates against the Great Old Ones, especially Cthulhu. Perry Lake at Goodreads has a fine (and very concise) review.
Derleth never really understood Lovecraft's mythos, with a cold, unfeeling universe and humanity as an afterthought. But Derleth did understand a derring-do adventure with good guys versus bad guys, and that's exactly what he wrote here. Laban Shrewsbury is probably the only real hero in the Mythos and in him we see the terrible costs of staring into the Void. This book is a treat for all fans of the Cthulhu Mythos.
Hugo Negron offers a counterpoint that's a little harsher, but equally on target I think.
August Derleth had always written a lesser imitation of Lovecraft's works and subverted HPL's Cthulhu Mythos… from alien creatures/a universe that were indifferent to mankind to a good guys vs. bad guys God/Satan overture that was as far away from Lovecraft's concepts as one could go… This book seemed to promise quite the adventure – a mysterious wizard-like professor, putting together a team to go around the world to locate and destroy the top organization that worships Cthulhu and eventually Cthulhu himself!… Five interconnected stories or chapters, each told from the viewpoint of one of Professor Shrewsbury's companions as they are introduced to the Professor and pursue a singular adventure (until all of the companions join up at the end)… It's a decent enough read for a fan of the genre, as I am, realizing you are getting Lovecraft lite, but boy, what this premise could have been…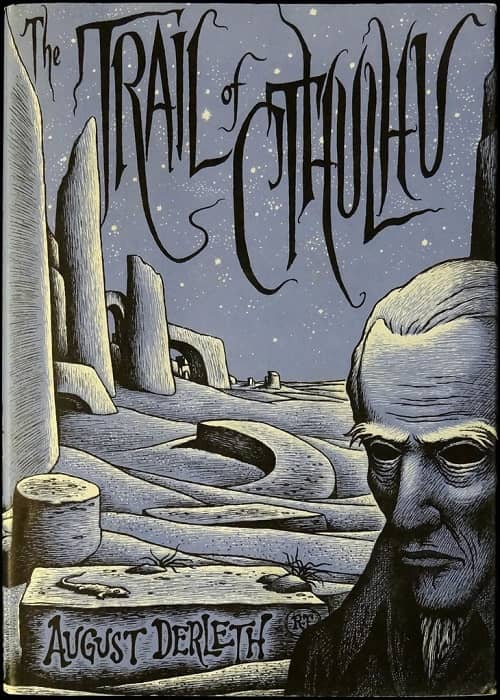 The Trail of Cthulhu (Arkham House, 1962). Cover by Richard Taylor
The Trail of Cthulhu was originally published in hardcovered by Arkham House in 1962. Here's the complete contents.
"The House of Curwen Street" (Weird Tales, March 1944)
"The Watcher from the Sky" (Weird Tales, July 1945)
"The Gorge Beyond Salapunco" (Weird Tales, March 1949)
"The Keeper of the Key" (Weird Tales, May 1951)
"The Black Island" (Weird Tales, January 1952)
A Note on the Cthulhu Mythos by August Derleth
The Trail of Cthulhu was reprinted in paperback by Ballantine in 1976. It is 216 pages, priced at $1.50. The cover art is by Murray Tinkelman.
See all our recent Vintage Treasures here.