Uncover the Frozen Secrets of the Forbidden Lands in The Bitter Reach from Free League
Uncover the Frozen Secrets of the Forbidden Lands in The Bitter Reach from Free League
The Bitter Reach by Free League, an expansion for the Forbidden Lands RPG
Last year at the Spring 2019 Games Plus Auction (when it was still legal to go to such things), I was supposed to be saving all my pennies for auction bargains. But before I even reached my seat, a new games on the shelves caught my eye: Forbidden Lands, a boxed RPG developed by Swedish development house Free League, and distributed in the US by Modiphius. Here's what I said about it at the time:
What drew me to Forbidden Lands? Truthfully it was the cover art by Simon Stålenhag, and the impressively sized (and heavy!) box. Once I picked it up however, it was the back-cover text that fired my imagination.

In this open-world survival roleplaying game, you're not heroes sent on missions dictated by others — instead, you are raiders and rogues bent on making your own mark on a cursed world. You will discover lost tombs, fight terrible monsters, wander the wild lands and, if you live long enough, build your own stronghold to defend.

Last thing I need is another fantasy RPG crowding my shelves, especially one in a generic fantasy setting. But the evocative text sold me on the promise of a dark world far-removed from routine high fantasy tropes, and characters that sounded a lot closer to sword & sorcery archetypes than I'm used to. The price on the box was $49.99, and I decided to take a chance.
Well, I'm very glad I did. Forbidden Lands proved to be one of the most exciting and successful new role playing games of 2019, and the early expansions looked very promising. So when I returned to Games Plus for Free RPG Day in July and found a brand new expansion, The Bitter Reach — a handsome and imposing 312-page hardcover — I snatched it up immediately.
[Click the images for Forbidden versions.]
Forbidden Lands boxed set (Free League/Modiphius, 2019)
The Bitter Reach is an epic (and I do mean epic) campaign module for Forbidden Lands, describing the icy wastelands north of Ravenland, packed inside a study and copiously illustrated hardcover.
It contains new magic disciplines, new rules to arctic environs, 40 new random encounters, 8 new monsters, ten adventure sites, and the complete Wake of the Winter King campaign.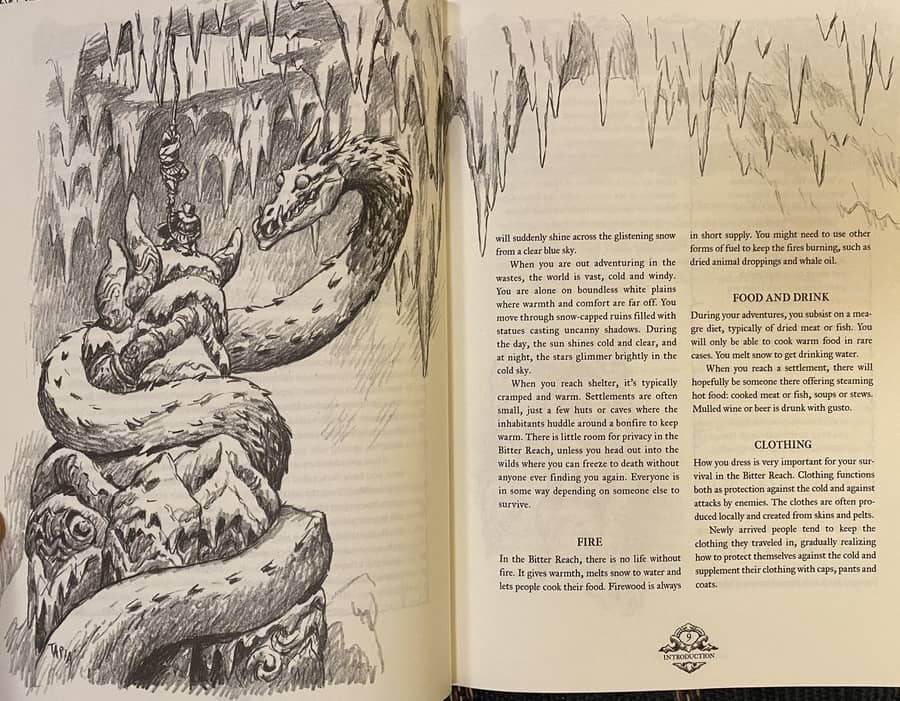 Interior pages from The Bitter Reach, showing off Alvario Tapia's captivating artwork
Here's the text on the back of the book.
In the southern lands, elders speak of cold storms from the north. Cursed voices borne on the icy winds whisper of secrets from ages past that would plunge realms and kin into ruin if only someone could understand these ancient words. They are the desperate confessions of the lost. They are the legends of the Bitter Reach.

Deep beneath its frozen surface, creatures told of only in the oldest of legends dwell. They guard treasures that can give their owner power beyond their wildest dreams, treasures that could lay waste to the Bitter Reach if they were found.

And the treasures will be found, sooner or later, so why shouldn't they be yours to claim?
The Bitter Reach immediately reminded me of one of my all time favorite gaming supplements, the superb Frostburn, written by Wolfgang Baur, James Jacobs, and George Strayton, and released by Wizards of the Coast in 2004 for Dungeons & Dragons 3.5.
The excellent Dungeons & Dragons 3.5 expansion Frostburn by Wolfgang Baur, James Jacobs, and George Strayton (2004) 
Like The Bitter Reach, Frostburn added rules, encounters, and excellent sample adventures for sub-zero environments to the core game in a thoughtful and creative manner. It was part of the magnificent (but short lived) series that included Sandstorm (desert settings), Stormwrack (ocean going adventures), and Dungeonscape (dungeon adventuring).
While I was intrigued by the description on the back, and the callback to one of my favorite gamebooks, it wasn't those things that sold me on. No, a quick flip through the book did that, and most especially Alvario Tapia's captivating artwork, which is gloriously reminiscent of the early RPG adventures that got my young gamer's heart racing.
Tapia has a marvelous storyteller's sense. Here's a few more examples of his work (click to embiggen).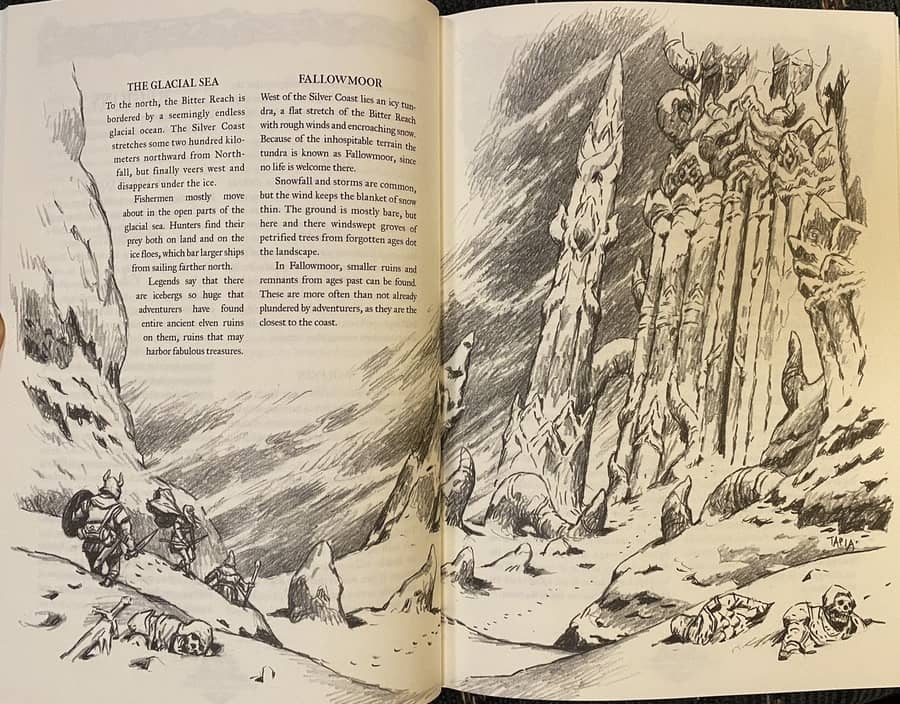 One of Tapia's many double-page spreads
There's a whole lot packed into this book, including:
Two new magic disciplines: Elemental Magic and Ice Affinity.
The new Champion profession, along with new profession talents.
Expanded travel rules for snow, cold, and fuel, including no less than 40 new random encounters.
Eight new monsters, including the Frost Dragon, the Ice Giant, and the Wendigo.
The Wake of the Winter King campaign, including eight key players who all seek to dominate the riches hidden under the Bitter Reach.
Ten complete, illustrated adventure sites, playable in almost any order.
An epic campaign finale, giving the adventurers the chance to decide the future of the Bitter Reach.
In addition to Tapia's copious art, The Bitter Reach benefits enormously from the work of talented map artist Niklas Brandt.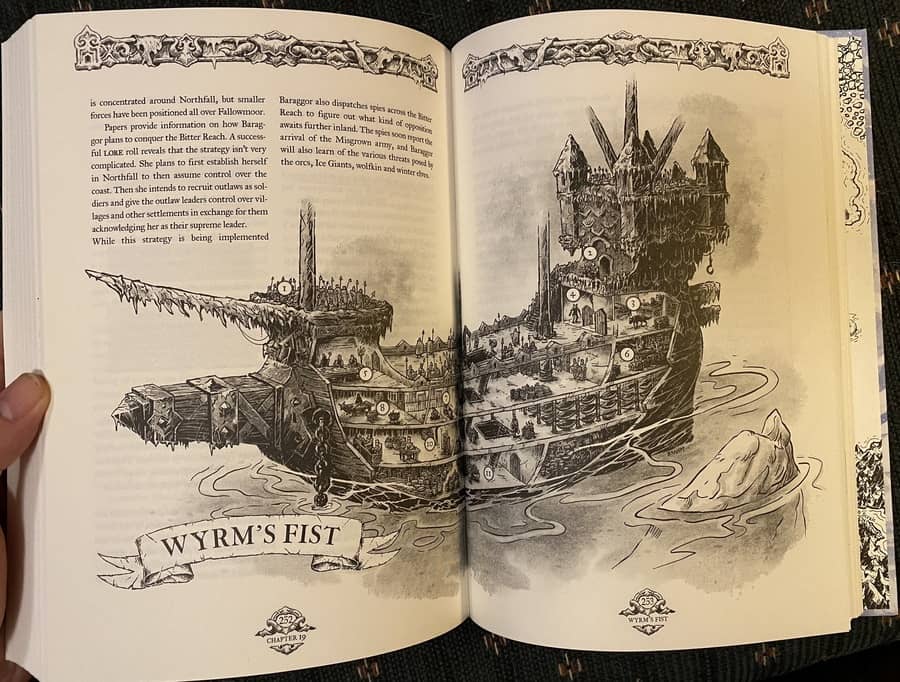 The Wyrm's Fist, just one of the eye-catching maps in The Bitter Reach
The Bitter Reach contains a lot of maps, for places with evocative names like Northfall, the Palace of the Ice Giants, Hope's Last Rest, and others. Frankly it was the art and the maps that had me reaching for my wallet. I measure adventure books by how much they make we want to pick up dice and start adventuring, and The Bitter Reach spoke to me immediately — and loud and clear — of old-school adventure.
Speaking of reaching for your wallet, The Bitter Reach does have one obvious flaw. The endpapers serve as a map of the frozen Reach, but not a very detailed one. For a full-size color map, you'll need to shell out for The Bitter Reach Map & Cards Pack, which sells separately for around 20 bucks.
The Bitter Reach Map & Cards Pack, sold separately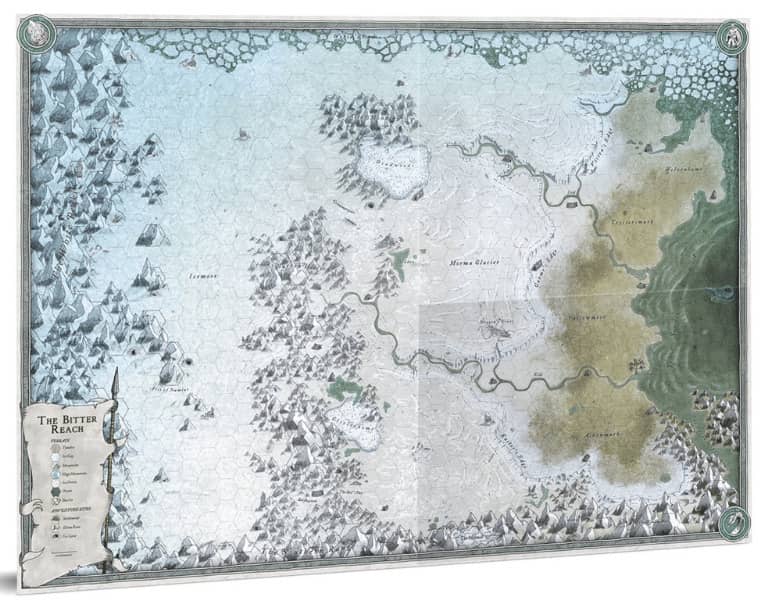 The color map (in the Map & Cards Pack)
At least the Map Pack comes with cards. I'm not sure what they're for, but they look cool and presumably they have some gaming value.
The Bitter Reach was written by Magnus Seter and translated by Carl-Johan S Hebrand, with art by Alvario Tapia and maps by Niklas Brandt. It was published by Fria Ligan/Free League in 2020. It is 312 pages, priced at $39.99 in the US. Order directly from Free League, and receive a free PDF copy.
See all our recent cover of SF & fantasy role playing games here.
Below are a few more examples of Tapia's eye-catching art, and Brandt's terrific map work. Enjoy.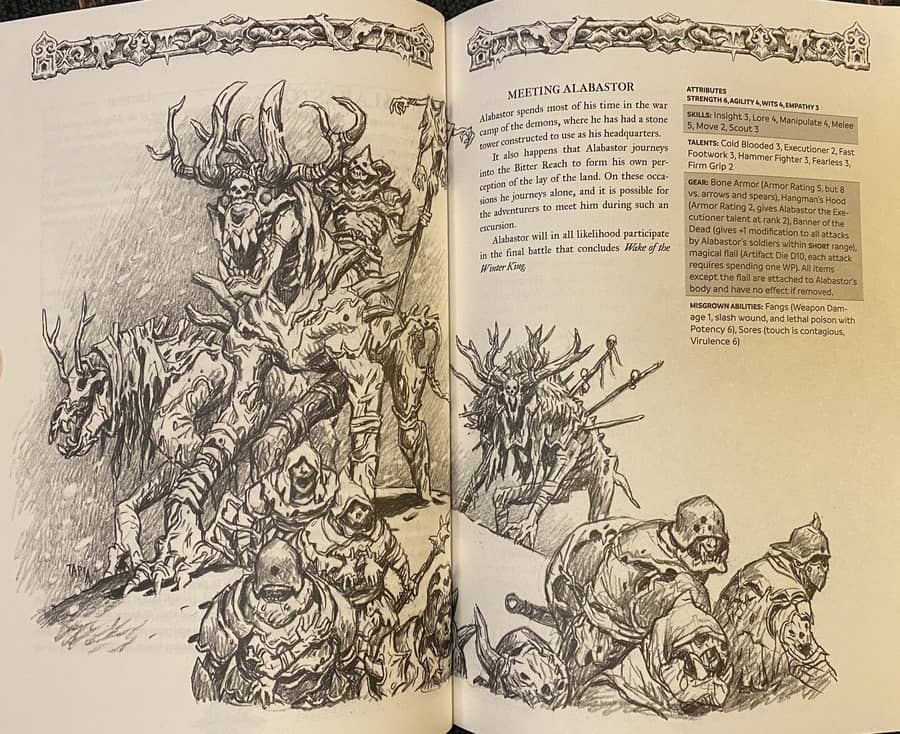 The mighty Alabastor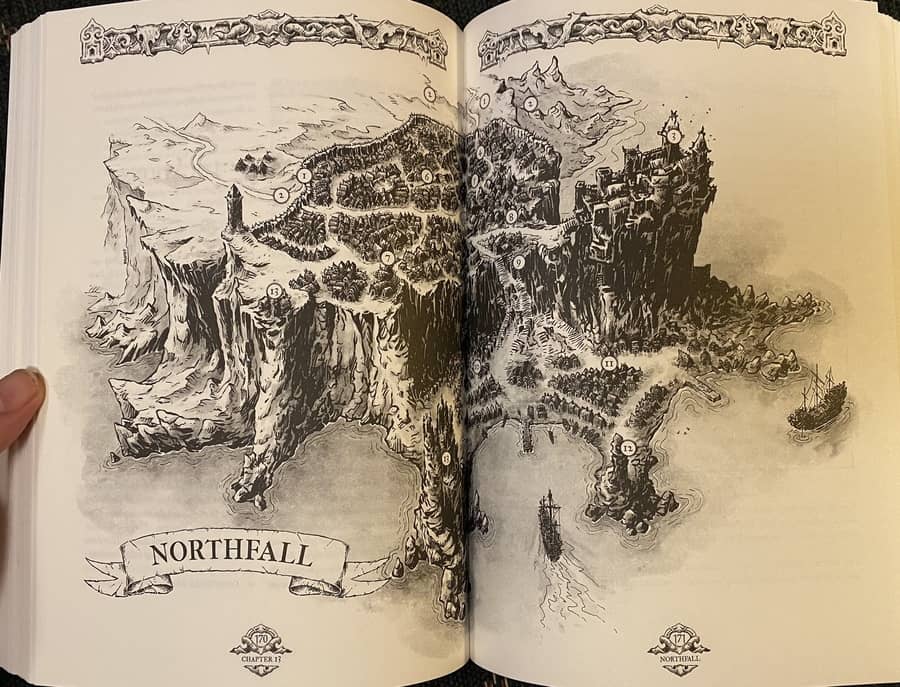 Map of Northfall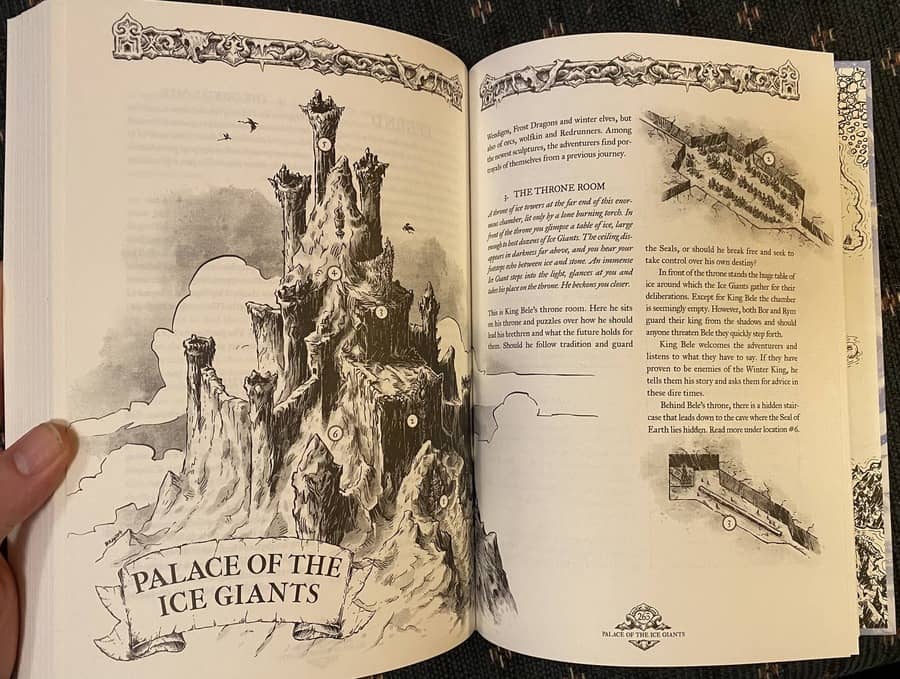 The Palace of the Ice Giants