Future Treasures: After Sundown, edited by Mark Morris
Future Treasures: After Sundown, edited by Mark Morris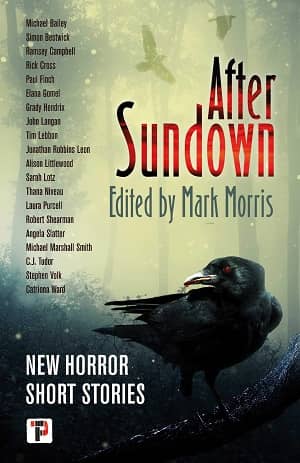 Mark Morris is known primarily as a British horror writer with over 20 novels under his belt, including Toady, The Immaculate, The Deluge, and the Obsidian Heart trilogy. More recently he's earned a rep as a fine editor with two volumes of the New Fears anthology series from Titan.
His latest effort is After Sundown from Flame Tree Press, containing 20 original horror stories from some of the biggest names in the biz, including Ramsey Campbell, Tim Lebbon, John Langan, Robert Shearman, Alison Littlewood, Michael Marshall Smith, Paul Finch, Angela Slatter, Stephen Volk, and many others. Just as interesting to me are the four tales from brand new writers selected from an open submission window. Reviewer Stephen Bacon feels the same way I do:
This appears to be a great way of ensuring a decent standard whilst at the same time giving voice to emerging talent. It's testament to the quality of the stories in that there's no discernible difference between the pros and the lesser-known authors. Mark Morris has done a great job in putting together a fine selection.

There's a refreshing lack of pretentiousness about these stories. The authors span several continents so there's a decent array of themes and styles. Each tale had a very distinct voice, with a superb variety that perfectly illustrates what a broad church the genre covers. I had a blast reading this book. It really has reinvigorated my interest in the horror genre. Hopefully this will be the first in an ongoing annual publication from Flame Tree Press. And in that regard After Sundown is a great way to launch the series
After Sundown is in fact the first of what will hopefully be an annual, non-themed horror anthology of original horror. The first installment is already getting good notice from major review sites, including Publishers Weekly:
The strongest tales include "Swanskin" by Alison Littlewood, a breathtaking fairy tale about swans who transform into women, told from the viewpoint of a young boy; "Bokeh" by Thana Niveau, about a single mother who frets over her daughter's violent and fantastical flights of fancy during playtime; and "A Hotel in Germany" by Catriona Ward, about the parasitic relationship between a movie star and her assistant.
Here's the complete Table of Contents.
"Butterfly Island" by C.j. Tudor
"Research" by Tim Lebbon
"Swanskin" by Alison Littlewood
"That's the Spirit" by Sarah Lotz
"Gave" by Michael Bailey
"Wherever You Look" by Ramsey Campbell
"Same Time Next Year" by Angela Slatter
"Mine Seven" by Elana Gomel
"It Doesn't Feel Right" by Michael Marshall Smith
"Creeping Ivy" by Laura Purcell
"Last Rites for the Fourth World" by Rick Cross
"We All Come Home" by Simon Bestwick
"The Importance of Oral Hygiene" by Robert Shearman
"Bokeh" by Thana Niveau
"Murder Board" by Grady Hendrix
"Alice's Rebellion" by John Langan
"The Mirror House" by Jonathan Robbins Leon
"The Naughty Step" by Stephen Volk
"A Hotel in Germany" by Catriona Ward
"Branch Line" by Paul Finch
After Sundown will be published by Flame Tree Press on October 20, 2020. It is 304 pages, priced at $14.95 in trade paperback and $6.99 in digital formats. Get all the details here.
See all our recent coverage of the best upcoming fantasy and horror here.