The Art of Author Branding: The Pocket Marta Randall
The Art of Author Branding: The Pocket Marta Randall
Islands (Pocket Books, May 1980). Cover uncredited
Marta Randall is a science fiction pioneer. She was the first woman president of the Science Fiction Writers of America, and took over the groundbreaking New Dimensions anthology series from Robert Silverberg in the early 80s. She also taught SF writing at Clarion (East and West) and other places.
Of course, before all that was a successful writing career. Her first novel A City in the North was published in 1976 by Warner Books. More followed in rapid succession, including Nebula nominee Islands that same year, The Sword of Winter (1983, we talked about that one here), Those Who Favor Fire (1984), and a pair on novels in the Kennerin Saga: Journey (1978) and Dangerous Games (1980).
Islands and Journey are the ones I want to look at today. Here's John Clute from The Encyclopedia of Science Fiction, putting the first one in context.
Randalls's first and perhaps most successful novel, Islands (1976; rev 1980), movingly depicts the life of a mortal woman in an age when Immortality is medically achievable for all but a few, including the protagonist. To cope with her world she plunges into the study of archaeology, and makes a discovery which enables her to transcend her corporeal life.
Sharp-eyed readers will note Clute's reference to a 1980 revision; that edition of Islands was released four years after original publication by Pocket Books in a reworked version that added an additional 21 pages (see above). And not incidentally, it was also packaged with one of the cleaner examples of author branding from the era.
[Click the images for bigger and more branded versions.]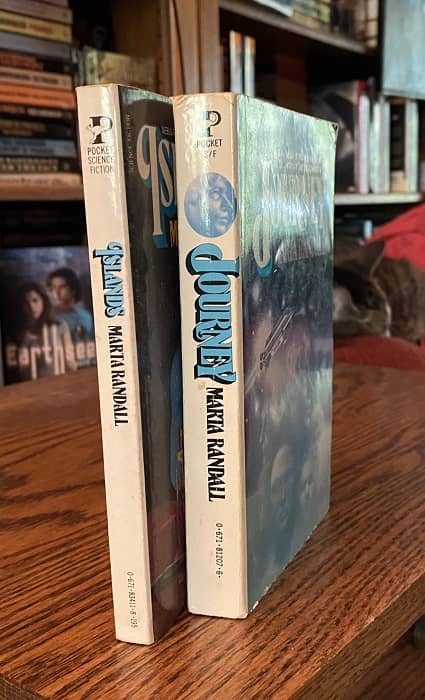 The distinctive white spines of the Pocket Marta Randall
Author branding, the use of distinctive art design and familiar artists to make authors recognizable and build loyalty among readers, was in full swing by the end of the 70s, and by 1980 was no longer limited to authors with rich and extensive back catalogs. (We recently looked at good examples for Robert Silverberg and Poul Anderson, for those just catching up.)
Marta Randall was a fresh-faced rising superstar with only three books to her name in early 1980, but Pocket had already published one (Journey, 1978), and when they decided to reprint Islands in 1980 they packaged it so that you could tell from twenty feet away that the two books were by the same author. The clean white spines with swooping blue one-word titles were eye-catching and stuck out even on crowded shelves, and side-by-side the two books looked like they were part of a trilogy.
Journey (Pocket Books, May 1978). Cover uncredited
In my opinion, the cover design and book packaging for these two books was tremendously effective. So effective that four decades later, when I started looking for early examples of simple, powerfully cohesive author branding, Marta Randall's first two Pocket novels were some of the first to come to mind.
In fact, they may have been a bit too effective. Journey and Islands are unrelated novels, but it's easy to see how readers could have mistaken them for installments in a series. That likely became a problem when Journey turned into the first book in a series when the sequel Dangerous Games arrived, four months after Islands was published.
Dangerous Games (Pocket Books, September 1980). Cover uncredited
When Dangerous Games was published in September 1980, it arrived with a bland design that looked nothing like the previous two books, and effectively helped it hide among every other science fiction book on the shelves.
Pocket Books had created one of the cleanest and most distinctive visual looks on the market for an up-and-coming science fiction writer, one whom they'd made an serious commitment to, and yet only four months after Islands appeared they abandoned it.
Not sure why this happened. Perhaps the Art Director at Pocket moved on. Maybe she just couldn't bear to break up the wraparound cover art with a white spine. Possibly the design of the previous two was an experiment, and not a successful one. It's tricky to pass judgment on artistic choices made four decades ago in a market as fast changing as publishing.
But you know I'm going to do it anyway. This was a dumb decision. Islands and Journey look like they're part of series (they're not); Journey and Dangerous Games are part of series (and don't look it). Come on, say it with me: dumb move, Pocket.
Islands (Pyramid Books first edition, 1976). Cover by Vincent Di Fate
Still, the books endure. Journey was reprinted as part of David Hartwell's Timescape line at Pocket 1983 and in print (off and on) for another two decades. Its first digital edition was in 2012. Dangerous Games was reprinted by Open Road in 2014.
Since we're quoting John Clute today, here he is on this popular 2-book SF series:
The Kennerin/Newhome sequence – Journey (1978) and Dangerous Games (1980) – also treats its enabling premise with some ambivalence, for the Kennerin family's decision to create a Utopia on the planet they have purchased has complex consequences, some of them relating to Ecology; the series overall can be understood as a family saga, with perhaps some conscious echoes of the Western.
The books are still easy to find today. I bought copies of all three recently and very inexpensively. Dangerous Games was part of a collection of 45 vintage SF paperbacks in virtually brand new condition I bought on eBay last month for $18.50, and I found Journey tucked inside a somewhat rougher bunch of 51 paperbacks I took a chance on for just $16.
45 Vintage Paperbacks (1960s – 1980s), including Dangerous Games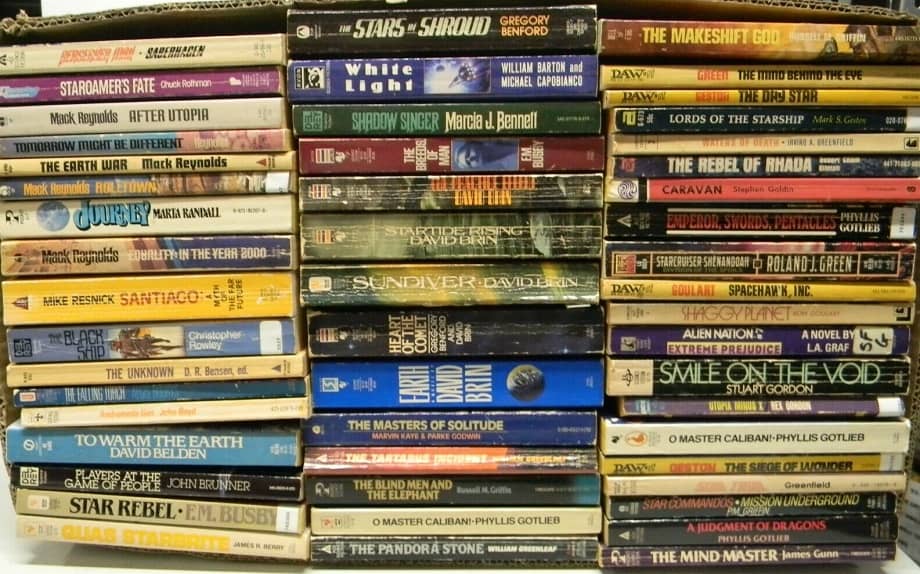 51 Science Fiction Vintage paperbacks, including Journey
Since I know I'm going to get asked for it, here a closer look at the titles in that batch of 45 books.
Here's the complete publishing details for the Pocket Books Marta Randall:
Journey (324 pages, $1.95 in paperback, May 1978)
Islands (222 pages, $1.95 in paperback, May 1980)
Dangerous Games (499 pages, $2.95 in paperback, September 1980)
All three cover artists are uncredited.
Our previous articles in this series include:
The Art of Author Branding: The Ace Robert Silverberg
The Art of Author Branding: The Berkley Poul Anderson
And our previous coverage of Marta Randall includes:
Vintage Treasures: The Sword of Winter
The Mystery of New Dimensions 13
See all of our Vintage Treasures here.