The Mystery of New Dimensions 13
The Mystery of New Dimensions 13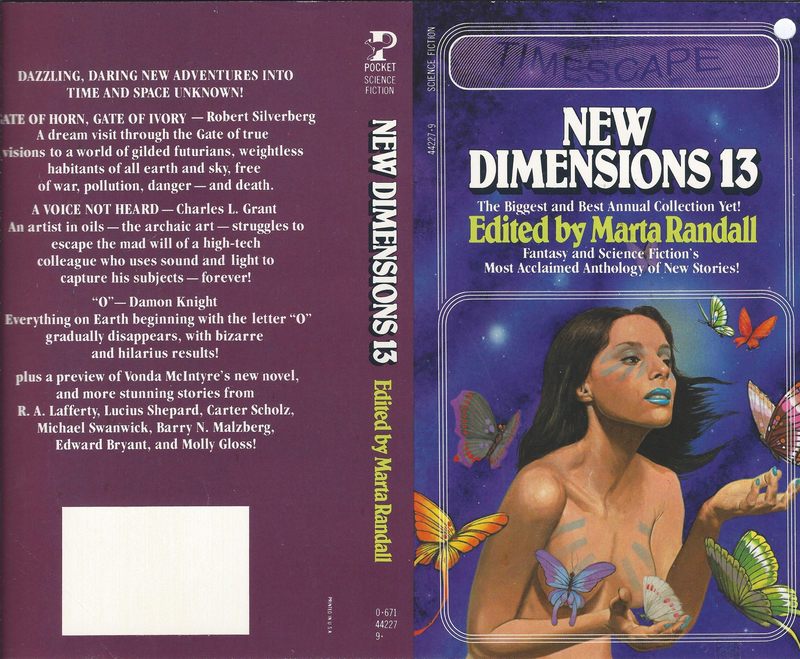 Robert Silverberg's New Dimensions was one of the most celebrated anthology series of the 70s. It published an impressive amount of award-winning fiction, including R. A. Lafferty's "Eurema's Dam" (1973 Hugo), Ursula K. Le Guin's "The Ones Who Walk Away from Omelas" (1974 Hugo), James Tiptree, Jr's "The Girl Who Was Plugged In" (1974 Hugo), Suzy McKee Charnas "Unicorn Tapestry" (1981 Nebula), and many others.
New Dimensions 11 and 12 were co-edited with Marta Randall. The final volume, New Dimensions 13, was solely edited by Randall, and it boasted a dazzling range of writers, including Vonda McIntyre, Robert Silverberg, R.A. Lafferty, Lucius Shepard Michael Swanwick, Barry N. Malzberg, and many others. There's just one problem with it, however: no finished copies are known to have survived. The entire print run was reportedly pulped, and the only copies that exist today were advance copies sent out to reviewers.
Why? That's part of the mystery. Gunter Swain posted the cover above on Facebook today — the first image I've ever seen of the book. He reports the book "was published but was never distributed." In the comments section, Marta Randall shed some light on the mystery.
She said:
This story breaks my heart. Although Robert Silverberg and I were listed as co-editors on New Dimensions 11 and 12 ("If your table of contents is all women's names, I'll pull my name from the anthology"), ND13 was my baby alone. It did indeed get to galleys and cover printing before PocketBooks pulled it on the excuse that anthologies don't sell. Nobody fought for it except me (thanks bunches, Hartwell).

Many of the stories were first pubs by writers who went on to much greater things. Some of the stories went on to win awards when they were eventually published. I'm still proud of having chosen and edited each and every one of them. Bitter a little? Me? Oh f–k yes.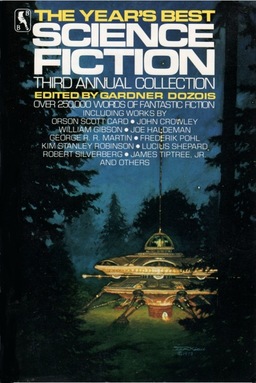 Marta also shared the complete Table of Contents.
NEW DIMENSIONS 13
Table of Contents

Introduction, Marta Randall
TROJAN HORSE, Michael Swanwick
IN THE SPECIMEN JAR, Daniel Gilbert
AFTERNOON UNDER GLASS, O. Niemand
BUCKETS FULL OF BRAINS, R.A. Lafferty
A VOICE NOT HEARD, Charles L. Grant
"O", Damon Knight
TRANSIENTS, Carter Scholz
INTERLOCKING PIECES, Molly Gloss
BLACK CORAL, Lucius Shepard
QUARTERMAIN, Barry N. Malzberg
FLYING SAUCER ROCK AND ROLL, Howard Waldrop
DANCING CHICKENS, Edward Bryant
TWO BITS, O. Niemand
ALL MY DARLING DAUGHTERS, Connie Willis
GATE OF HORN, GATE OF IVORY, Robert Silverberg
RETURN OF THE DUST VAMPIRES, Sharon N. Farber
SUPERLUMINAL, Vonda N. McIntyre
Many of the stories eventually ended up in other venues. Gardner Dozois reprinted five in The Year's Best Science Fiction: Third Annual Collection: Swanwick's "Trojan Horse," Niemand's "Afternoon Under Glass," Gloss's "Interlocking Pieces," Shepard's "Black Coral," and Waldrop's "Flying Saucer Rock and Roll." That's probably the closest we'll come to approximating this anthology.
It is possible a printer's sample copy or something similar exists somewhere? I suppose it's possible, but not very likely. Gardner Dozois writes:
I don't believe there ARE any copies, as such. I used to have a galley of it, and I don't think they ever got out in any other form, even though they did the cover.
If you see a copy out in the wild, the Black Gate team would appreciate a friendly phone call.
See all our recent Vintage Treasures coverage here.