Uncanny Origins
Uncanny Origins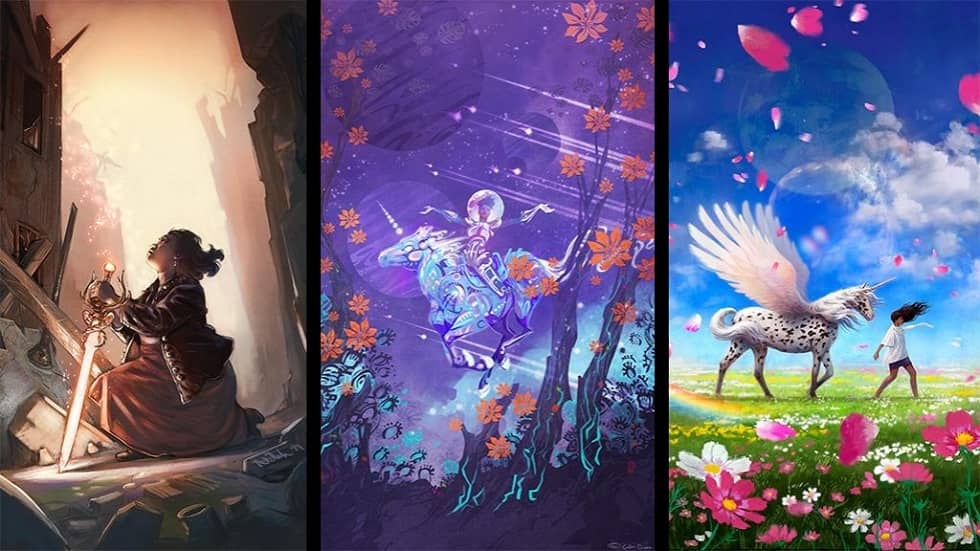 We here at Uncanny Magazine we are in the middle of the Uncanny Magazine Year 7: Space Unicorns Shine On Together Kickstarter, and after six years of bringing our Hugo Award-winning magazine featuring passionate SF/F fiction and poetry, gorgeous prose, provocative nonfiction, and a deep investment in the diverse SF/F culture, along with a Parsec Award-winning monthly podcast to readers and listeners, we asked each other, how did we get here?
Specifically, what science fiction and fantasy works started each of us down the path of becoming SF/F interviewers, editors, podcasters, and writers?
Podcast Producer Erika Ensign
SF/F was baked into my very bones. I'm told that mother and father, tried-and-true nerds themselves, went to see Star Wars when I was in utero. I'm not entirely certain that counts as a formative experience, but I like to claim it anyway. Some of my very earliest memories are watching Doctor Who with my mom (or sneakily, from the top of the stairs when I was supposed to be in bed) and listening to my dad read A Wrinkle in Time to my siblings and me. I truly don't remember a time before SF/F came into my life, and I wouldn't have it any other way.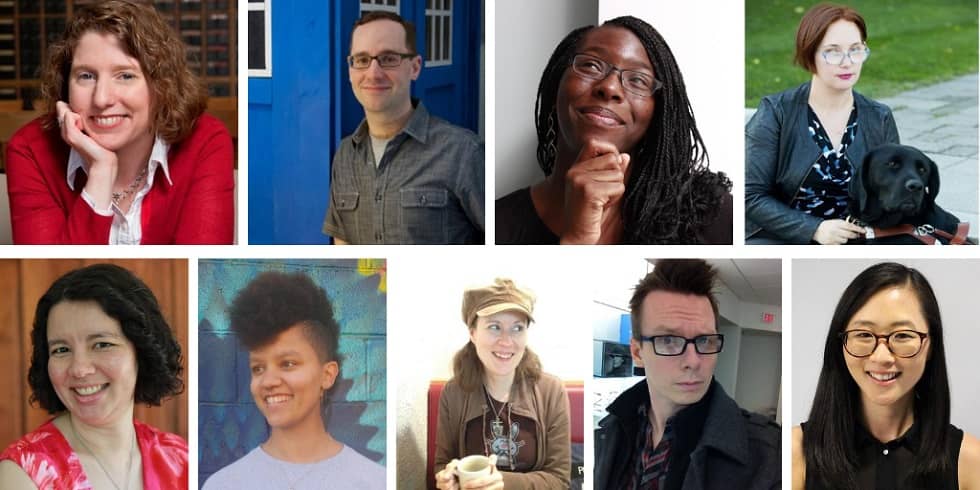 Managing Editor Chimedum Ohaegbu
I grew up alongside the Pokémon franchise, was (and am!) absolutely enthralled by the concept of roaming the land with a gang of mystical, superpowered creatures. This evolved into a love of friendly yet fascinatingly unknowable dragons, as well as the sorts of beings you may find shelved near them — mages, mermaids, ghosts, cryptids and the like. Most of my early writing and reading was in pursuit of the sparkling what-if inherent to speculative fiction, and that holds true today.
Podcast Producer Steven Schapansky
Before Doctor Who, before Star Wars, before The Lord of the Rings or The Tripods or The Prisoner, for me, there was LEGO Space. Specifically, the LEGO Space set called the Mobile Lab, which I got when I was five. It contained a boxy little vehicle which rolled along on six sets of wheels, driven by two astronauts — one in a red spacesuit and one in white. Building the set opened my eyes to a whole new universe of possibilities, but it was the box art, featuring these intrepid explorers on some nameless, distant planet, that fired my imagination like nothing before it. My destiny was in the stars, thanks to LEGO. So I went off and searched for it.
Nonfiction Editor Elsa Sjunneson
I remember when I was very small, getting copies of the Enchanted Forest series and The Song of the Lioness Quartet. Those stories were so much a part of my childhood that I started talking about how much I wanted to tell stories like them. I can draw a direct line from dragons and cherries jubilee, lions rampant and witches with cats to the work that I do today. I have always wanted to live in a world where those stories get told.
Editor-in-Chief Lynne M. Thomas
I was an A Wrinkle in Time kid; in my heart, I was Meg Murray: intelligence, gawkiness, self-loathing, anger, stubbornness and all. I loved the first three books in that series, but A Swiftly Tilting Planet was what stuck with me. Time travel, unicorns, and a poem that resonated across the ages was all it took to hook me. I spent years as a reader looking for that feeling again of holding my breath while saving the world, not finding it in my academic programs or much of my leisure reading, until I entered the Doctor Who and Xena fandoms and then landed a job as a science fiction librarian years later. In preparation for my first convention as a science fiction librarian, I read the first novel of one of the authors who would be there: Sarah Monette's Mélusine. While lacking in unicorns, Monette's novel reminded me that gorgeous prose and deep feeling could absolutely coexist in contemporary adult SF/F.  Which is what I now look for in stories for Uncanny.
Editor-in-Chief Michael Damian Thomas
It's not exactly a deep secret that I'm a huge Doctor Who fan. The moment the switch flipped for me was July 4th weekend 1987. That was when the Doctor Who USA Tour rolled onto Navy Pier in Chicago. My 12-year-old mind was BLOWN AWAY by seeing all of the props and monster costumes in a gloriously painted semitrailer. Daleks! Cybermen! K-9! Bessie! The TARDIS console! I wanted to be immersed in science fiction for the rest of my life.

I read tons of SF/F as a kid, and eventually my 18-year-old mind was BLOWN AWAY by my first SF/F convention, Minicon 28 in 1993. I saw authors! And editors! And they were actual people! (Many of whom I've now worked with or know socially.). I realized then that this is what I wanted to do with the rest of my life.
Interviewer Caroline M. Yoachim
The thing that has always drawn me to science fiction is the ideas — the stunning variety of worlds, the sense of wonder and exploration, the alien perspectives that show us something new about even the most mundane aspects of our reality. I came to science fiction mostly through books — A Wrinkle in Time, Parable of the Sower, The Chronicles of Amber, The Dragonriders of Pern, and far too many others to list. I didn't get into short fiction until much later, when I stumbled across Ted Chiang's "Story of Your Life" in a year's best anthology.
---
The Space Unicorn Ranger Corps, our name for the Uncanny Magazine community, made it possible for our remarkable staff and contributors to create this wonderful art for all of our readers via the web or as eBooks. THANK YOU, SPACE UNICORNS FOR YOUR SUPPORT!
If you've been looking for an opportunity to join or re-up with the Space Unicorn Ranger Corps, now's your chance! We need your help to continue this mission for another year. This is your magazine, Space Unicorns! Let's make Year Seven happen!
And who knows, maybe something we publish in Uncanny Magazine Year 7 might inspire somebody else's journey to become an SF/F interviewer, editor, podcaster, or writer!