The Stakes Have Never Been More Reasonable: A Quiet Afternoon, edited by Liane Tsui and Grace Seybold
The Stakes Have Never Been More Reasonable: A Quiet Afternoon, edited by Liane Tsui and Grace Seybold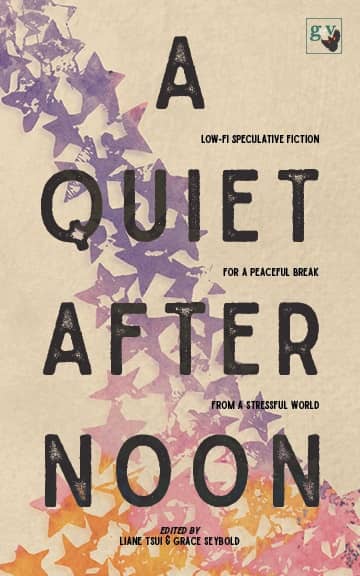 I don't think of science fiction as a predictable genre. It's filled with widely varying ideas, settings, characters, and plots, and produced by a hugely diverse group of writers all over the planet. But in at least one way, SF does tend to be predictable: it's a genre of high-stakes drama. It concerns itself with apocalypses, alien invasions, desperate battles against evil empires, dystopias, life-and-death court intrigue, world-altering time travel, thunderous space battles — a whole lot of sound and fury, really.
But it doesn't have to be. Does a good tale require high stakes? That's the question posed by the new anthology from Canadian small press Grace & Victory, run by Grace Seybold and Victoria Feistner. A Quiet Afternoon, edited by Liane Tsui and Grace Seybold, collects 14 original low-stakes tales that aim to simultaneously entertain and comfort. Here's the description.
A peaceful break from a stressful world.

The stakes have never been milder or more reasonable.

A Quiet Afternoon brings readers thirteen Low-Fi tales of gentle speculative fiction, stories of wonder and the celebration of small successes. Ease into worlds of quiet triumph and gracious victories; of found families and unlikely friendships; magical constructs, pensive mermaids, fairies and dragons and a barbecue sauce that will literally change your life.

The stakes are low. The expectations are reasonable. The resolutions are satisfactory. Wrap yourself up in a cozy blanket, make a cup of tea, and enjoy A Quiet Afternoon.
Here's a snippet from Laura DeHaan's Foreword which explains the intriguing genesis behind the book.
In early 2019, Victoria Feistner and I just wanted to read speculative fiction that wasn't high-stakes, where the fate of the world didn't hinge on the actions of a single hero overcoming impossible odds … Manga and anime do a good job of incorporating the fantastic with the mundane (Fruits Basket, Yokohama Kaidashi Kikou, My Neighbour Totoro), but Western SF really likes its earth-shattering consequences and do-or-die protagonists … We started reading for A Quiet Anthology in late 2019. The world was in a weird place, but that made the selection process relatively easy. If the story left behind a feeling of comfort, or relief, or a little sigh of "Wasn't that nice," then it was pretty much a shoo-in for the anthology… We are all overcoming impossible odds in our everyday lives — and when that's the case, where do we escape to? … So, check in with yourself. Take a nap. Have a juice box. Would you like to read stories with magical robots and talking animals and the beginnings of a wonderful friendship? It's okay. They're here for you. Take care, and enjoy A Quiet Afternoon.
I think this is a great idea for an anthology, and I'm very much looking forward to reading it. It was released today; here's the complete Table of Contents for A Quiet Afternoon.
Foreword – Laura DeHaan
"The Baker's Cat" – Elizabeth Hart Bergstrom
"An Inconvenient Quest" – Rebecca Gomez Farrell
"Rising Tides" – Mary Alexandra Agner
"After Bots" – Rachael Maltbie
"It's All in the Sauce" – Elizabeth Hirst
"Sarah, Spare Some Change" – Ziggy Schutz
"Ink Stains" – Tamoha Sengupta
"Salt Tears and Sweet Honey" – Aimee Ogden
"12 Attempts at Telling about the Flower Shop Man (New York, New York)" – Stephanie Barbé Hammer
"The Dragon Peddler" – Maria Cook
"Tomorrow's Friend" – Dantzel Cherry
"Hollow" – Melissa DeHaan
"Of Buckwheat and Garlic Braids" – Adriana C. Grigore
Grace Seybold tells us that "Laura DeHaan and Toria did the vast majority of the slush reading, and the four of us are equal team members of Grace & Victory for this book."
A Quiet Afternoon was published on July 1 by Grace & Victory Publications. It is available in ePub, mobi, and PDF formats for $7.50 CAN. Order directly from their website, graceandvictory.ca.
See all our recent coverage of the best new SF and fantasy releases here.